Summary
Restoring messages is easy with Droid Transfer. Let's see how we restore messages to an Android device...
Download Droid Transfer and connect your Android device. You can connect using a WiFi or a USB connection.
Hit the "Messages" tab from the feature list.
Click "Backup & Restore".
If you have already backed up your messages with Droid Transfer, click "Restore".
Select the file you would like to restore from, and click "Open".
On your phone, follow the on-screen prompts to temporarily switch your default messaging app to complete the process.
In Droid Transfer, choose which conversations to restore!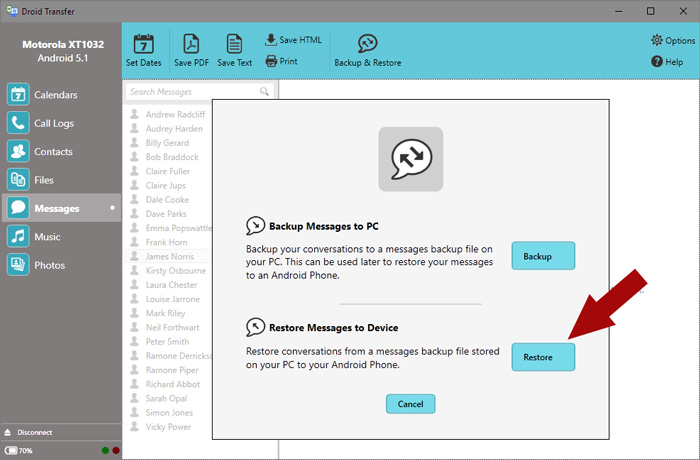 Creating a backup of your Android phone messages
Droid Transfer allows you to create backups quickly and easily. Once your phone is connected to the program, open the "Messages" feature, and click "Backup & Restore".
Then, click "Backup" and choose whether to backup all conversations or selected conversations. When choosing selected conversations, all contacts with a tick next to their name will be backup up. Untick contacts to remove them from the backup list.
When you have chosen what to back up, hit the "Backup" button. Droid Transfer will now back up your chosen conversations and produce a '.mbf' file for you. This file is encrypted for your security, so you will not be able to view its contents.
Check out our previous page if you instead wish to save messages to your PC in readable formats.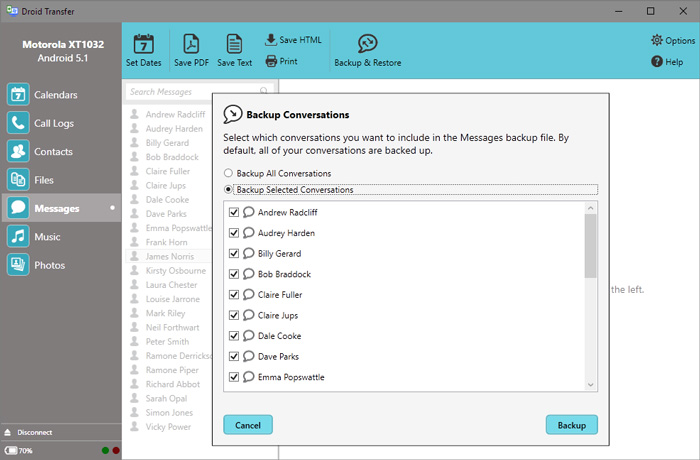 Restoring messages to an Android phone
If you have created a backup of your android messages using Droid Transfer, you can restore these messages to a device.
To restore a backup to a phone, click "Backup & Restore" in the Droid Transfer "Messages" tab. Then click "Restore".
You will be prompted to select the backup file that you wish to restore to your device. Click "Open" once you have made your selection.
On your phone, follow the on-screen prompts to temporarily change your default messaging app for this service. Your default app will revert automatically when the process is complete, and you will not experience any disruption in receiving messages.
In Droid Transfer on your PC, you will now be able to choose which, if not all, conversations from the backup to restore to your device.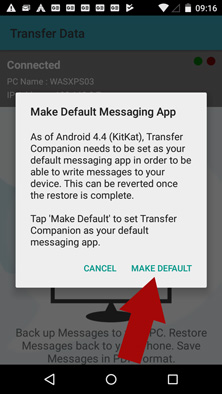 Duplicating or Overwriting data?
When restoring messages to your phone, you can rest easy knowing that Droid Transfer will not duplicate or overwrite data. Droid Transfer ensures that only the gaps are filled in, and if a message or conversation exists already, it will not be duplicated.
Additionally, when restoring a message conversation from a contact which does not yet exist on the device you are restoring to, Droid Transfer will intelligently add the contact to your contacts.
Read on to find out how to Print Android Messages.