Summary
Let's see how to delete photos from Android devices...
Download and install Droid Transfer and connect your Android device and your PC using either a Wi-Fi or a USB connection.
Choose the "Photos" tab from the feature list.
Select which photos to delete.
Click the "Delete Selection" option in the toolbar.
Confirm the deletion!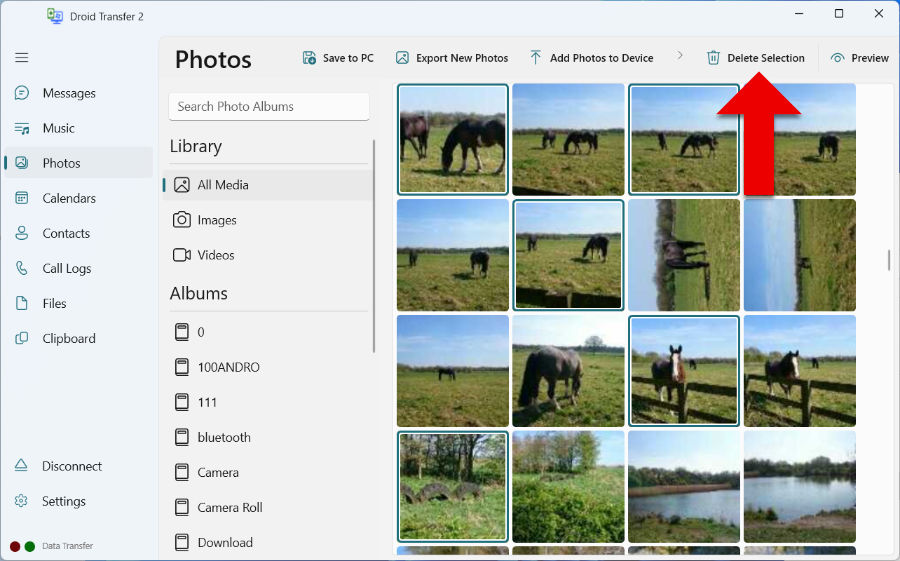 Detailed Information
As well as transferring Android photos, Droid Transfer also provides the ability to delete photos.
To do this, connect your Android device with Droid Transfer on your computer. If you require help doing this, please check out our Droid Transfer quick start guide.
Once you are set up, open the "Photos" section from the feature list on the left side of the program.
Now you can select which photos you want to delete.
For a single photo, simply click a photo.
For all photos, click a photo, then hit "ctrl"+"A" on your keyboard to select all.
To select multiple photos, hold "ctrl" on your keyboard while clicking different photos.
Once you've made your selection, hit "Delete Selection" in the Droid Transfer toolbar.
You'll then be asked to confirm the deletion. Droid Transfer cannot recover photos once they have been deleted.
If you are sure you want to delete the photos, click "Delete" to confirm.