Summary
You can save your messages as HTML, PDF or text files. Let's see how we can backup messages as PDF...
Download Droid Transfer and connect your Android device (Set up Droid Transfer)
Click the 'Messages' tab.
Select a contact whose conversation you want to save.
Click 'Save PDF' and select the location on your computer to save to.

What messages are displayed?
Droid Transfer displays all messages from your Android device's default messaging app. If you would like to access and backup messages from a different messaging app on your phone, you can do so by changing your default messaging app in the settings on your device.
By default, Droid Transfer will display all messages from your default app. If you only want to access or backup messages from certain dates, you can use the 'Set Dates' function. Simply set a lower and/or higher date boundary, and Droid Transfer will only display messages sent or received between those dates!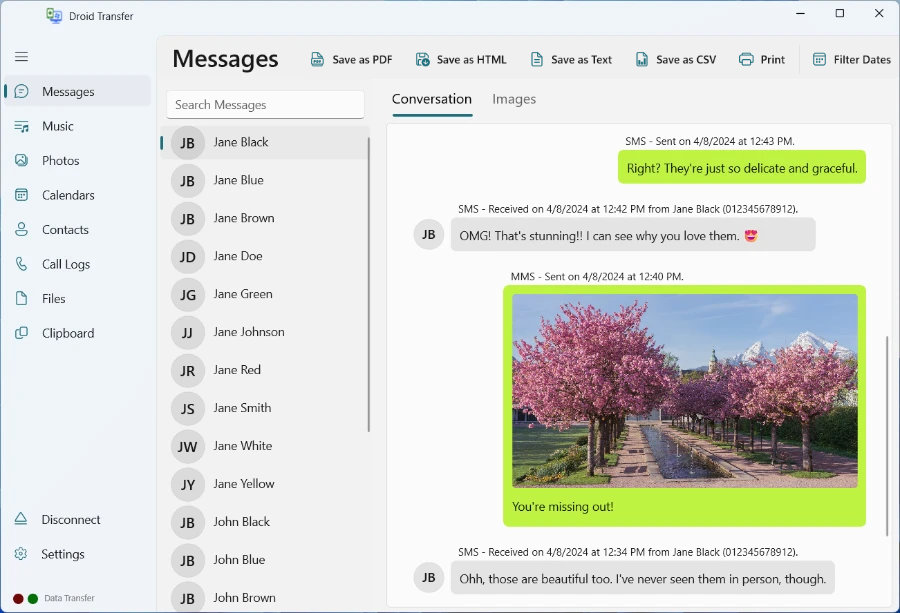 Search through your messages
The search box in Droid Transfer allows you to search for a particular contact in your contact list.
Save SMS and MMS Messages to PC
Backup Texts Android - You have the option of saving messages as HTML, PDF or text files.
Droid Transfer can access and copy your SMS (plain text messages), and MMS (multimedia messages which can contain photos, video and audio).
You can backup certain conversations by clicking a contact, or multiple contacts, from the list of contacts, then clicking either:
"Save PDF" - Saves the conversation in Portable Document Format (PDF). This file will also display your attachments such as images in the conversation thread.
"Save text" - Saves the conversation as a simple text file.
"Save HTML" - Saves the conversation as a HTML file (viewable in browsers such as Google Chrome). Media such as messages will be embedded in the file, and a separate folder will be created to contain other media, such as photos and videos.
Backing up all conversations
To backup all messages, click a "Save" button in Droid Transfer without selecting any of the conversations displayed in the software. You can also select all conversations by pressing CTRL+A on your keyboard, and click on a "Save" button in Droid Transfer.
You will then be prompted to choose a location on your computer to save to. Once you are happy with the location, hit "OK" to confirm!
So, there's what you need to know to backup text messages Android. Read on to find out how to Print Android Messages.