Troubleshooting Droid Transfer WiFi Connection
Last Updated : | Wide Angle Software

For most users, connecting your phone and your PC over Wi-Fi can be done simply by scanning the QR code in Droid Transfer with the Transfer Companion app on your phone, as detailed in our Droid Transfer quick-start guide.
If you're having difficulties with this connection, and to ensure that a stable connection is maintained, please go through the troubleshooting steps below.
How to Fix a Failed Connection to Droid Transfer
While using Droid Transfer make sure your phone remains on, and the Transfer Companion app is visible on your phone's screen - don't return to your home-screen or switch to another app.
To connect your phone and your PC over Wi-Fi, your mobile needs to be connected to the same Wi-Fi network that your computer is on.
To check if your phone and PC are on the same Wi-Fi, make sure that your phone's IP address is the same as the IP address of your PC. The IP address is an identification number assigned to each device connected to the Internet.
Your PC's IP address will be displayed under the QR code in Droid Transfer. To find your phone's IP address, go to Settings > About device > Status.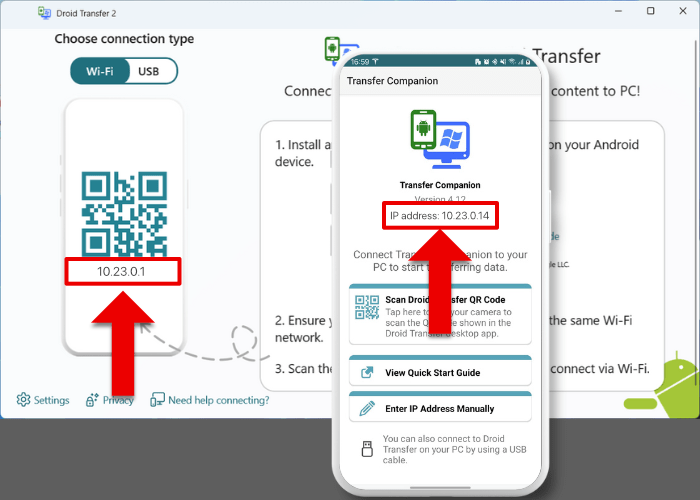 Please note: If you are using a VPN on any of your devices, you will need to turn it off as VPNs change the IP Address for your device.
If your PC has multiple internet connections, e.g. WiFi and ethernet, choose the IP address under the QR code that matches your phone's IP address by clicking on it as shown below.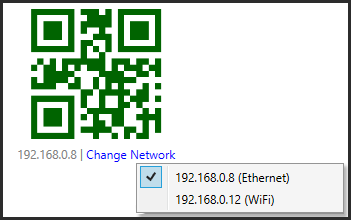 Check that your Windows Firewall is configured correctly. Please see the instructions on how to configure Windows Firewall to allow Droid Transfer to connect to your phone.
Disable mobile data on your Android device while using Droid Transfer, as having mobile data enabled has occasionally prevented your phone and your PC from connecting. Mobile data can be re-enabled after disconnecting from Droid Transfer.
Some connection issues can also be resolved by restarting your PC after installing Droid Transfer.
Additionally, please try restarting Transfer Companion on the phone, i.e. go to the phone task manager and swipe up to close Transfer Companion then start it again.
Check you are using the latest version of both Droid transfer AND Transfer Companion.
This can be checked by going to Options -> Updates from within the software. You can update Droid Transfer for free here.
The latest version of Transfer Companion is available from the Google Play Store.
If, after following the above steps wireless connection is still not working, please try and connect your device using a USB connection instead.
If this still fails, could you please email us a Droid Transfer log, so we can look into your issue further. There is no personal information contained in the log and this will only be used to investigate what is preventing the local connection between your phone and your PC. Please follow these steps...

Click 'Options' in the control bar at the top-right of the Droid Transfer window.
Click 'Log' at the bottom of the options list on the left-hand side of the Droid Transfer window.
Click the button 'Copy to Clipboard' – (Don't CTRL -C on your key board here – click the button on Droid Transfer)
Email the log along with a description of the problem to our support team using our Contact Form
< Back to Droid Transfer Support

Publisher:
Wide Angle Software

Droid Transfer
Transfer and manage your Android device media from your Windows PC.
Learn more
Download