iBackup Extractor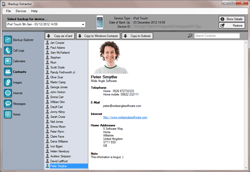 Click to enlarge
iBackup Extractor finds all iPhone, iPod Touch and iPad backups on your computer and lets you recover your files with ease.
iTunes created backups of your iOS device data when you last synced your device. With iBackup Extractor, you can view the content of these backups and copy individual items from the backup to your computer.
Use iBackup Extractor to view the backup of your Contacts, Calendars, Photos, Internet browsing history, Call logs, Notes, SMS, iMessages, Voice Mails and more. Simply choose the type of file you wish to extract in iBackup Extractor and click on "Copy".
For those of you who wish to browse your iPhone backups to see what information was saved by iTunes, iBackup Extractor offers and easy to use iPhone Backup Explorer.
Read more detail on what iBackup Extractor can do for you...
Read the iBackup Extractor End User License Agreement (EULA)
Read how to install and remove iBackup Extractor on your PC
iBackup Extractor Requirements
Windows Requirements
Microsoft Windows XP, Vista, Windows 7, Windows 8/8.1 or Windows 10.
32-Bit and 64-Bit versions of Windows are supported.
Microsoft .Net Framework. The iBackup Extractor installer will detect if you do not have this installed and offer to install it for you.
Mac Requirements
Mac OSX 10.7 or high (Lion or higher).
Intel based Macs only.
iOS Device Requirements
iBackup Extractor will be able to work with all backups made with any iOS device ( e.g. iPhone, iPod Touch or iPad) running iOS 4.2 or higher.