Error Loading Messages in Droid Transfer

In the vast majority of cases, you can simply connect your Android device with Droid Transfer and access all of your SMS and MMS conversations from the Messages section. This is detailed in our Droid Transfer user guide.
If you receive an "Error Loading Messages" message within Droid Transfer after clicking the Messages section, this guide provides the steps required to resolve the issue.
How to resolve "Error Loading Messages" in Droid Transfer
Step 1: Update Droid Transfer & Transfer Companion
A recent update to our Transfer Companion app has resolved many of the issues with loading messages especially for devices using Android 8 or older. Please make sure that you have version 3.15 of Transfer Companion or newer installed on your Android device.
Also, please check that you are using the latest version of Droid Transfer on your PC by going to Options -> Updates from within the software. You can update Droid Transfer for free from here.
Step 2: Grant app permissions for Transfer Companion on your Android device
Open the main Settings app on your Android device.
Tap 'Apps' or 'Application Manager' (depending on your device, this may look different).
Tap 'Transfer Companion' within your list of apps.
Tap Permissions, then ensure that the relevant permissions are enabled if they are not already.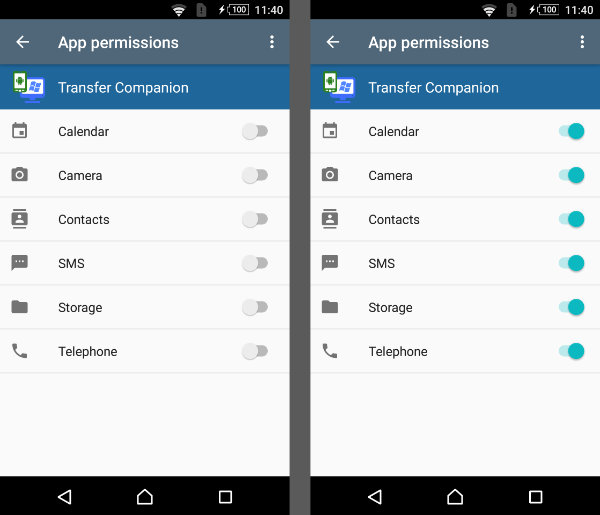 Step 3: Run Droid Transfer as Administrator
Right click on the Droid Transfer icon either on your desktop or in your programs folder.
Click 'Properties' and then go to the 'Compatibility' tab.
Enable 'Run this program as an administrator'.
Once done click 'Apply' and then 'OK'.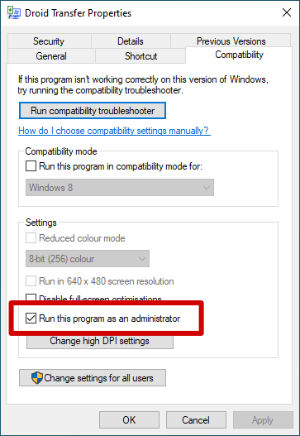 Finally, launch Droid Transfer, connect your Android and attempt to access Messages again.
If you have gone through the above steps and Droid Transfer is still not loading your messages, click on the "Run compatibility troubleshooter" in the Compatibility tab, as per image above to allow Windows to resolve the issue.
If you need any further assistance, please contact our support staff.
< Back to Droid Transfer Support

Publisher:
Wide Angle Software