How to Save Text Messages from Android to a PC.





Average:

4.75

(

4

Votes).
Last Updated : | Wide Angle Software
Introduction
Droid Transfer is a PC App that lets you save your Android Text Messages to your PC in various file formats. You can save text messages as PDF, Plain text or HTML formats. Droid Transfer also lets you print text messages directly to your PC connected printer.
Droid Transfer saves all the images, videos and emojis included in your text messages on your Android phone.
Summary
To copy text messages from your Android phone to your PC follows these steps...
Download and install Droid Transfer (link below)
Connect to your Android Device using the steps shown in our Start Guide.
Click 'Messages' in the features listed in Droid Transfer.

Select the conversations you want to save from the recipient list shown in Droid Transfer.
Click 'Save PDF'.
Select the location on your PC where you want to save your text messages.
Droid Transfer will save a copy of your selected messages in PDF format to your PC.
Download the free demonstration version of Droid Transfer to try for yourself...
Free Droid Transfer Download
Video How To
Detailed Steps
Run Droid Transfer on your PC and connect to your Android Device running Transfer Companion as described in our Setup Guide.
In Droid Transfer Click the Messages Icon - Droid Transfer shows all the text message conversations available on your Android Device.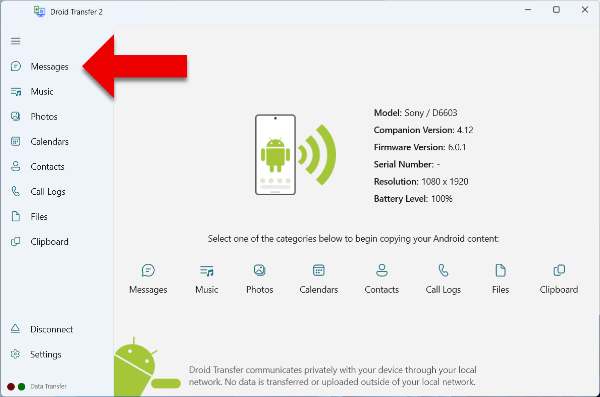 Select the text message conversation you want to save to your PC. Droid Transfer shows all the messages in that conversation.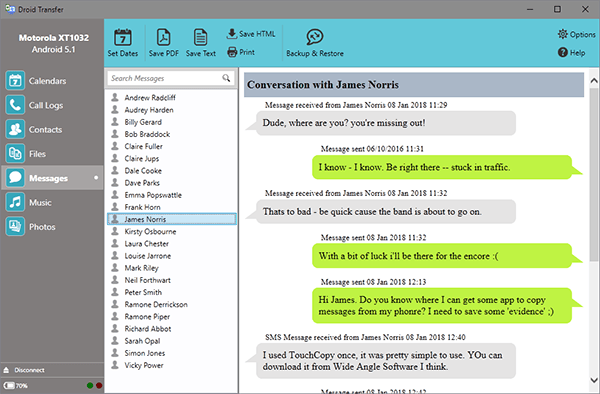 Click 'Save PDF' in the control bar.

Select where on your PC you would like to save the PDF file containing a copy of the text message conversation. Then click 'OK'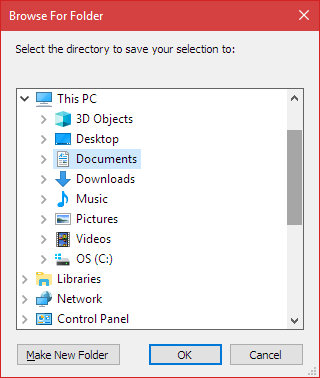 Droid Transfer copies the text messages from your Android phone and converts then to PDF format on your PC.

Once Droid Transfer has saved your text messages in PDF format to your computer, you can open the PDF document in any PDF document viewer to see all the text messages.

Like what you see?
Buy Droid Transfer Now

Publisher:
Wide Angle Software