Droid Transfer does not display all of my Messages




Average:

4.69

(

13

Votes).
Last Updated : | Wide Angle Software

Introduction
By default Droid Transfer will limit to showing only the last 30 days of messages. Please click the 'Set Dates' option in the 'Messages' section of Droid Transfer and then ensure that all messages are set to be shown.
Also please check Droid Transfer Options > Messages to make sure the Limit Option is unchecked and Hide conversations from unknown contact option is also unchecked.
Additionally, make sure that the Transfer Companion App on your Android phone has full permissions to access messages on your device. To do this, please try the following:
On your device, open the main settings app Settings.
Tap Apps or Application Manager (depending on your device, this may look different).
Tap Transfer Companion within your list of apps.
Tap Permissions, then ensure that the Messages permission is enabled if it is displayed and not enabled.
If Droid Transfer is only showing received messages in some conversations, it could be that you are using Advanced Messaging messages. Droid Transfer supports standard RCS (Rich Communication Services) messages, but does not currently support operator-specific extensions to this type of messaging. This is particularly possible if you are based in the US and you use AT&T, Sprint or Verizon as your mobile service provider. For this reason, Advanced Messages are not displayed fully, or copied with Droid Transfer.
You can confirm the type of message by going to the Messages App on your phone and long pressing a sent message to display the message properties. The message type may display "Advanced Message", or "Chat".
What is Advanced Messaging?
Advanced Messaging is a format of messaging which introduces dynamic features like seeing when others are typing, when messages have been delivered and when they've been read.
AT&T's version of Advanced Messaging , as well as implementations by other providers are attempting to make a richer messaging experience on mobile. It is based upon RCS messaging, but as it is a non-standard implementation of RCS, it is currently not fully supported.
Droid Transfer supports SMS, MMS and standard use of RCS.
Turn off Advanced Messaging
It is possible to turn off Advanced Messages in your device's settings / options as shown in the screenshot below, so that any future messages can be backed up by Droid Transfer, however please note that changing this option will not convert your existing Advanced Messages into standard SMS / MMS messages.
Help us investigate why Droid Transfer in not displaying Advanced Messages
We're currently investigating ways of displaying Advanced Messages in Droid Transfer. To enable us to investigate why Droid Transfer is failing to display advanced messages, we would appreciate it if you could email us a Droid Transfer log. There is no personal information contained in the log and this will only be used to investigate this issue.
To create a log, please launch Droid Transfer and connect to your Android device. Once done, please then navigate to the Messages section of Droid Transfer. Once the messages section has loaded and your conversations are displayed on the left, please follow these steps:
Click 'Options' in the control bar at the top right of the Droid Transfer window.
Click 'Logs' at the bottom of the options list on the left hand side of the Droid Transfer window.
Click the button 'Copy to Clipboard'
Create an email with the log by pasting the log from your clipboard. (Pressing CTRL-V on your keyboard).
We appreciate your help and we hope to add support for Advanced messaging to Droid Transfer soon!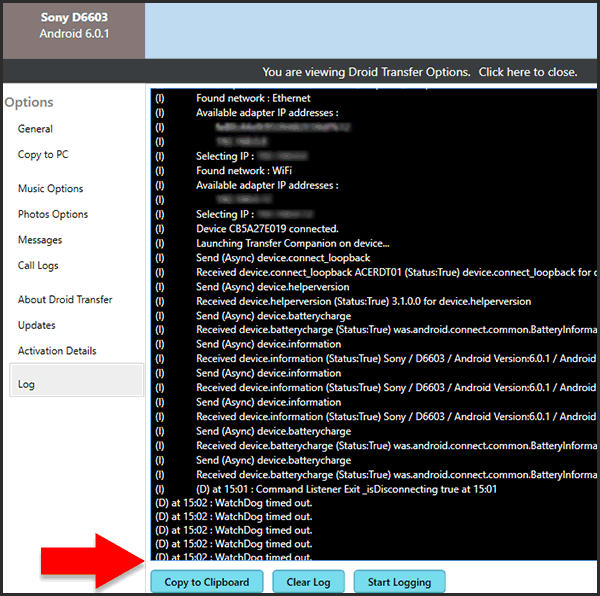 Don't forget to like & share with your friends!

Publisher:
Wide Angle Software
Back to Droid Transfer Support