How to Backup Android Contacts to PC





Average:

5

(

2

Votes).
Last Updated : | Wide Angle Software
Introduction
Are you looking for an easy way to back up your Android device's contacts? This short tutorial will guide you through copying your contacts from your Android phone to your PC or laptop, completely free!
Summary
Droid Transfer can copy and transfer music, messages, photos and more from your Android phone to your PC. Let see how we can back up your contacts...
Download and install Droid Transfer (link below)
Connect to your Android Device using the steps shown in our Start Guide.
Click Contacts in the features listed in Droid Transfer.
Click 'Copy as VCard' to save to your computer, or 'Copy to Contacts' to copy directly into your contacts on your computer.
You can download the free demo of Droid below, allowing you to trial the software.
Free Droid Transfer Download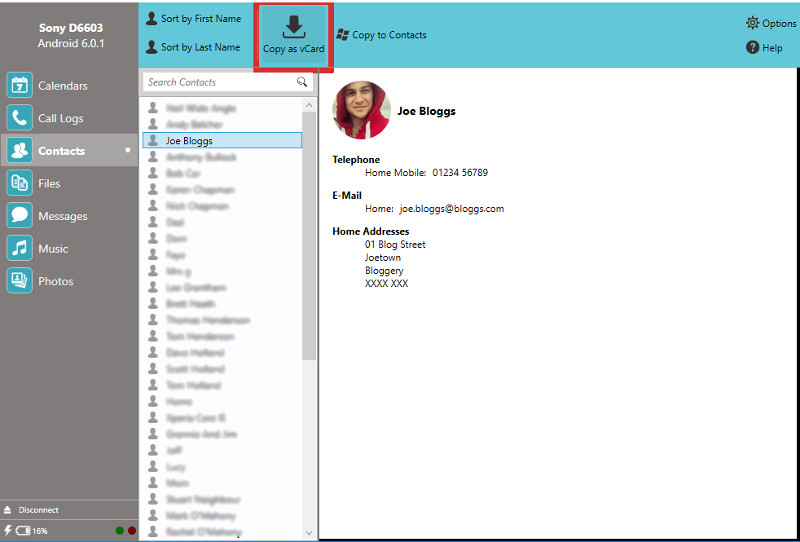 Detailed Steps
Run Droid Transfer on your PC and connect to your Android Device running Transfer Companion as described in our Setup Guide.
In the Droid Transfer window on your computer, click the Contacts Icon - Droid Transfer will display all of the contacts on your Android Device.
Copy all of your contacts by clicking 'Copy as VCard' or 'Copy to Contacts'. Alternatively, you can select on certain contacts from your list to copy to your computer before clicking to copy them.
'Copy as VCard' will copy your contacts as VCard files to a destination that you will choose on your computer.
'Copy to Contacts' will copy the contacts directly into your Contacts application on your computer.
Like what you see?
Buy Droid Transfer Now

Publisher:
Wide Angle Software