How to Backup Android Contacts to PC | Backup Contacts Android

Introduction
Are you looking for an easy way to back up your Android phone contacts? This tutorial will guide you through copying your contacts from your Android phone to your PC using Droid Transfer app.
Summary
Droid Transfer can copy and transfer music, messages, photos and more from your Android phone to your PC. Let see how we can back up your contacts...
Download and install Droid Transfer on your PC
Download and run the free Transfer Companion App on your Android phone
Connect to your Android Device using the steps shown in our Start Guide.
Click Contacts in the features listed in Droid Transfer.
Click 'Copy Contacts' then choose your desired export type.
Free Droid Transfer Download

As well as backing up your contacts to your PC, Droid Transfer can also help you restore your contacts on another Android device, copy your contacts from Android to iPhone, as well as edit and delete your contacts.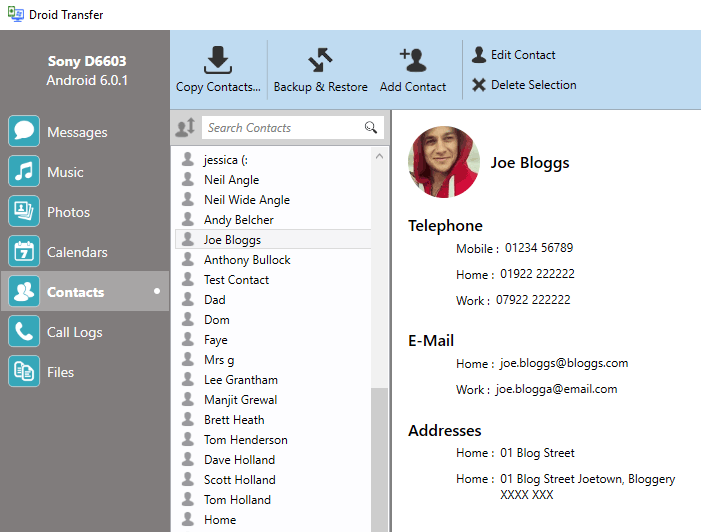 Detailed Steps
Backup Contacts Android: Run Droid Transfer on your PC and connect to your Android Device running Transfer Companion as described in our Setup Guide.
In the Droid Transfer window on your computer, click the Contacts Icon - Droid Transfer will display all of the contacts on your Android Device.
Copy all of your contacts by clicking 'Copy Contacts...' then selecting an export type. Alternatively, you can select certain contacts from your list to copy to your computer before clicking to copy them.
The contact export types available in Droid Transfer are: copy as vCard, copy as CSV, copy to Windows Contacts, or copy to Microsoft Outlook.
See it in Action...
< Back to Droid Transfer Support

Publisher:
Wide Angle Software