Summary
Let's see how we can transfer contacts from an Android device to PC...
Download Droid Transfer and connect your Android device (Set up Droid Transfer)
Hit the "Contacts" tab from the feature list.
Click "Copy as vCard".
Select where on your computer to save the contacts to.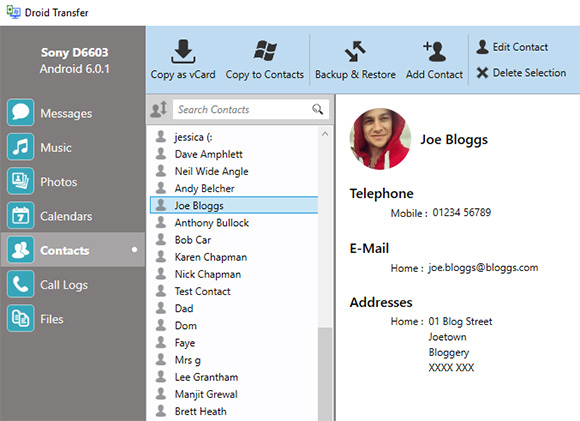 Detailed Information
Following the steps above is a great quick way to back up your contacts from your Android phone to PC. Droid Transfer saves your contacts in vCard format, which is the most popular format used by Windows Contacts, Outlook and most other applications.
As you can see, if you don't select any individual contacts, Droid Transfer will copy the entire list to your PC. If you only want to transfer certain contacts, you can select them by ctrl-clicking them.
If you want to transfer your contacts to a new phone, you will instead want to make use of the "Copy to Contacts" option in Droid Transfer.
Importing Android Contacts on iPhone
So, you have transferred all of your Android phone contacts to your PC using "Copy to Contacts". Now let's see how you can import these contacts onto an iPhone...
For this, open iTunes and connect your iPhone.
Click the device icon that appears when your iPhone is found by iTunes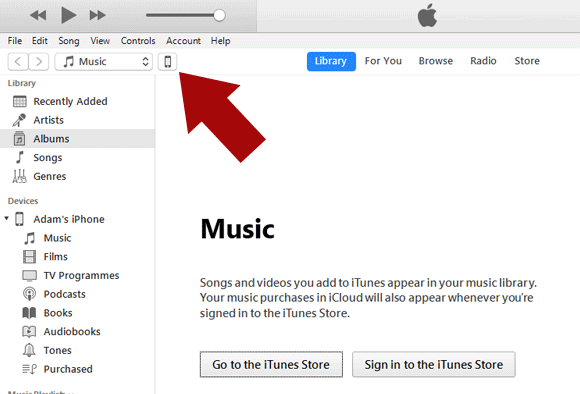 Now, in your device menu on the left of iTunes, click the "Info" header.
You guessed it - tick "Sync Contacts with", and choose "Windows Contacts" in the dropdown box. This will direct iTunes to the contacts that you backed up on your computer.
To start the transfer, click "Apply"!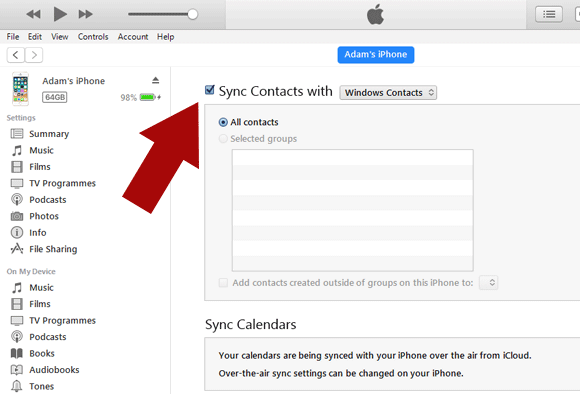 Importing Android Contacts on another Android
Once you have transferred all of your Android phone contacts to your PC using "Copy to Contacts", you can import these contacts onto another Android phone...
For this, you'll need to add the copied contact files to your new device. As you did before, download Transfer Companion on your new Android phone and connect it with Droid Transfer on your PC.
Click the "Files" tab and locate the "sdcard" folder. This may be different on some devices, but we are looking for a location where we can use Droid Transfer's "Create Folder" function.
Create a folder, then hit "Add File". Locate your copied Android Contacts on your PC and add them to the folder.
In the image above, you can see that I created a new folder called New-Contacts, and added 6 of my copied vCard contacts.
Good job! However, these files are just sitting lazily on your phone at the moment, you now need to instruct the device to use the contacts. On your Android phone, open the menu and launch the "Contacts" app.
Tap the 3-dot menu, then "Import Contacts".
Now select the location that you added your copied Android contacts to. In this case, I copied the contacts to the Internal Storage on my new device.
Under "Create contact under account", choose Local. Your device will then search the selected location for your vCards. Once your vCards are found, select the ones you would like to import, then hit OK.