Quick Start: How to Transfer Android Phone Contacts to PC
Download Droid Transfer and connect your Android device (Set up Droid Transfer)
Hit the "Contacts" tab from the feature list.
Click "Copy Contacts" then choose which format you wish to export your contacts to.
Select where on your computer to save the contacts to.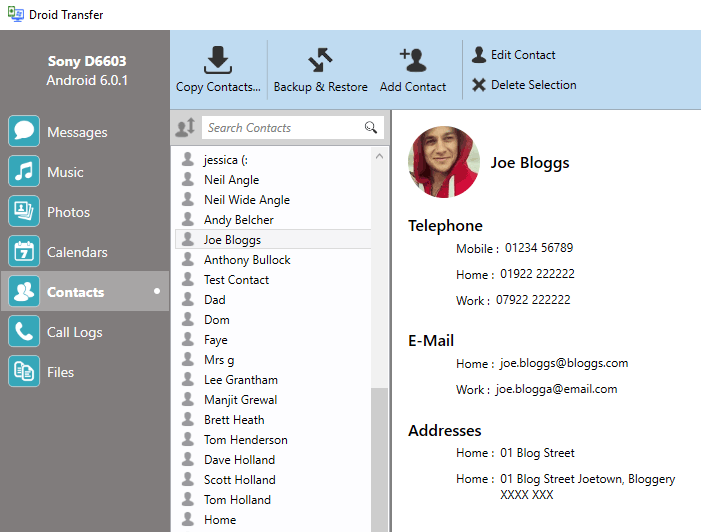 Detailed Information
Following the steps above is a great quick way to back up your contacts from your Android phone to PC. Droid Transfer saves your contacts in vCard format, which is the most popular format used by Windows Contacts, Outlook and most other applications.
As you can see, if you don't select any individual contacts, Droid Transfer will copy the entire list to your PC. If you only want to transfer certain contacts, you can select them by ctrl-clicking them.
When you click "Copy Contacts" you will have a choice of contact export options:
Copy as vCard - separate vCard files will be saved to your PC. These files can be used in popular contact management apps like Windows Contacts and Outlook.
Copy as CSV - a "Comma Separated Value" file will be saved to your PC containing information about your selected contacts. CSVs can be opened in spreadsheet management apps such as Microsoft Excel.
Copy to Contacts - copy your selected contacts straight into Windows Contacts on your computer.
Copy to Outlook - copy our contacts directly into your Microsoft Outlook app on your computer.

See it in Action...