Summary
Let's see how we can print Android Call History...
Download Droid Transfer and connect your Android device (Set up Droid Transfer)
Open the "Call Logs" tab from the feature list.
Select a Contact Name to display the call history.
Click "Print".
Check your print settings, and confirm!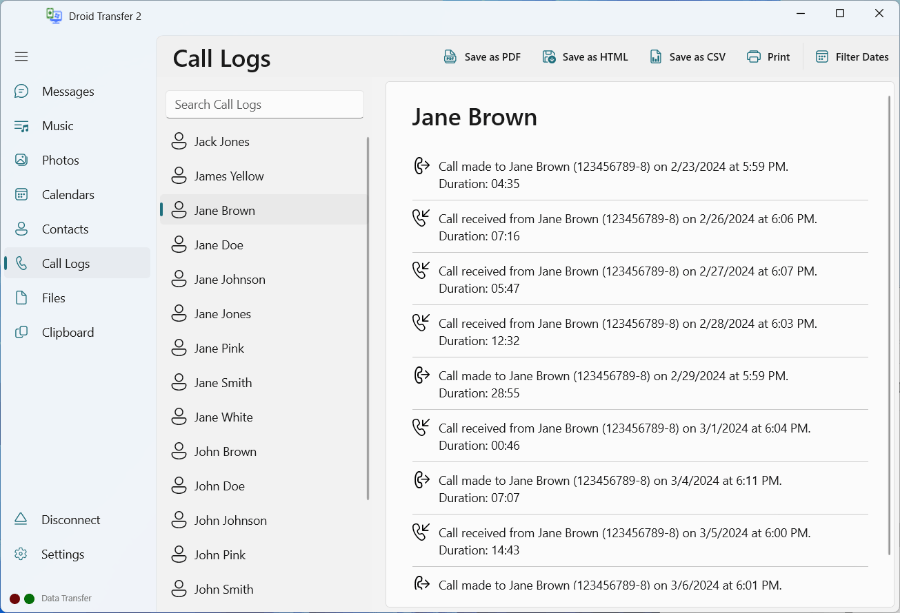 Detailed Information
Following the steps above takes you through how to print call logs from your Android device.
Droid Transfer also allows you to save the call history to your computer. To do this, select the contacts whose call logs you want to save (you can ctrl-click contacts to select multiple), then click either "Copy Call Logs" or "Save PDF".
"Copy Call Logs" - Saves the call log as HTML. You can view this file in internet browsers such as Google Chrome.
"Save PDF" - Saves the call log in Portable Document Format (PDF).
All that is left to do then is to tell Droid Transfer where to save the files to, and confirm!
Check out our support article for more information about copying and printing call logs from Android.