Summary
Let's see how we can transfer music from your Android device to PC...
Download Droid Transfer and connect your Android device (Set up Droid Transfer)
Click the "Music" tab from the feature list.
Click "Copy to PC".
Select where on your computer to save your music to.
Confirm the save.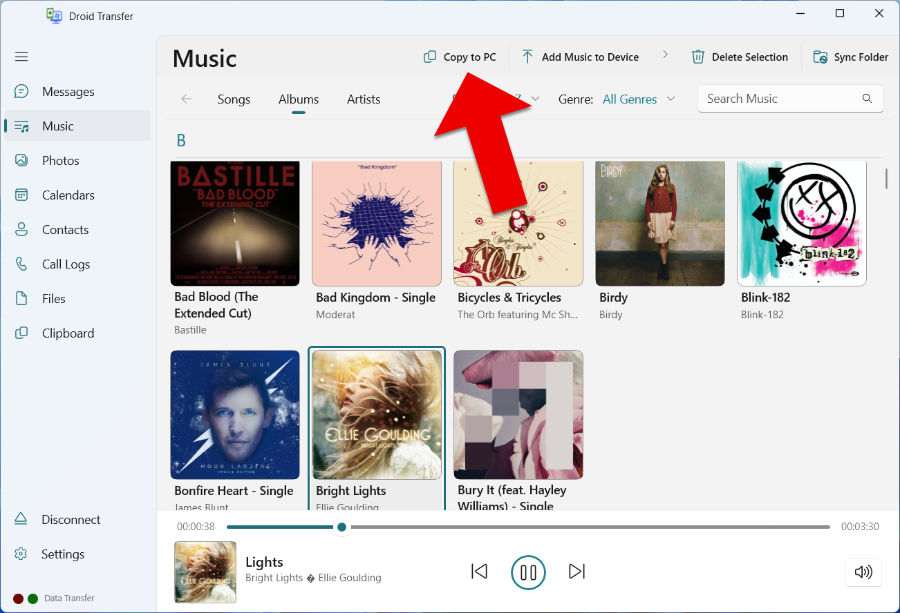 Detailed Information
Droid Transfer makes it easy to copy songs, albums and artists from your Android device to your PC.
Simply connect your Android to Droid Transfer on your Windows computer (follow our Quick Start Guide if you need help).
Next, open the "Music" tab from the features list in Droid transfer. This will display all your music.
Select certain songs / albums / artists by holding the 'ctrl' key on your keyboard while clicking multiple items. Once you have made your selection, click "Save to PC" from the Droid Transfer tool bar.
Tell the program where you would like to save the music files to on your computer, then hit "Save"!
Narrowing down your search
There are a number of ways to narrow down your music search in Droid Transfer. Get specific music results by using the "Sort by" or "Genre" options, or use the Search bar if you know exactly what you are looking for.
On a broader scale, you can view your music by Song, Artist, or Album by clicking the relevant tab heading located just below the Droid Transfer music toolbar.