Summary
Let's see how we can backup a calendar from Android...
Download Droid Transfer and connect your Android device (Set up Droid Transfer)
Open the "Calendar" tab from the feature list.
Click "Copy as vCard".
Choose a save location, and confirm!
Detailed Information
In Droid Transfer, you can explore your Android calendar by switching between month / week / day view in the toolbar at the top of the program window.
To save the calendar to your computer, simply hit "Copy as vCard", and choose a save location. This copy is great for backing up calendars, but what if you want to use the calendar on Outlook, or on another device?...
Importing a Calendar to Outlook
Once you have copied your Android calendar to your computer, you can import it into Outlook!
Open Outlook on your computer and go to File > Open & Export > Import/Export > "Import an iCalendar or vCalendar file". Then press "Next".
Choose the calendar file that you saved with Droid Transfer. You may need to change the file type dropdown box to "vCalendar format" if it is not already.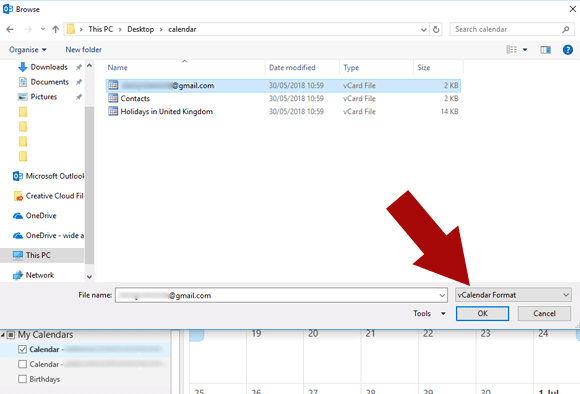 Viewing Outlook Calendars on Android
Accessing Outlook calendars on another Android device isn't as simple as on iPhone. iTunes lets you sync Outlook calendars easily with an iPhone.
For Android, you will need to download and install the free Microsoft Outlook app from the Google Play Store. When setting up this app, it will ask you to add accounts. Add the accounts that you want to be able to access on your Android device, and you will be able to access the calendars!
Viewing Outlook Calendars on iPhone
Check out our support article here: Sync Outlook Calendars with iPhone.