Summary
Let's see how we can export recently taken photos from Android to computer...
Download Droid Transfer and connect your Android device (Set up Droid Transfer)
Open the "Photos" tab from the feature list.
Click "Save New Photos".
Set a folder on your PC that you'd like to export your photos to.
Droid Transfer will scan the chosen folder for existing photos, and will show you which of your Android phone photos are not backed up.
Click "Save Selected" to export all these photos to your chosen folder.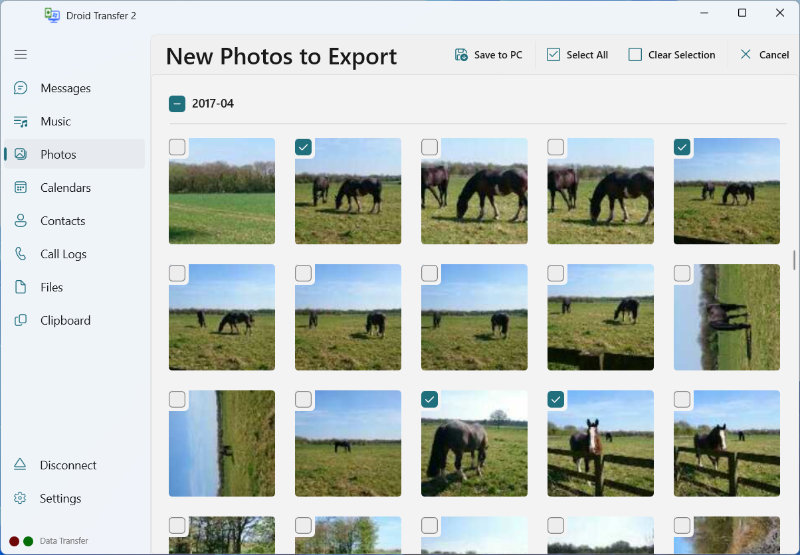 Detailed Information
If you're wondering how to export photos from Android to PC, you're in the right place. Droid Transfer makes it easy to back up photos to your computer. After backing up your photos, Droid Transfer will let you know when your Android device has new photos on it which you've not yet backed up to your computer! Let's see how:
First thing is first, connect your Android device to Droid Transfer on your PC.
Then, click the "Photos" section in Droid Transfer. You'll see all the photos stored on your connected Android device.
Click "Save New Photos". If this is the first time you are using this function, Droid Transfer will prompt you to select a folder on your PC. This folder will be used when backing up your photos. Select a folder and hit "OK".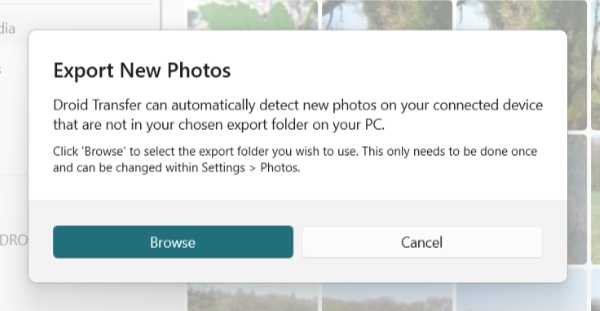 Next, Droid Transfer will scan the folder for existing photos, and let you know which of your Android photos are not currently backed up in your chosen folder.
Hit "Save Selected" at the bottom of Droid Transfer to export all your selected photos to your chosen folder on your PC.
Future Backups
Hello future you! Imagine, since last time you used Droid Transfer, you went on holiday and took 100 new photos on your Android phone. Now you're back home and want to back up your new snaps to your computer.
Connect your phone with Droid Transfer like you did before, click Photos > Save New Photos.
This time, you'll see the message below: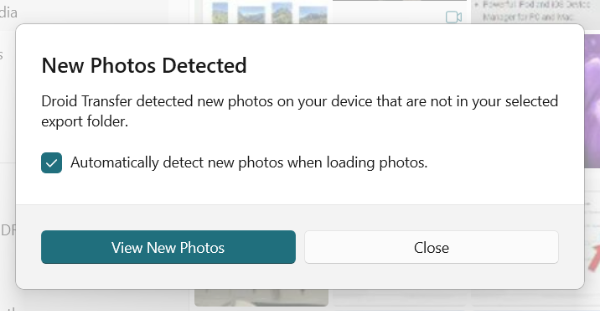 Click "View" to view only the photos on your Android which you have not already backed up to your chosen folder on your computer.
To back up these new photos, simply click "Save Selected" as you did before!
Selecting Photos
You may not want to export all of your photos and there are many ways to define which ones you want to export in Droid Transfer.
Select/Unselect All- Click these buttons to select all your photos or deselect all.
Select/Unselect Photos from a date- Click the checkbox next to a date to select/deselect all photos which were taken within that date range.
Select/Unselect Individual Photos- Click the checkbox on a photo to include or exclude it for the current selection.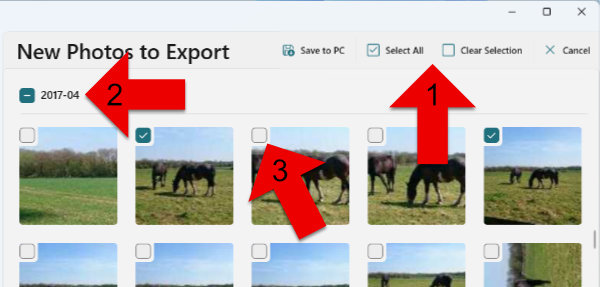 Export Settings
Have you opened the settings yet? Click the "Save New Photos Settings" button to view your options.
Destination Folder Location- Change the folder on your computer you use to back up your Android photos to.
Group Photos By Date- Groups your photos by either Year, Month or Day. By default, photos are grouped by Year.
Automatically check for new photos that have not been copied- keep this checked if you want Droid Transfer to let you know when you have new photos to back up to your folder.
Include Videos- Check this if you want to back up your videos too.