Summary
Let's see how we can transfer videos from Android to computer...
Download Droid Transfer and connect your Android device (Set up Droid Transfer)
Open the "Photos" tab from the feature list.
Click the "All Videos" header.
Select the videos you'd like to copy.
Hit "Copy Photos".
Select where to save the videos to on your PC.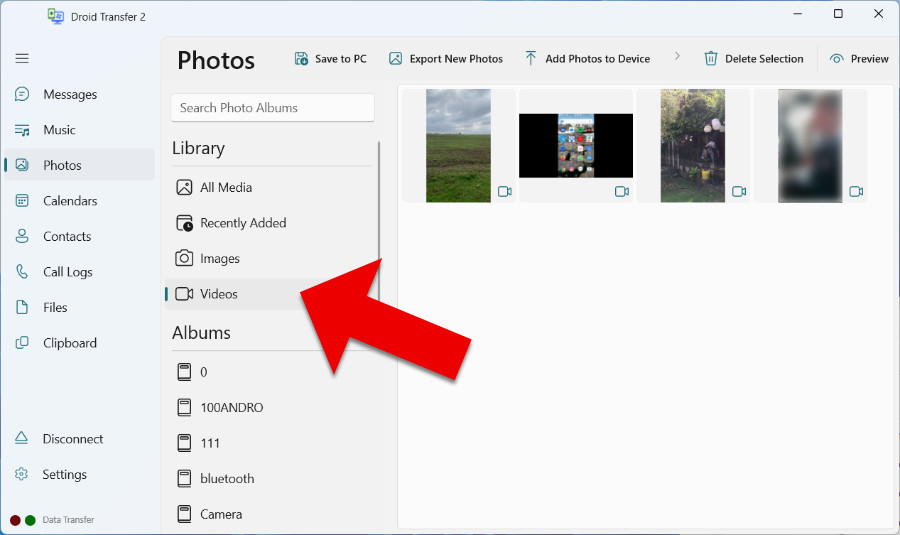 Detailed Information
Droid Transfer makes it easy to browse, add, copy and delete photos on your Android devices.
Access and Browse Android videos
Firstly, connect your Android device to Droid Transfer on your PC. You can connect without USB by using WiFi (scanning the QR code), or by plugging in your USB cable.
Then, open the "Photos" feature header in Droid Transfer to display the photos stored on your Android device. To access your videos instead, click the "All Videos" header title, and Droid Transfer will display all the videos on your phone.
Please note that videos must be copied to your computer with Droid Transfer before they can be played.
Transfer videos from phone to computer
Select your videos.
Click a video to select it.
Hold 'ctrl' on your keyboard and click more than one video to select multiple items.
Click a video, then hold 'ctrl' on your keyboard and hit the "A" key to select all available videos.
The main event: Once you have selected the videos you want to copy, simply click "Copy Photos". Droid Transfer will then ask where you would like to save to on your computer. Choose a destination and click OK to start the copy.
Add videos from PC to Android
Have some videos on your computer that you'd like to have access to on your phone? Droid Transfer can make this a breeze.
Click "Add Photos" from the Photos section of Droid Transfer. Choose to Add Folder or Add Files, then point Droid Transfer to your desired videos on your computer. Click "Open" to copy the selected videos to your phone!

Delete videos
Equally, you may have a phone which is FULL of videos. Mobile data storage is far from infinite, so you'll eventually find yourself wanting to review your videos and hoping to delete the ones that you don't need or want.
If you're unsure if you want to delete a video or not, consider saving them to your computer before deleting them from your phone. This way, you'll still have access to the videos, even though you've deleted them from your phone. As mentioned before, video is a great, rich format which we love to consume; however, on the flip side, this usually leads to videos files being rather large. As such, you can save a tonne of space on your Android by deleting some of the videos from the device.
To delete videos, select the ones you don't want anymore and hit "Delete Selection". You'll be prompted that deleted videos cannot be recovered. To confirm and delete the selected videos, hit "Delete".