Solved: How to Transfer Video from iPhone to PC





Average:

3.91

(

32

Votes).
Last Updated : | Wide Angle Software

3 Ways to transfer videos from your iPhone to your Computer
This article provides easy to follow steps to help you transfer different types of video from your iPhone to your PC:
Transfer music videos from iPhone to computer with TouchCopy
TouchCopy is a popular Windows and Mac app which can transfer all your iPhone content to your computer, including your music, videos and photos.
To transfer music videos from iPhone to PC or Mac, follow these steps...
Download and install TouchCopy on your Windows PC or Mac computer as below.
Connect your iPhone to your computer via a USB cable or a Wi-Fi connection.
To find your music videos, go to the Music section, then click the "All Videos" header.
You can now select the music videos that you want to copy, then use either "Copy to PC", "Copy to Mac" or "Copy to iTunes".
Download TouchCopy for PC
Download TouchCopy for Mac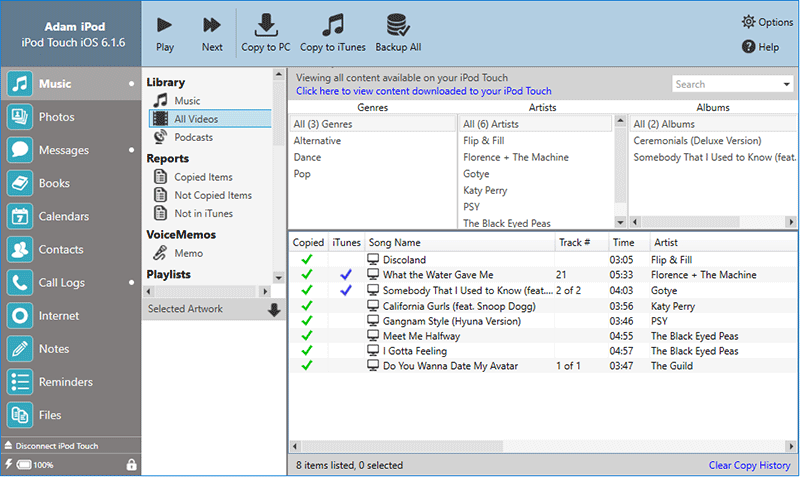 Transfer iPhone camera videos to PC or Mac with TouchCopy
As well as copying music videos, camera roll photos and albums from your iPhone, TouchCopy can even transfer camera roll videos from iPhone to PC or Mac.
To find this function, download and install TouchCopy if you haven't already done so, and follow the steps below.
Start TouchCopy and connect your iPhone
Navigate to the 'Photos' section of the software. This is where all camera-related items are stored.
In TouchCopy, click on the 'Videos' header to see a list of all videos stored on your iPhone.
Click a video to select it, or select multiple videos by Ctrl-clicking them.
Once your selection is made, click 'Copy Photos'.
Choose the location on your computer to save the videos to, then hit 'OK' to start copying!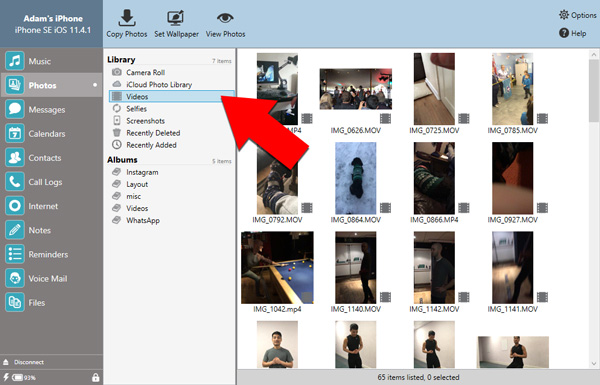 Transfer videos from iPhone to PC with Windows Photos App
Like TouchCopy, the Windows Photos app can copy your iPhone videos to your Windows computer. This, again, is a simple process. Although the downside to using this method is that you'll have to manually find your videos in a list of all of your photos and videos from your iPhone (TouchCopy separates your videos into a separate section).
Here's how to transfer videos from iPhone to Windows 10 computer...
Connect your iPhone to your PC with your USB cable and unlock it.
Click the Windows Start button in the bottom left corner of your screen.
From the list of apps, select 'Photos'.
Hit the 'Import' button, then 'From a USB device'

Select the photos and videos you wish to transfer, then click 'Import Selected'.

You can change the destination of the transfer on your PC by clicking 'Import Settings' when making your selections.
If you're using an older version of Windows, Microsoft's website provides details on how to transfer iPhone videos to PC on Windows 8 and Windows 7 systems.
Deleting Videos from iPhone
Videos can be among the largest files on your iPhone. Since the cameras on iPhones are producing higher and higher quality videos, their file sizes are increasing at the same rate.
This means that storing lots of videos on your iPhone will quickly fill up your storage space.
Using the steps above will help you transfer your videos to your computer. Once your videos are safely backed up, you may want to delete them from your iPhone to free up that precious space.
To delete a video from your iPhone, find the video on your Photos app, tap and hold it, then tap "Delete from Library"!
You can also clear loads of space on your iPhone by deleting Documents and Data.
Don't forget to like & share with your friends!

Publisher:
Wide Angle Software
Back to TouchCopy Support