How to convert iPhone HEIC images to JPG
Last Updated : | Wide Angle Software
Introduction
High Efficiency Image File Format (HEIC) is an image file format that boasts a smaller file size and an improvement in image quality comparing to standard JPEG format.
This format was adopted by Apple in 2017 and is available on iOS devices running iOS 11 or newer, starting from the iPhone 7. Although there is already a lot of support for the HEIC format, we are still waiting for Microsoft and many photo apps to natively support the format on Windows. Mac users are experiencing better support for HEIC images - these can be viewed natively on Macs running macOS High Sierra (10.13) or newer.
Saving iPhone HEIC images and Converting to JPG
TouchCopy allows you to copy any data from your iPhone to your computer. You can even transfer HEIC formatted images, however, Windows and some photo apps do not fully support HEIC images just yet, so you may run into problems viewing HEIC images on your computer.
There are 2 ways you can go about getting around this issue at this time:
Save photos that you take on your iPhone camera as JPG, instead of the default format HEIC.
1a. To save iPhone HEIC images to your PC, follow these steps...
Download and install TouchCopy.
Connect your iPhone to your computer via the USB cable.
In TouchCopy, click on the "Photos" tab.
Select the HEIC photos in TouchCopy that you wish to copy, then click "Save to PC".
Install Microsoft's HEIF Image Extensions and HEVC Video Extensions on your PC.
You'll now be able to open your HEIC images in Paint or Windows Photo.
Download TouchCopy Now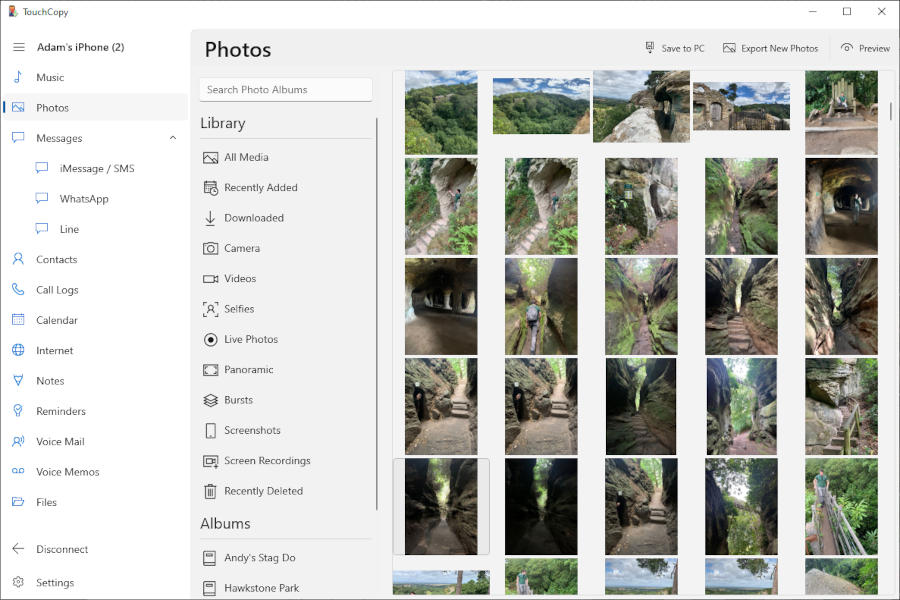 1b. How to convert HEIC images to JPEGs
Unless you have already done so, install Microsoft's HEIC and HEVC Extensions, as described above.
Open your HEIC images in Paint.
In Paint click on File > Save As.
Choose the save location and the save format as JPEG.
2. Change iPhone Camera settings to use JPGs by default
If your device can take HEIC formatted photos, it is possible to change the format in which photos are taken using your iPhone camera. To change the format, follow the steps below:
Open the 'Settings' app on your device.
Tap on the 'Camera' option.
Tap on the 'Formats' option.
There are currently two options available. These are 'High Efficiency' and 'Most Compatible'. By setting the format to 'High Efficiency', future photos and videos will be stored as HEIF/HEIC files. By setting the format to 'Most Compatible', future photos and videos will be stored as JPEG/H.264 files.
Please note that changing the camera format will only affect future photos and videos that are taken after the format has been changed. Existing photos and videos will not be reformatted to the newly chosen setting.
Buy TouchCopy Now
< Back to TouchCopy Support

Publisher:
Wide Angle Software