How to transfer photos from iPhone messages to computer
Last Updated : | Wide Angle Software

Summary
This article will walk you through how to use TouchCopy to transfer your images within your iPhone messages to your computer. You may find that you'd like to back up your iPhone messages, and/or the images contained in them - you can do all of this with TouchCopy.
How to transfer photos from iPhone messages
Want to save ONLY your image attachments? If you want to save your photos from text messages, but aren't too fussed about saving the text itself, this is totally possible with TouchCopy:
Download and install TouchCopy.
Connect your iPhone to your computer.
In TouchCopy, click on the "Messages" tab.
Click the conversation which contains the photo or photos which you want to copy.
Open the "Images" tab at the top of the conversation preview.
Hit "Save to PC".
Choose a location on your computer to save the photos to and click OK.
If you have not done so already, you can download TouchCopy from here:
Free TouchCopy Trial For PC
Free TouchCopy Trial For Mac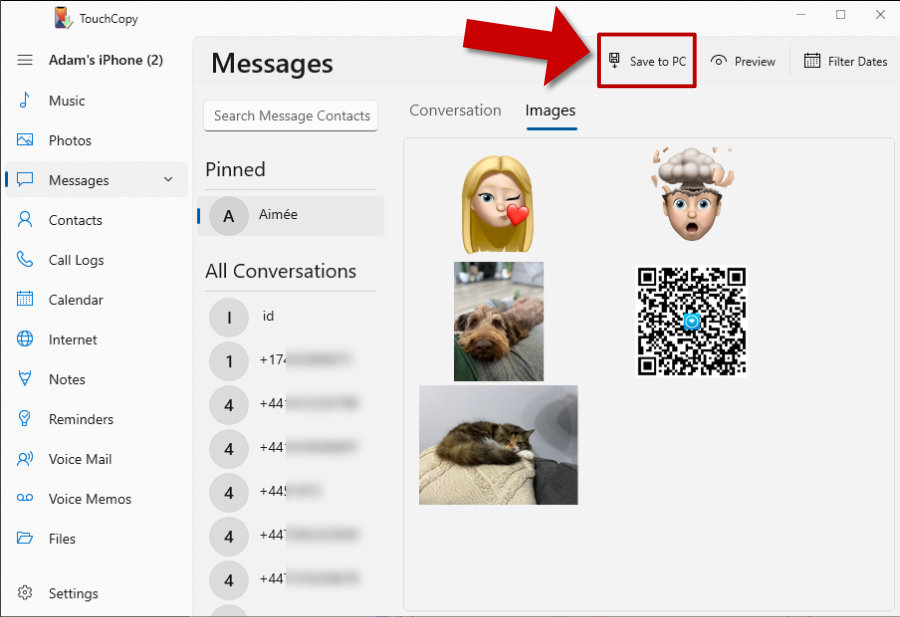 Clicking Save to PC in this way will copy all images from the selected conversation. If you only want to copy certain images, select them first, then hit the save button.
Furthermore, if you need to copy only images from messages within a certain timeframe (e.g. messages from last month), you can narrow the displayed images by using the Filter Dates function in TouchCopy. Simply click the button and set the dates to search between. Apply the date range, and TouchCopy will return only the images sent and received between your dates.
How to transfer iPhone messages and photos to your computer
Firstly, you will need to open TouchCopy and connect your iPhone when prompted to do so. Once TouchCopy has loaded your device data, click the 'Messages' tab on the left-hand side of TouchCopy. You can then scroll down to see all of the contacts you have had text, iMessage, WhatsApp and LINE conversations with.
If you have not done so already, you can download TouchCopy from here:
Download TouchCopy for PC
Download TouchCopy for Mac
Next, select the conversation containing the photos that you wish to transfer to your computer. The conversation thread will appear in the pane on the right of TouchCopy.
To copy only select photos, please set a date range which will filter the conversation to show only the section which you would like to copy. To copy all of the photos in this conversation, simply hit the "Save as HTML"(PC) or "Copy to Mac".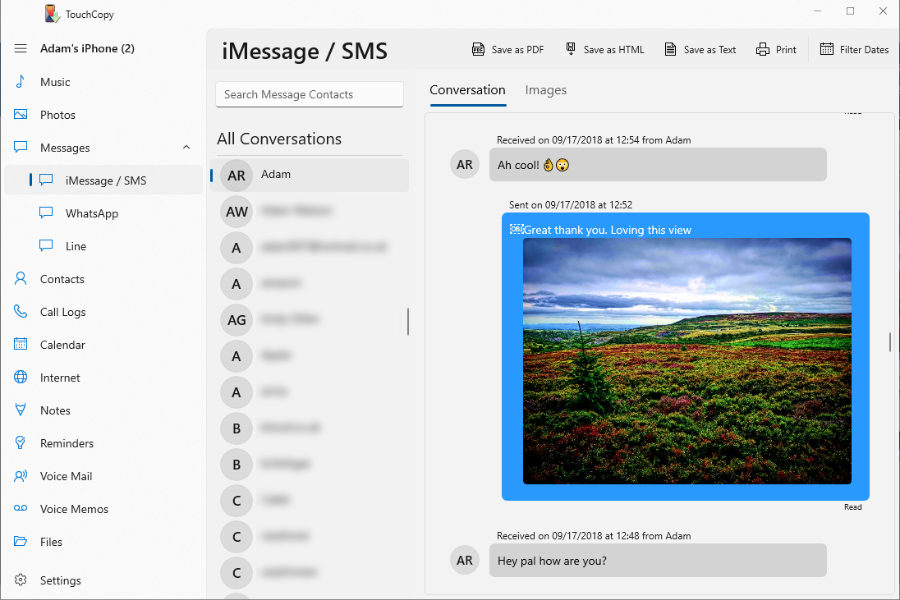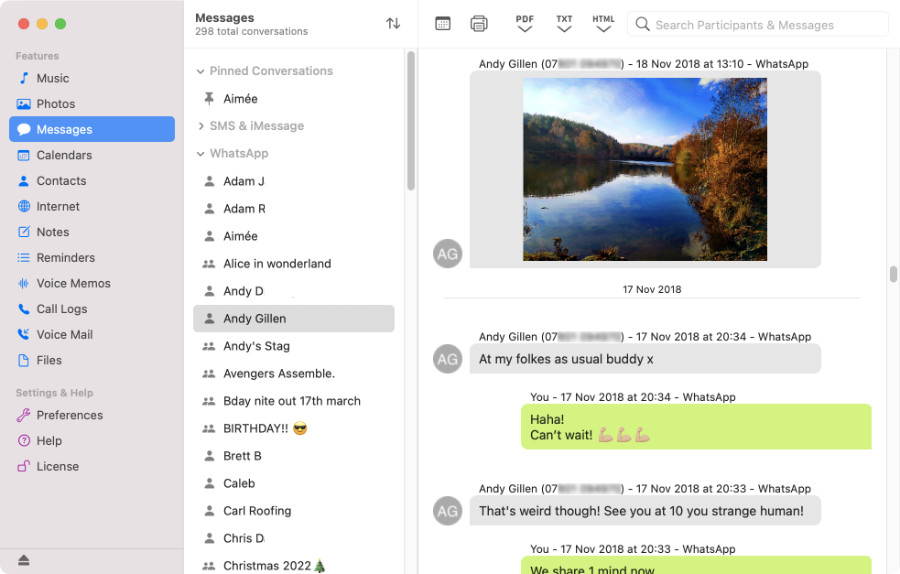 Finally, TouchCopy will prompt you to select a location on your computer to which to save your photos. When the save is complete, you'll see a file containing your selected text, along with a separate folder containing your photos from the iPhone messages!
Check out our video on how to save iPhone messages to computer:
Buy TouchCopy Now
< Back to TouchCopy Support

Publisher:
Wide Angle Software