Viewing and searching your iPhone Messages
To view SMS, MMS, iMessages and WhatsApp conversations on your iOS device, follow the steps below.
Run TouchCopy and connect your iPhone.
Click on the "Messages" tab in TouchCopy.
TouchCopy displays a list of contacts with whom you've had SMS, WhatsApp & iMessage conversations.
Clicking on the contact in the list shows the text (SMS), multimedia (MMS) and iMessages sent and received in that conversation. You can also search your contact list by name to display all messages by a particular contact.
Your WhatsApp messaging contacts and conversations are displayed under your SMS conversations, please scroll down in TouchCopy until you get to your WhatsApp conversations as shown below.
You can filter your messages using the "Set Date Range" button in TouchCopy. Setting a date range will only return messages marked within the range specified. You can cancel this filter by choosing to show all messages under the Set Date Range option.
Group Messages - TouchCopy even treats and organizes group messages, so they retain that format. Your group messages are displayed and copied by TouchCopy as they are displayed on your iPhone.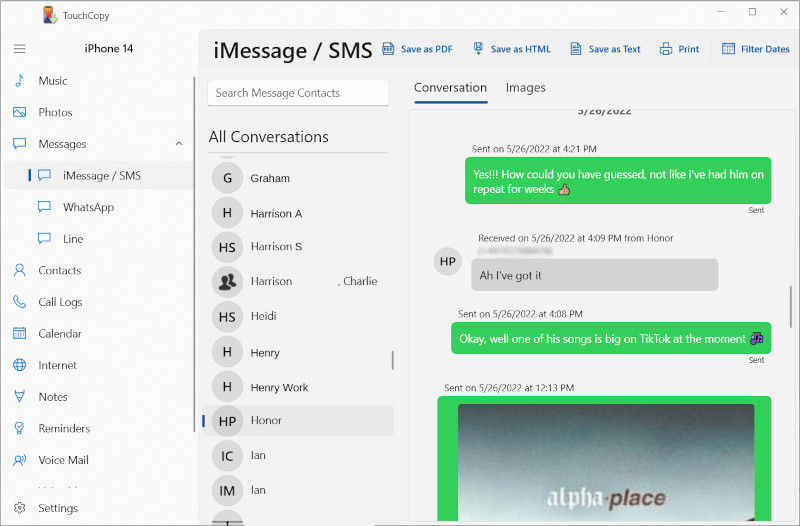 Search through your message content or contact names - You can even search for a specific contact or keyword by using the search box in TouchCopy. For example, I can type "Adam" in the search box, then hit Enter on my keyboard (or click the magnifying glass icon) to quickly find my conversation with Adam.
Alternatively, searching "car insurance" will return the conversations in which car insurance was mentioned! This can save a heap of time when you know what you are looking for.