How to Backup iPhone to External Hard Drive





Average:

4

(

5

Votes).
Last Updated : | Wide Angle Software

Summary
I'm sure we can all agree by now that making backups of your iPhone data is a must. There is just too much precious data (messages, photos, contacts etc.) stored on your iPhone to risk losing it over an erroneous update or through theft or damages. Making regular backups of your device means that if any of these events occur, your data will be safe, and you can start where you left off.
The purpose of this article is to guide you through how to backup this important data to an external hard drive. Due to the sheer size of the data on an iPhone, it's backup can take up a colossal amount of space on your computer. Consequently, many people opt to instead store their backups in iCloud or on an external hard drive.
Visit our blog for more general information about iPhone backups, and how to backup to computer, or to iCloud. Or for how to backup iPhone to an external hard drive, read on!
How to Backup iPhone to an External Hard Drive:
Open TouchCopy on your PC or Mac.
Connect your iPhone.
Select the data you wish to back up.
Click to copy to your computer.
Choose your external hard drive as the location to save to.
Click Save!
The free trial version of TouchCopy, enabling you see if the software meets your needs, is available here:
Free Download For PC
Free Download For Mac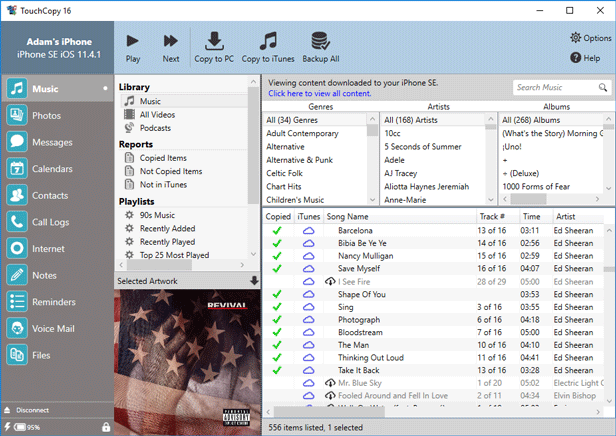 Details
TouchCopy enables you to transfer any data from your iPhone to your computer. When you connect your device with TouchCopy, you can access Music, Photos, Messages, Contacts and more. Furthermore, you can copy any of this data to your computer to save it securely on your local machine, or external drive.
Note that TouchCopy saves individual files to your computer, so you cannot do a full "Restore" from these files to your iPhone like you can with a "Backup & Restore" as seen with iTunes. TouchCopy allows you to extract individual files from your device, which is what iTunes cannot. You can, however, add many of these files to your device (or another device) if you should need them again though!
For example, from your iPhone you have backed up music and photos to your computer and contacts to Outlook with TouchCopy. If then, for whatever reason, you should delete or lose this data from your iPhone, you can get it back from the files on your computer using iTunes. Easy!
For more information on how to backup iPhone data to your computer, or external drive, see our user guide. The guide covers each section of the TouchCopy software, so you can see exactly how it works!
Don't forget to like & share with your friends!
< Back to TouchCopy Support

Publisher:
Wide Angle Software