How do I copy WhatsApp messages from my iPhone to my PC/Mac?




Average:

3.7

(

30

Votes).
Last Updated : | Wide Angle Software
Summary
This article details how to transfer WhatsApp chats from your iPhone to your computer using TouchCopy. Your WhatsApp messages can be saved as PDF, html and text files and and will contain any images, videos or emojis included in the message, as well as dates and times the messages were received.
To copy WhatsApp messages from your iPhone, follow these steps...
Download and install TouchCopy.
Connect your iPhone to your computer via the USB cable.
In TouchCopy, click on the "Messages" tab.
Select the WhatsApp conversations you want to copy and click "Copy Selected Conversations".
If you have not done so already, you can download TouchCopy from here:
Free TouchCopy Download For PC
Free TouchCopy Download For Mac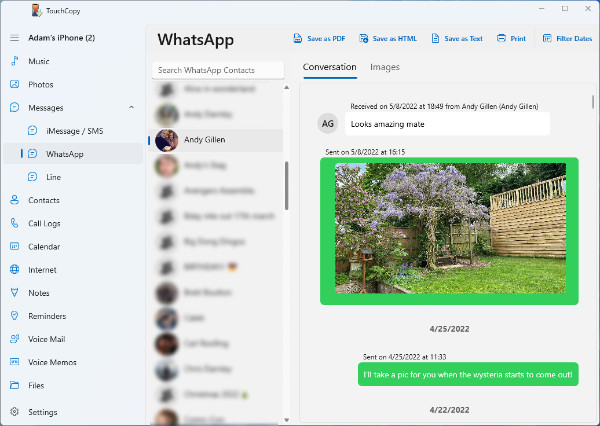 Detailed Instructions on how to transfer WhatsApp messages to your computer
If you have WhatsApp messages on your iPhone that you need to transfer to your PC/Mac, TouchCopy can copy them in the same way that you can copy SMS and iMessages.
Firstly, you will need to open TouchCopy and connect your iPhone. Once TouchCopy has read your device, navigate to the 'Messages' tab (1) on the left hand side of TouchCopy. You can then scroll down the messages to see your different messages, grouped by type. Your WhatsApp messages will be at the bottom of the list.
From there you can then select the message that you wish to copy or print by clicking on the name of the contact with whom the conversation is with (2). Then, you can either select 'Copy Selected Conversations' or 'Copy to PC/Mac' to copy the selected WhatsApp message to your PC/Mac as a HTML file named after the contact with whom you've exchanged messages; Or you can select 'Print' to print out the selected conversation directly from TouchCopy (3).
New version 16 of TouchCopy now also alows to you save your WhatsApp chats and other messages on your iPhone as PDF files. Simply select the chat you wish to save and click on "Save PDF" in TouchCopy.
Buy TouchCopy Now

Publisher:
Wide Angle Software