How to Export iPhone Contacts as CSV to Excel




Average:

4.29

(

7

Votes).
Last Updated : | Wide Angle Software
Summary
The contacts stored on your iPhone contain loads of valuable information from phone numbers to emails and physical addresses. It's highly recommended to keep a backup of these contacts in case anything should happen to your iPhone. TouchCopy can help you back up your contacts (as well as anything else you want to copy from your iPhone) to your computer. This trusted software allows you to copy contacts as vCard or CSV. You can even copy your iPhone contacts directly to Outlook or to the Contacts folder on your PC or Mac.
Copying your contacts as CSV (Comma-Separated Values) will mean that you can efficiently store and manage your contacts in a spreadsheet. This means you can use popular software like Microsoft Excel, Google Sheets or Apple's "Numbers" app to keep track of numerous contacts all in one place!
To export iPhone contacts as CSV to Excel, follow the steps below...
Download and install TouchCopy.
Connect your iPhone to your computer using the USB cable.
In TouchCopy, open the "Contacts" tab.
Select the contacts you want to copy and click "Save CSV".
In Excel, go to File > Open and open your saved CSV file!
Detailed Steps
First up, launch TouchCopy and connect your iPhone to your computer with a USB cable. Once TouchCopy has detected your device, open the "Contacts" section tab on the left-hand side of TouchCopy. You can then scroll down the list of all the contacts stored on your iPhone. Click a contact's name to see their details.
TouchCopy will show any information stored for a given contact on your iPhone. This includes, but is not limited to: Name, Image, Phone Numbers (home, work, mobile etc.), email addresses and home addresses.
Next, you'll need to decide which contacts you want to export into your CSV file.
Select a single contact simply by clicking it from the list in TouchCopy.
To select multiple contacts, hold "ctrl"(PC) or "cmd"(Mac) on your keyboard when clicking multiple contacts from the list.
To select all your contacts, click a single contact, then hit "ctrl+A"(PC) or "cmd+A"(Mac) on your keyboard to select all contacts in the list.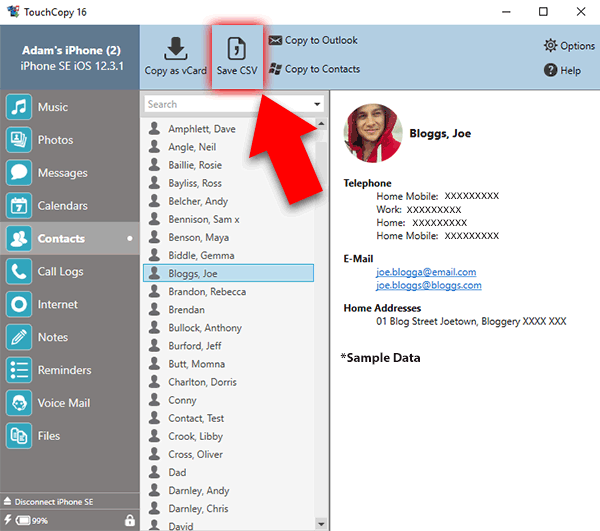 Once you've made your selection, you're ready to export the contacts. To do this, simply click the "Save CSV" button in TouchCopy. You will now see a window which prompt you to select a location on your computer. Choose the location you'd like to save your CSV file to, then click "Save" to proceed with the export.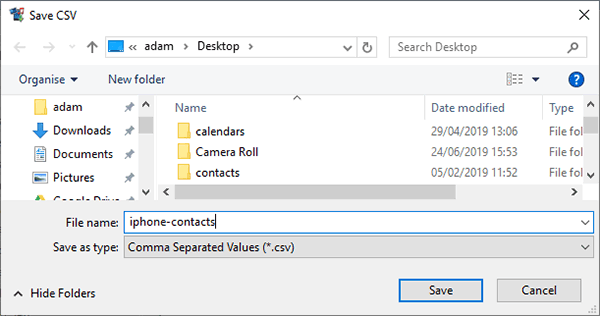 Great! You've now exported your iPhone contacts as a CSV file. You can now open your CSV file in a spreadsheet management app like Microsoft Excel. This will make it easy for you to organise huge batches of important contacts, and also to keep them safe in case anything should happen to your iPhone.
In Excel, go to File > Open, and select the CSV file saved using TouchCopy.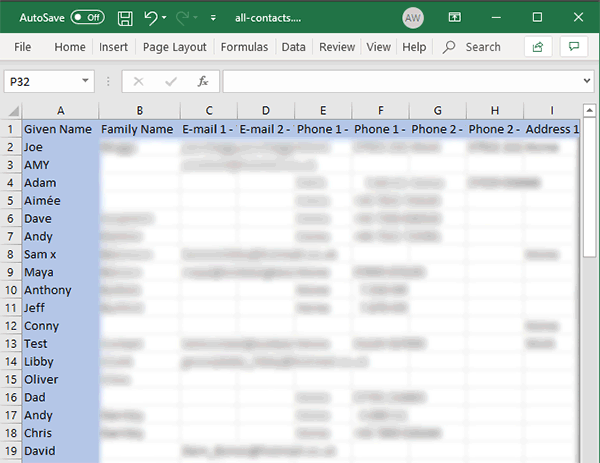 Takeaways
So, now you know how to export your iPhone contacts as a CSV file, and how to open the file in Microsoft Excel. You can now use the spreadsheet to easily manage your iPhone contacts.
If you need to export any other info from your iPhone - like Messages, Calendars and Music, you can also do that with TouchCopy. So why not give it a try?
Don't forget to like & share with your friends!

Publisher:
Wide Angle Software
Back to TouchCopy Support