How to sync contacts from your iPhone to Mac

Summary
Ensuring that you have all your important contact information wherever you go is imperative in this day and age.
Syncing your contacts between your iPhone and Mac doesn't have to be complicated. Here are 2 ways to achieve this; whether you want to use iCloud or not.
Sync Contacts from iPhone to Mac without iCloud
Whether you are getting a new phone and need to transfer your existing device's contacts, or whether you want to back up your address book for safe keeping, TouchCopy can help. You can copy iPhone contacts to your Mac as vCards or as CSV files, or directly into the Mac Contacts app.
TouchCopy is a fantastic app which allows you to access your iPhone content on your computer and copy whatever you need to your Mac.
To copy contacts from iPhone to your Mac, follow these instructions...
Launch TouchCopy and connect your iPhone.
When TouchCopy finds your device, select the Contacts feature.
Select the contacts that you wish to copy, or use the cmd+A combination on your keyboard to select the entire list of contacts.
Click "Copy to Mac"" in TouchCopy.
Select the copy destination, and the copy will start.

Free TouchCopy Download
Further Details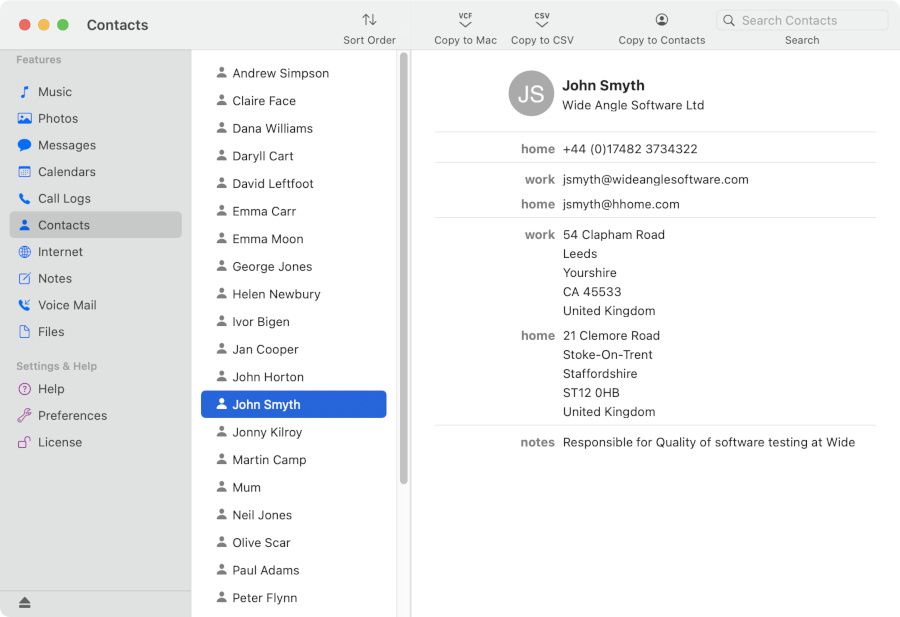 Sorting Contacts
TouchCopy makes it easy to find contacts. Toggle between sorting by first name or last name by clicking "Sort Order", or search for specific contacts by using the search box in the top-right corner of the application.
Copying Contacts to Mac
Click a contact to select it and view the contact's information. You can use the cmd+A keyboard combination to select all of your contacts.
TouchCopy for Mac offers 3 different copy functions:
Copy to Mac: This button will save your selected contacts as vCard files to your desired location on your Mac. Opening a copied vCard contact on your Mac will import the contact into your Mac Contacts app by default. You can also import the vCard into other contact management apps if you would prefer.
Copy to CSV: Save your selected contacts as a CSV (Comma-Separated Values) file. All selected contacts will be saved in a single CSV file. CSV files can be opened in spreadsheet management apps like Microsoft Excel, so this is a great option for businesses that need to organise contact information for numerous people.
Copy to Contacts: Copies your selected contacts directly into your Mac Contacts app. Nice and easy.
Transfer contacts to a new device
If your Mac Contacts app and your iPhone are set up to automatically sync with iCloud, your contacts will automatically appear on any device which is set to use the same iCloud account. If you don't want to use iCloud to sync your contacts between devices, you can use iTunes or Finder on your Mac instead.
To do this, open Finder (or iTunes on macOS Mojave or lower) and connect your iPhone. Select your device, and hit the "Info" tab. Here you can choose to sync your Mac's Contacts with your iPhone. Once complete, click "Apply". (Note: the option to sync contacts onto iPhone is only available if the iPhone is not already set to sync contacts with iCloud)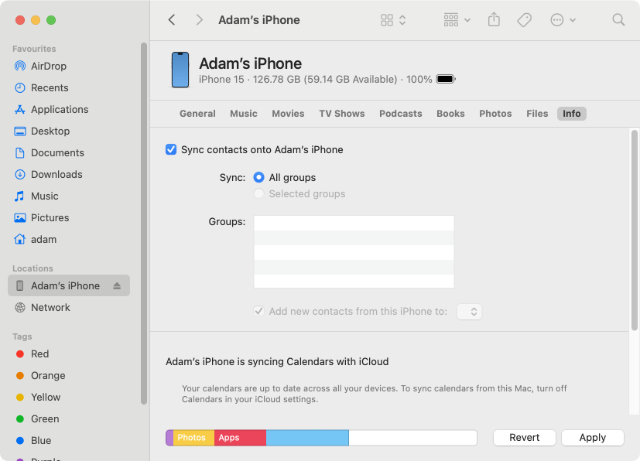 Sync Contacts from iPhone to Mac using iCloud
To ensure that your contacts are always in sync between your iPhone and Mac you can use iCloud.
To do this, you'll need to ensure that iCloud Contacts is enabled on both of your devices.
Enable iCloud Contacts on iPhone:
Open Settings on your iPhone.
Tap your name, then iCloud.
Under "Apps using iCloud", tap "Show All", then toggle Contacts to ON.
Here, you may be prompted to merge your existing contacts with those in iCloud. Tap "Merge" to continue.
Enable iCloud Contacts on Mac:
Open System Preferences on your Mac.
Click "iCloud" (or "Apple ID" then "iCloud" on macOS Catalina and higher).
Click to check "Contacts" in your list. Your Contacts will start to sync from iPhone to Mac.
< Back to TouchCopy Support

Publisher:
Wide Angle Software