How to save long iPhone message conversations in PDF format




Average:

3.67

(

9

Votes).
Last Updated : | Wide Angle Software

Summary
To save messages from your iPhone as PDFs, follow these steps...
Download and install TouchCopy.
Connect your iPhone to your computer via the USB cable.
In TouchCopy, click on the "Messages" tab.
Select the message conversations you want to copy and click "Save PDF".
If you have not done so already, you can download TouchCopy from here:
Free TouchCopy Download For PC
Free TouchCopy Download For Mac
Detailed Steps
Firstly, you will need to open TouchCopy and connect your iPhone. Once TouchCopy has read your device, navigate to the "Messages" tab on the left hand side of TouchCopy. You can then scroll down the messages to see your different messages, grouped by type. TouchCopy supports SMS, iMessage and WhatsApp.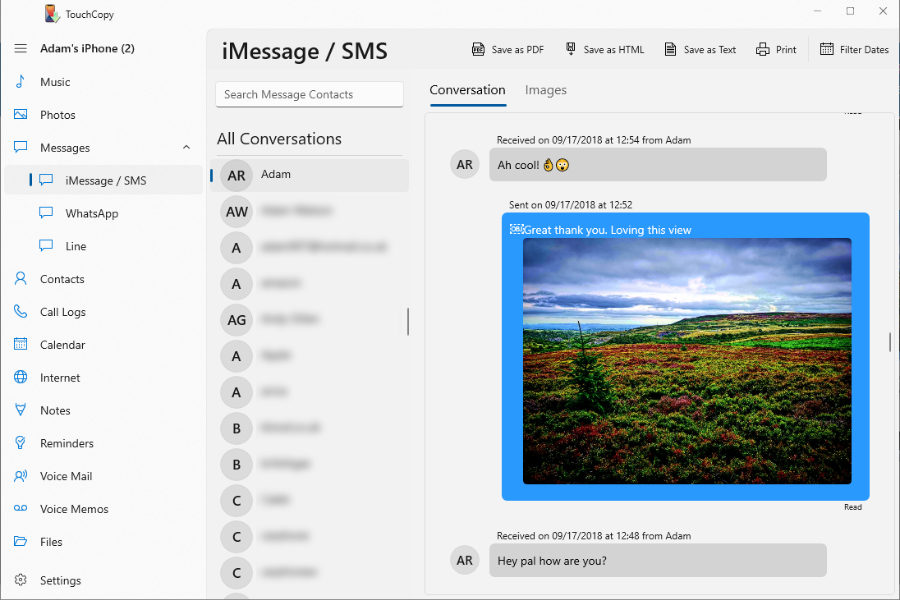 From there you can then select the message that you wish to copy or print by clicking on the name of the contact with whom the conversation is with. Once a contact or contacts have been selected, please press the "Save as PDF" button at the top of TouchCopy.

Finally, TouchCopy will ask where you would like to save your PDF file to on your computer. Please locate where you would like to save to, then hit OK. Your file will now be copied!
Troubleshooting:
Occasionally, a message file may be too large for TouchCopy to convert to PDF, and you may see a "Request entity too large" message. We are currently looking into ways to improve this service.
In the meantime, listed below are 2 work-around methods to copy your message conversations as PDF, for both Windows PC and Mac OSX.
Windows PC users, please follow the following steps (screenshots at bottom of page):
Ensure that you have downloaded and installed the latest version of TouchCopy.
Open TouchCopy and connect your iPhone using your USB cable
Click the "Messages" tab from the list on the left side of TouchCopy
Select the messages you wish to copy and "Copy Messages"
Then, open your copied message HTML file in your browser (e.g. Google Chrome)
When your message is displayed in your browser, go to File > Print
In the print window, click the option to "Save as PDF" instead of printing
Hit "Save"
Mac OSX users, please follow the following steps:
Ensure that you have downloaded and installed the latest version of TouchCopy.
Open TouchCopy and connect your iPhone using your USB cable
Click the "Messages" tab from the list on the left side of TouchCopy
Select the messages you wish to copy
Click "Print"
In the print window, click the dropdown marked "PDF"
Hit Save as PDF
Save messages as HTML files: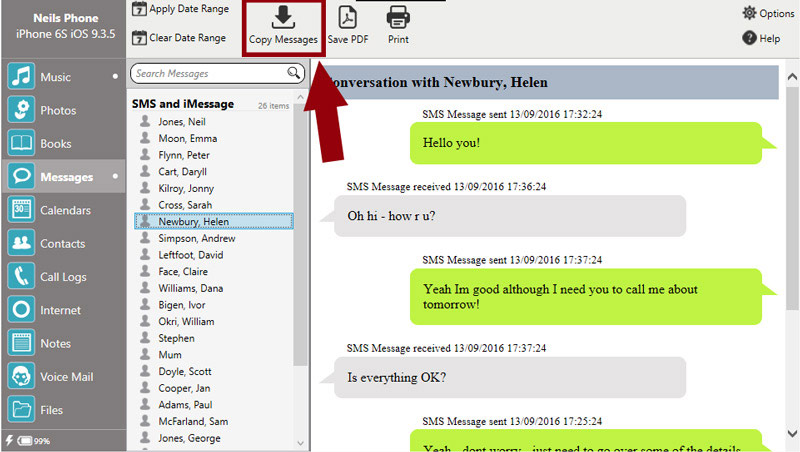 Convert HTML files to PDF format from your browser. The following example is the Print window from Google Chrome: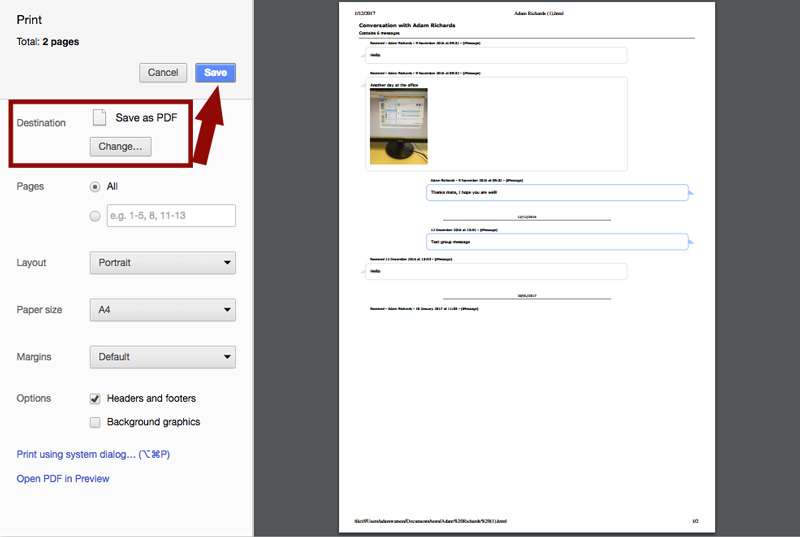 Publisher:
Wide Angle Software