How to Save iPhone messages in bulk to your computer
To save your iPhone messages to your computer in bulk, choose multiple contacts whose messages you wish to save and copy their messages to your computer, as detailed in the following steps:
Download and install TouchCopy on your computer.
Launch TouchCopy and connect your iPhone using your USB cable.
Click the "Messages" tab from the list on the left side of TouchCopy.
Select multiple contacts from your list by shift-clicking, ctrl-clicking (PC) or cmd-clicking (Mac) them.
Once your conversations have been selected, choose to save them to your PC as PDF, HTML or Plain Text.
You'll be asked to choose where you would like to save to, then start the copy!
Download TouchCopy For PC
Download TouchCopy For Mac
Additional details:
When you open the Messages section, all of your conversations with your contacts stored on your device will be displayed in TouchCopy. From here, you can click a contact from the list to display all messages sent and received between this contact and yourself. The preview on the right will show all messages, images and videos from your selected message conversation.
To select multiple conversations to copy at once, you can select a contact from the message list, then hold down the ctrl key (PC) or cmd key (Mac) while you click more to select.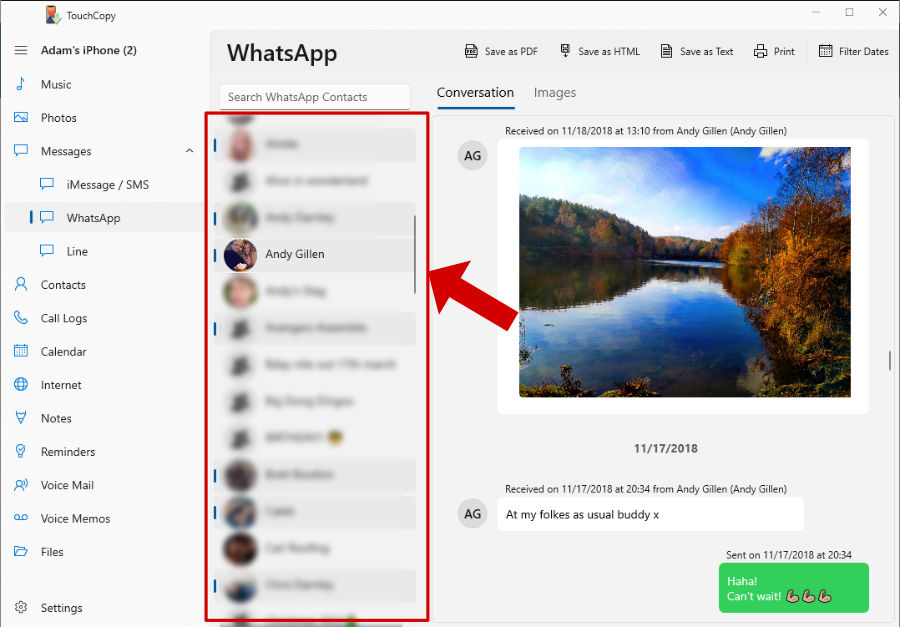 Once all desired conversations are highlighted, you can then go ahead and click "Save as PDF", "Save as HTML" or "Save as Text".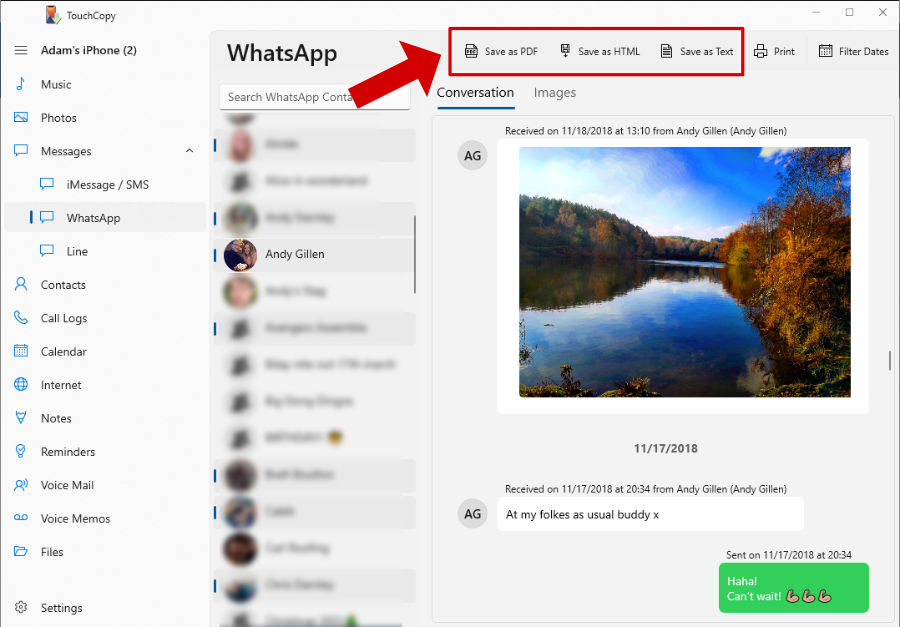 TouchCopy will then ask where you would like to save the conversations to. Once you've chosen your location, hit Select Folder (PC) or Continue (Mac), and the copy will start.

Once the copy is complete, TouchCopy will even give you the option of opening the folder straight away to view your copied messages.
< Back to TouchCopy Support

Publisher:
Wide Angle Software