TouchCopy is not displaying my iPhone messages, Contacts, Calendars or Notes





Average:

3.91

(

11

Votes).
Last Updated : | Wide Angle Software
To display your iPhone messages, follow these steps...
Ensure you're using the latest TouchCopy version, by going to Options -> Updates from within the software.
Connect your iPhone to your computer via the USB cable.
In TouchCopy, click on the "Messages" tab.
Select the conversations you wish to save to your computer and click "Copy Messages" in TouchCopy.
If you have a valid TouchCopy 16 licence, you can download the latest TouchCopy update for free here:
Update TouchCopy Now
If TouchCopy is not displaying your iPhone messages, contacts, notes and calendars...
Please be advised that if your iOS device is using iOS 10 or higher, or if your Mac is running macOS Mojave or Catalina, you will need TouchCopy 16 to access your Messages, calendars, notes and contacts. If you previously purchased TouchCopy 12, you can check if you are eligible for a discounted upgrade to TouchCopy 16.
If you followed the steps above and your messages are still not displayed, please check our trouble-shooting steps below.
Step 1: Check your permissions
Run TouchCopy as administrator (PC version)
If you are using a Windows computer, it may be beneficial to run TouchCopy as administrator, ensuring it has the correct permissions to access your backup.
To do this, make sure TouchCopy is closed. Then, right click on the TouchCopy icon either on your desktop or in your programs folder. Select 'Properties' and then go to the 'Compatibility' tab. On here please select to 'Run this program as an administrator'. Once done press 'Apply' and then 'OK'. Please then re-launch TouchCopy and try again.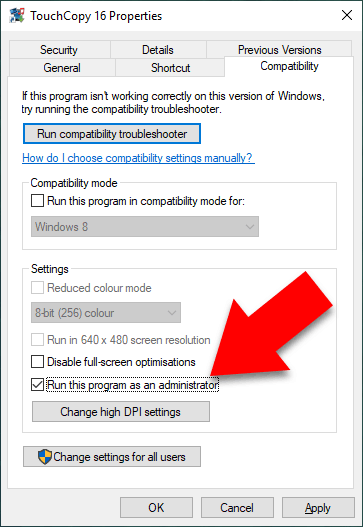 Ensure TouchCopy has the correct permissions (Mac Version)
If you are using a Mac computer running macOS Mojave or higher, please make sure that TouchCopy has the correct permissions on your Mac.
To do this:
Open System Preferences > Security & Privacy > click the Privacy tab.
Scroll down to "Full Disk Access", click it > click the lock to make changes > click the "+" button > then find and add TouchCopy 16.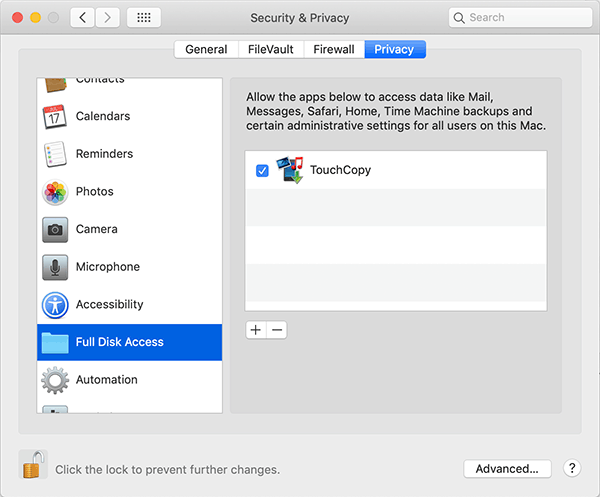 This will ensure that TouchCopy has access to all of your latest data.
Step 2: Remove old backups of your iPhone (PC and Mac versions)
It is possible that TouchCopy is attempting to read an incomplete or corrupted backup of your iPhone data. The solution of this is to delete any iTunes backups made of your device and then try again.
How to delete old iPhone backups from iTunes...
In iTunes, go to Edit > Preferences (on PC); or iTunes > Preferences (on Mac).
Click the Devices tab
Choose the Backup you wish to remove and click on Delete Backup, as shown on the screenshot below.
Repeat the process for any other listed backups of your iPhone.
Click OK.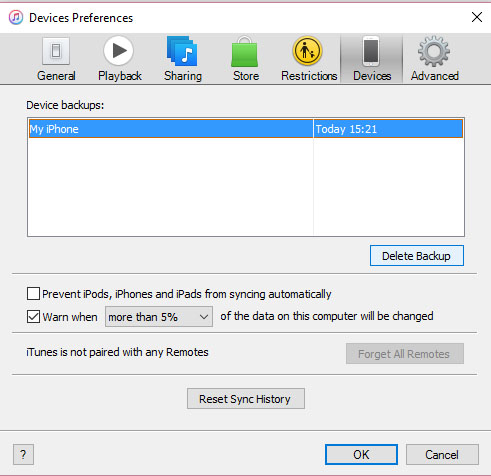 How to delete old iPhone backups in Finder...
This step is only for Mac users running macOS Mojave (10.14) and higher
In macOS Catalina, iTunes has been replaced. So now, backups of your iPhone are made using the Finder app instead.
To delete these backups, open Finder on your Mac and connect your iPhone. When it has been detected, click your iPhone from the list on the left of your Finder window.
Click "Manage Backups...". Select your backups and click "Delete Backup" to delete them from your Mac. You won't be able to recover deleted backups, so make sure you don't need them before you choose to delete them.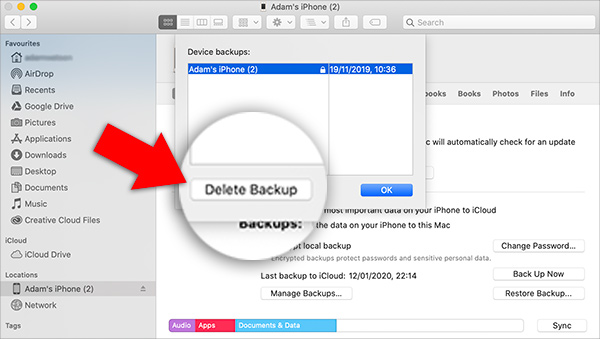 How to delete old iPhone backups from TouchCopy...
This step is only for Mac users running macOS Mojave (10.14) and higher. TouchCopy running on this version of macOS will save a backup of your iPhone to your Mac in a different location than before.
To delete such a backup, please navigate to the following location on your Mac through Finder:
~/Library/Application Support/Wide Angle Software/MobileSync/Backup/
You can navigate to this folder by opening Finder on your Mac. Open your user folder, then click through the folders: Library > Application Support > Wide Angle Software > MobileSync > Backup. Inside this "Backup" folder, you'll see one or more folders entitled with long strings of random letters and numbers. These are backup files.
Please remove any such folders in the aforementioned location. Once done, please then relaunch TouchCopy and re-attempt to access your messages. Relaunching TouchCopy will prompt the program to create a new backup of your device. Does TouchCopy now successfully display your messages as expected?
Step 3: Create a new iPhone backup (PC and Mac versions)
This step is only for users using Windows PC, or who are using macOS 10.13 or lower. I am using macOS 10.14 or higher.
Please ensure that you have enough space on your computer to create a backup of your iPhone. Then, create a fresh backup in iTunes:
Connect your iPhone to iTunes on your computer.
Click your device icon next to the Music drop-down in iTunes.
Under the Backups section, ensure that "This Computer" is checked, rather than "iCloud".
Click "Back Up Now". Please ensure that your computer has enough space to complete a backup of your iOS device.
When the backup is complete, close iTunes.
Now when you open TouchCopy, it will read from your new backup and display your messages as expected.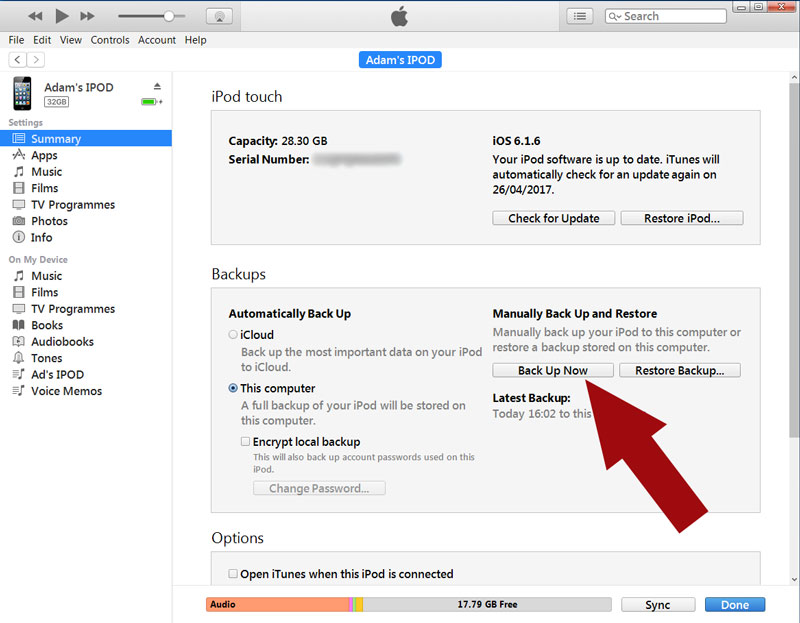 Don't forget to like & share with your friends!

Publisher:
Wide Angle Software
Back to TouchCopy Support