How can I Save iPhone calendars, contacts and notes on my PC or Mac





Average:

3.88

(

8

Votes).
Last Updated : | Wide Angle Software
Summary
To save your calendars, contacts or notes on your computer, follow these steps...
Download and install TouchCopy.
Connect your iPod or iPhone to your computer via the USB cable.
Select either the "Calendar", "Contacts" or "Notes" tab depending on the content you wish to copy.
Select the content you wish to copy and click "Copy to PC" or "Copy to Mac" to copy the content to your PC or Mac.
You can download the free trial version of TouchCopy below:
Download TouchCopy For PC
Download TouchCopy For Mac
Detailed Steps
TouchCopy enables you to Copy iPhone Contacts, Calendars and notes for all iPods, iPads and iPhones.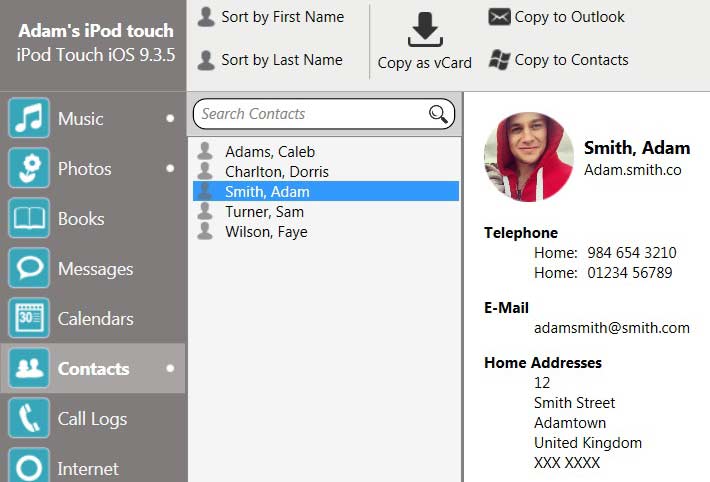 You can copy your iPod or iOS Device Contacts anywhere on your hard drive, preferably to a separate Contacts folder which you can create yourself. TouchCopy will copy your contacts to the chosen folder as .vcf files. Then use your email program or your address book program such as Outlook to import these .vcf files.
You can then use iTunes itself to re-sync your address book contacts with your new iPod/iOS device.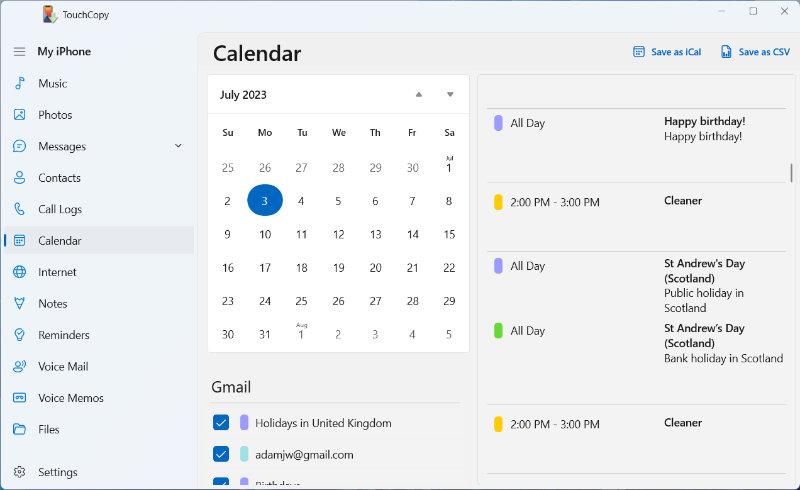 TouchCopy allows you to copy calendars or calendar events from your iPod, iPhone or iPad to your PC or Mac.
Files are copied as VCard on PCs, which can then be imported into your Outlook app, adding to your existing calendar
Files are copied as iCal on Macs, which can also be imported into your Calendars app. Mac users can also copy calendars directly into the Calendars app, using TouchCopy.
Once your calendar app has been populated by your VCard or iCal files, you can then sync your updated calendar with your iPhone, iPod or iPad using iTunes. Click here for more information on how to use calendars in TouchCopy.
Please see the TouchCopy user guide for further information on how to save iPhone notes on your computer .
Don't forget to like & share with your friends!
< Back to TouchCopy Support

Publisher:
Wide Angle Software