How to recover from TouchCopy Backup Failed Error Message
Last Updated : | Wide Angle Software
In order for TouchCopy to access data like Messages and Contacts, it must perform a backup of your device. If this backup should fail to complete, first make sure that there is enough space for the backup on your computer.
This article provides a resolution for the following error messages in TouchCopy (TouchCopy version 16 only):
How to resolve "Snapshot Relocator Returned False" error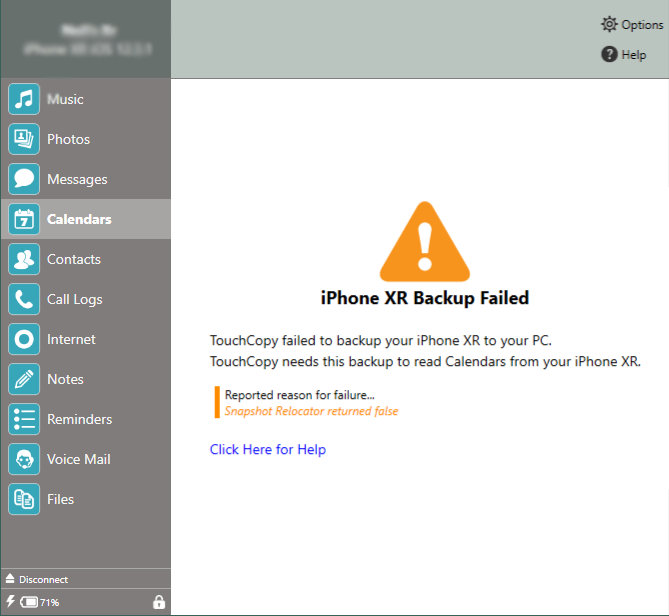 If you receive this error, you can perform a normal iTunes backup (or Finder if using a Mac running macOS Catalina or higher) of your device and then re-run TouchCopy to use that backup instead. Here's how it's done...
Connect your iPhone to your computer using your USB cable.
Backup your iPhone to your PC or Mac...

On a PC, or a Mac running macOS Mojave or lower, launch iTunes.
On a Mac running macOS Catalina or newer, launch Finder.

Select your device icon in iTunes, or your device name in Finder.
Make sure that your Backups are set to be saved to your computer, rather than to iCloud.
Click "Back Up Now".
Once complete, close iTunes/Finder and run TouchCopy.
Attempt to access a section like Contacts or Messages in TouchCopy.
If the backup fails - TouchCopy will display the error message again but this time there should be an option to use the backup you have created with iTunes/Finder. Click the "Yes, use older backup" button.
Resolve "Backup process returned error 1" or "Could not find BU EXE Path Null" error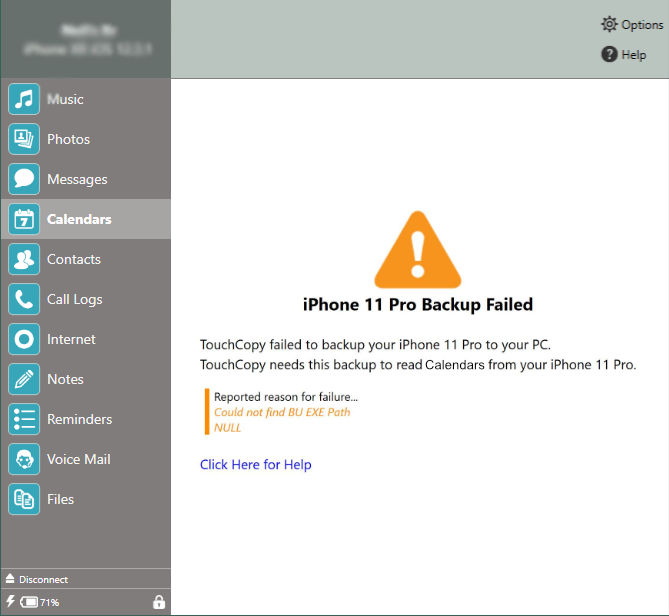 "Backup process returned error 1" message and "Could not find BU EXE Path Null" error can occur if the required iTunes files are not found in the expected location on your computer.
To resolve this issue, please uninstall your current version of iTunes, then reinstall the program directly from Apple's website (rather than through Microsoft Store). Here's how it's done...
Uninstall iTunes from your PC.
On the iTunes download page, scroll down to 'Looking for other versions?' and click 'Windows'. Scrolling back up will now display a link to download iTunes directly rather than through the Microsoft Store.
Alternatively, you can download iTunes directly from the relevant link below:
Once installed, launch TouchCopy and connect your device. TouchCopy should now be able to successfully perform a backup and proceed with loading your device's data.
< Back to TouchCopy Support

Publisher:
Wide Angle Software