Using TouchCopy with devices containing encrypted iTunes backup data.
Last Updated : | Wide Angle Software
Summary
To use TouchCopy on devices containing encrypted iTunes backup data, follow these steps...
Download and install TouchCopy.
Connect your device to your computer via the USB cable.
When attempting to view certain data, TouchCopy will ask you to enter your encryption password.
Once your encryption password has been entered, you will be able to copy data from the device as normal.
Download TouchCopy here
TouchCopy can also use encrypted backups created on Macs which don't use iTunes. If you use a Mac running macOS Catalina or higher, the backup encryption option can be found in the Finder app when your iPhone is connected.
How to create an encrypted iPhone backup
Introduction - iTunes Encryption of Device Backups.
When you connect your iPhone, iPad or iPod touch to your iTunes library - iTunes will make a backup of all the data on your device and store it locally on your PC. This data includes your contacts, messages, notes, calendars etc.
Optionally, you can specify that iTunes should encrypt this backup for additional security of your data. When you opt to encrypt your devices backup data, iTunes asks you to create a password.
The screenshot below shows the area within iTunes where these settings are made...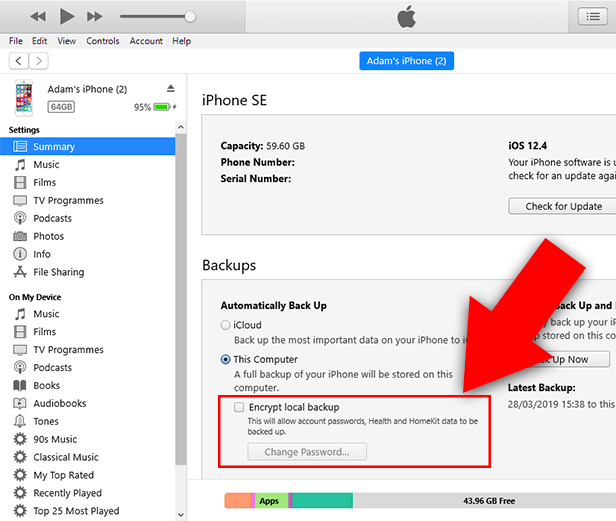 Removing Encryption from your backup
TouchCopy is able to read encrypted backups (see below), however, you can remove password encryption by clicking on the "Encrypt iPhone Backup" checkbox in iTunes. iTunes will ask you to enter your existing backup password before removing encryption.
Forgot your backup encryption password for your device? Find out how to reset your password or remove backup encryption.

Using TouchCopy and Devices with Encrypted Backup Data
TouchCopy is able to view data on encrypted devices, however, you need to provide TouchCopy the password you used to when opting to encrypt this data using iTunes.
TouchCopy will detect that the data on your device is encrypted and prompt you to enter the backup encryption password...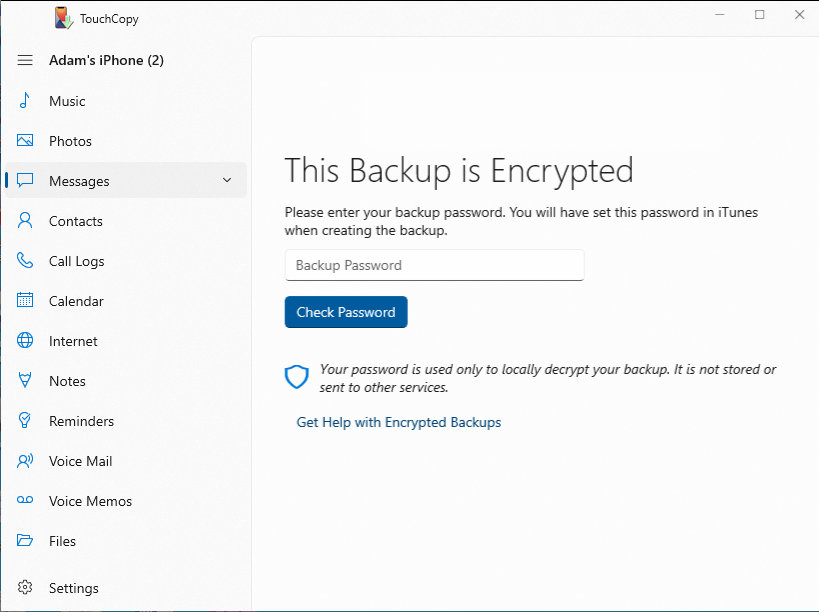 Note that you will not need to enter your password when viewing Music, Photos, Apps or Files on your iOS device, as these data types are not protected under backup encryption.
You will not need to enter a password at all for non-iOS based devices. (i.e. iPod Classic, iPod nano etc.).
For Your Privacy and Security
TouchCopy only uses your backup encryption password for the sole purpose of reading the data you require from your device. The password is not stored in any location on your computer or elsewhere. You will be required to enter your password again if you restart TouchCopy.
< Back to TouchCopy Support

Publisher:
Wide Angle Software