Introduction: iPhone Backups
Backing up your iPhone, iPod Touch or iPad is becoming increasingly important as more and more data is being stored on these devices. Just remember, as you take more photos on your device, and send more messages, the more precious data you could potentially lose if anything was to happen to it. If you make regular backups, however, if your iPhone was to break, or data was to get lost after an iOS update, you would be able to safely recover your data using your iPhone backup!
This guide provides details of 3 ways to backup your iPhone, iPad or iPod Touch and info of what data is stored in different types of backup.
Quick jump to the three reviewed iPhone backup methods:
How to back up all your iPhone data to computer: TouchCopy
Our most comprehensive solution comes first - TouchCopy software. This option is for users who desire ease-of-use and an intuitive interface, as well as extra control enabling you to backup individual photos, contacts, messages etc. Additionally, iTunes and iCloud backups do not contain certain files such your songs and music videos, which can all be saved with TouchCopy.
TouchCopy can access your iPhone, iPad and iPod Touch data, allowing you to browse through it on your PC or Mac computer. From there, you can choose what to copy from your device to your computer. You can transfer music from iPhone to a PC or Mac, backup contacts, save messages as PDF or print them off, TouchCopy can do it all. Here's how:
Download TouchCopy on your computer and run it.
Connect your iPhone to your computer using a USB cable or a Wi-Fi connection.
Navigate through your iPhone data using the tabs in TouchCopy.
Select data you wish to back up to your PC, and copy it!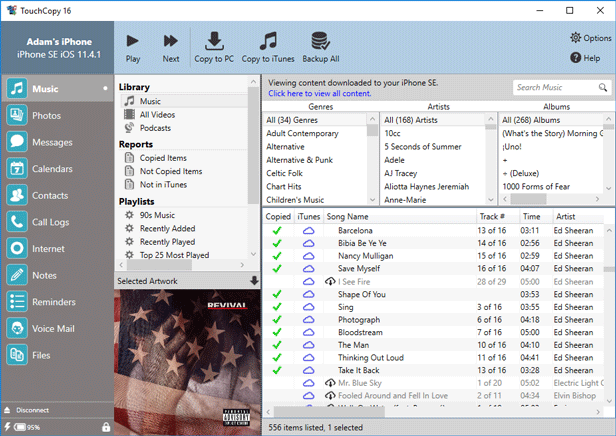 Summary (TouchCopy):
✔ Stores files on your PC or Mac ✔ Can save all files on your iPhone including your music and videos ✔ Store data up to your computer's available space ✔ Transfer only what you need to your computer ✔ Full control of what is transferred between iPhone and computer ✔ Popular and Trusted software

Try TouchCopy Free
Try TouchCopy free ▼
Receive an email with a link so you can download the free trial on your computer:
Note: We respect your privacy. We won't share your Email address with anyone else, or send you spam.
How to back up iPhone to iCloud
Next up is iCloud. iCloud is great for a number of reasons: it stores your iPhone backup data in the cloud, rather than on your PC, so you don't take up valuable PC space; and you can then access your backup data from anywhere with Wi-Fi (as long as you know your Apple ID and password, of course!). You can even set up automatic iCloud backups for whenever your iPhone is connected to power, locked and on Wi-Fi - so you don't have to worry about doing it manually.
The downsides here are that you only get 5GB of free iCloud storage space. If you need more, you'll have to pay for it. Also, unlike TouchCopy above, you can't access data from iCloud backups manually to copy out specific songs, or messages etc.
What is backed up in an iCloud backup?
Here's how to back up iPhone with iCloud...
Open 'Settings' from the app screen on your iPhone.
Tap your username entry.
Scroll down and hit 'iCloud' > 'iCloud Backup'.
Tap 'Back Up Now'.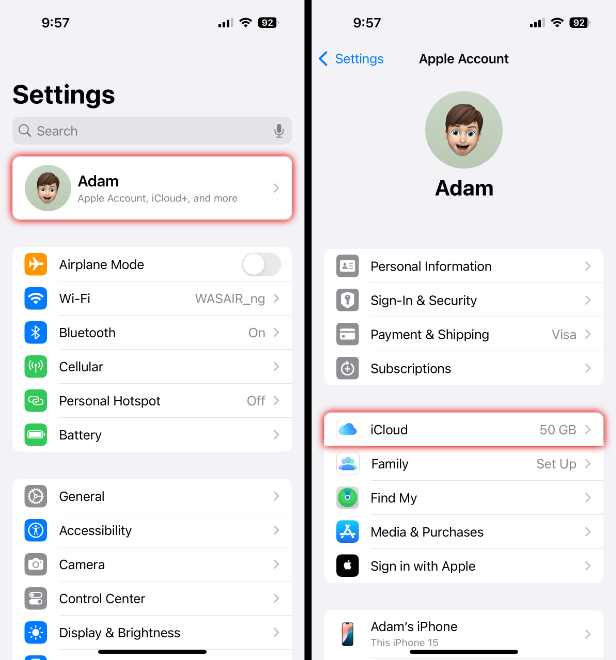 And then...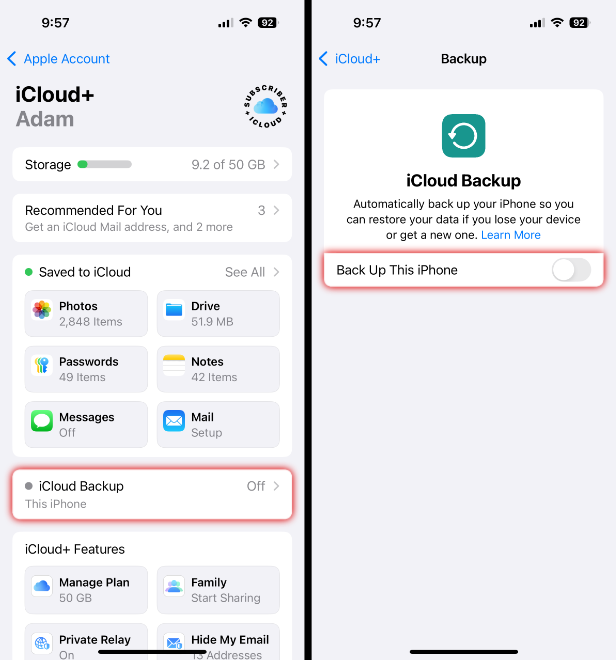 Summary (iCloud):
✔ Stores backups in iCloud ✔ 5GB free storage (payment needed for more) ✔ Encrypted backups ✔ Create and use backups over Wi-Fi ✔ Able to use backup to restore to iPhone
How to back up iPhone to iTunes
The last method we'll cover is backing up using iTunes. This backup is similar to the iCloud backup, in that you can use the backup to restore the snapshot to your iPhone. The difference here is that the iPhone backup will be stored on your computer, rather than in the cloud- so you don't have to worry about paying for extra space, but you won't be able to access the backup over Wi-Fi on another computer.
What is backed up in an iTunes backup?
Here's how to back up iPhone with iTunes...
Launch iTunes on your computer.
Connect your iPhone.
In iTunes, click your device icon.
Under 'Backups' click 'Back Up Now'.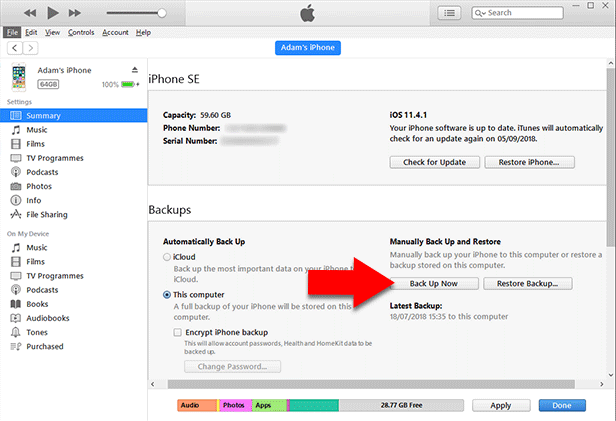 Summary (iTunes):
✔ Stores backups on PC or Mac ✔ Optional backup encryption ✔ Create and use backups on your PC or Mac ✔ Able to use backup to restore to iPhone

Publisher:
Wide Angle Software
Don't forget to like & share with your friends!