Introduction
Text messages contain some of the most important and precious information we have. From sweet words sent by loved ones, to messages which could provide crucial evidence in a court case, we want to keep our messages safe.
Unfortunately, it can be too easy to accidentally delete some important messages when you are trying to clear some storage space on your iPhone.
Regularly backing up your iPhone messages can ensure that you always have a safe copy of them in case of disaster. But what if you don't have a backup of the messages you need?
Fear not - this article will guide you through 5 methods which could retrieve your deleted messages. Here are the five methods reviewed:
Recover messages from iTunes backup with iBackup Extractor
Unlike some other solutions in this article, this one doesn't require you to overwrite your current iPhone data to retrieve your deleted messages.
Using a program like iBackup Extractor, you can retrieve any iPhone messages which were available on the iPhone at the time that a backup was created.
This means that if your messages have been deleted since a backup, you can use iBackup Extractor to get them back.
iBackup Extractor will save your deleted messages to your computer, or print them out for you. It will not restore the messages back to your iPhone.
Here's how to recover deleted iPhone messages from a backup:
Download iBackup Extractor on your PC or Mac and run it.
Select the backup you wish to access.
Click "Messages" and select the conversation you need.
Save the messages using "Save PDF" or print them out directly.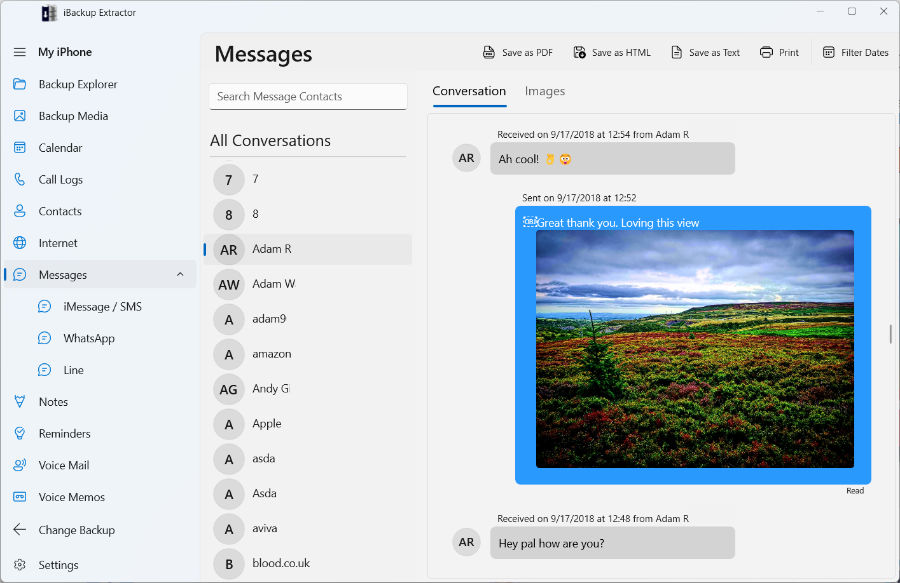 iBackup Extractor can retrieve SMS, MMS, iMessage and WhatsApp conversations from an iPhone backup.
It will save your text, images and information like date and time sent.
More info on iBackup Extractor >
Summary (iBackup Extractor):
✔ Requires an iPhone backup on your computer
✔ Won't overwrite your iPhone data
✔ Extract different kinds of data
✔ Save to your computer
✔ Print messages
Restore messages using an iCloud backup
If you make your iPhone backups to iCloud, you may have a backup of your device from before the time that your messages were deleted.
If so, you can restore your iPhone from an iCloud backup to retrieve your messages. Please bear in mind that using this method will overwrite your current iPhone data with the data in the backup. This can cause loss of data (messages and other files collected since the backup was made). So be very careful when deciding to go ahead with this solution. For more information, check out Apple's guide.
Don't want to overwrite data on your iPhone? We recommend using a third-party tool like iBackup Extractor.
How to restore an iCloud backup to iPhone:
Check that you have a recent backup which is likely to contain your deleted messages.
Go to Settings > [your name] > iCloud > Manage Storage > Backups.
Then tap a device listed under Backups to see the date and size of its latest backup.

Then, go to Settings > General > Reset, and tap 'Erase All Content and Settings'. This can take a few minutes and will start a setup of the device when it is finished.
During setup, on the Apps & Data screen, tap Restore from iCloud Backup.
Sign in with your Apple ID.
Tap "Choose backup" and ensure that you select the correct iCloud backup that you wish to restore.
Summary (Restore iCloud Backup):
✔ Requires an iPhone backup in iCloud
✔ Overwrites your iPhone data
✔ Doesn't require a computer
✔ Free
Restore your iPhone messages and other files using an iTunes backup
If you backup your iPhone with iTunes, rather than to iCloud, you can restore a backup in a similar way. As such, if you have an iTunes backup on your computer which was created when your iPhone contained your desired messages, you can retrieve your messages.
As with the iCloud backup method, this method will overwrite your current iPhone data. Make sure you have copies of any data you do not want to lose during the backup restore process. You can save important information like Photos, Messages, Contacts and more to your computer using a program like TouchCopy.
Check out Apple's guide for more information about restoring an iTunes backup on iPhone.
How to restore an iTunes backup to iPhone:
Open iTunes and connect your iPhone using your USB cable.
Select your device icon in iTunes.
Click "Restore Backup".

Select the backup containing your desired messages.
Click "Restore" to start the process. You'll need to enter your backup encryption password at this point if your backups are encrypted.
Summary (Restore iTunes Backup):
✔ Requires an iPhone backup on your computer
✔ Overwrites your iPhone data
✔ Free
Contact a friend
The most straight-forward method is this - ask the contact with whom your deleted messages were with whether they have the messages on their device.
Depending on your requirements, you could have them screenshot the messages for you and then share them using email or WhatsApp.
Simple, right? It's not as robust as copying messages as PDF or printing them from your computer, or as handy as restoring the messages to your iPhone, but if all else fails, this will ensure that you can keep hold of your important messages.
Summary (Contact a friend):
✔ No iPhone backup needed
✔ No computer needed
✔ Will not overwrite your iPhone data
✔ Quick, Easy and Free
Contact your phone service provider
If you haven't got a backup containing your deleted messages, or if your contact doesn't have the messages, your last port of call is to contact your phone service provider.
Not all service providers store information like messages, but some do! So, it is well worth contacting your service provider to see if they have your deleted messages stored.
Make sure you do this as soon as you can, because messages are sometimes stored for only a couple of days.
Summary (Contact service provider):
✔ No iPhone backup needed
✔ No computer needed
✔ Will not overwrite your iPhone data
Takeaways
As you can see, there are lots of ways to recover deleted text messages on your iPhone, you just need to know where to look.
Be sure to use this guide as soon as you can after realising that messages have been deleted. The longer you leave it, the more chance of backups being overwritten, or service providers deleting backed up messages.

Publisher:
Wide Angle Software