Introduction
If you have missing iPhone contacts, or have accidentally deleted them, hope is not lost! Apple has become loads better at helping keep your data secure, so your missing contacts may well be safe and sound in a backup of your iPhone on your computer or in iCloud.
This article will guide you through 5 different methods to recover deleted contacts from iPhone.
Don't forget to regularly back up your iPhone so that you can recover your important information should anything happen to your device. It is also wise to back up your iPhone before updating iOS, as past updates have caused issues for users.
Method 1: Restore Contacts from iCloud
There are couple of ways to recover contacts using iCloud. Let's dive into the two options below...
Option 1 - Restore Contacts from iCloud (iPhone)
If your iPhone is set to sync Contacts with iCloud, this option is available to you! iCloud has become a really handy tool for iPhone users, in that loads of files which you may not ordinarily be able to fit on your limited iPhone storage space can live in iCloud instead. It also means that you can easily sync your data between your Apple devices (e.g. accessing your contacts on both your iPhone and your MacBook)!
This also means that if some of your iPhone contacts have disappeared, you can just reach into the cloud and get them back. Below is how to use your iPhone to merge contacts from iCloud with iPhone. Check out method 4 if you would prefer to use iCloud in a browser to export your contacts to computer.
Grab your iPhone and open the Settings app.
If you are running iOS 10.3 or higher, tap your name, then iCloud. If you are running iOS 10.2 or earlier, you just need to tap iCloud.
Find "Contacts" in the list, and toggle it OFF.
Tap "Keep on My iPhone".
Then, toggle Contacts ON again.
Finally, tap "Merge".
For more information, see Apple's guide to iCloud Contacts.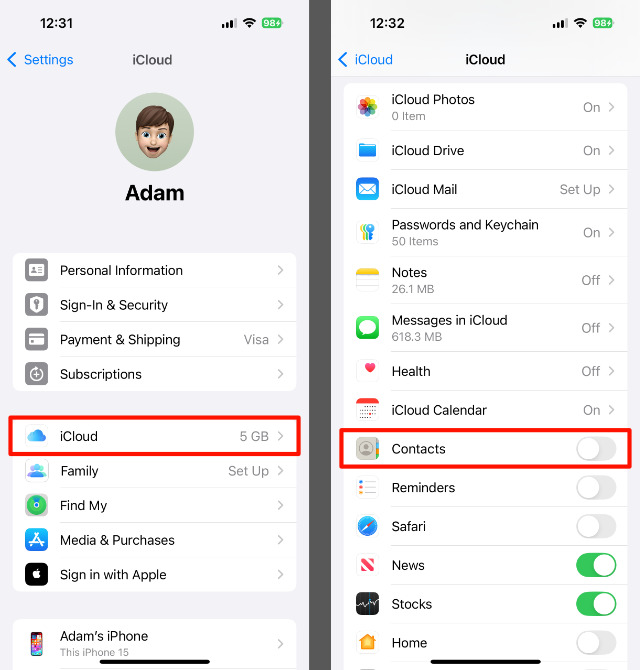 Option 2 - Restore Contacts from iCloud (icloud.com)
You can see what is saved to your iCloud by visiting iCloud.com. You'll be able to see information synced from your iPhone such as Contacts, Photos, Calendars, Notes and more.
Open your internet browser (e.g. Google Chrome, Internet Explorer, Firefox, Safari...).
Go to iCloud.com
Sign in with your Apple ID and Password.
Select "Contacts" to view your contacts.
Select the contacts you wish to copy. You can select multiple contacts by using shift-click or ctrl-click.
Click the gear icon in the bottom left corner and click "Export vCard..."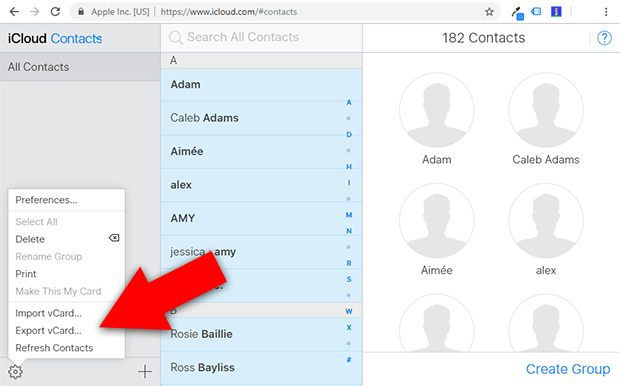 Once your contacts have been copied to your computer as vCard, you can import them to your contacts app such as Outlook. This keeps your contacts safe and accessible. You can then even sync your contacts to your iPhone using iTunes!
Method 2: Recover Contacts by restoring your iPhone from iTunes backup
If you have backed up your iPhone to iTunes before, your contacts may be stored in your backup (If you don't remember creating a backup of your iPhone with iTunes, you may still have a backup! iTunes will create a backup of your iPhone any time you sync it with iTunes).
iTunes enables you to restore such a backup to your device. This means that your iPhone will essentially revert to the time when the backup was made. Unfortunately, this means that you will lose any data which has been added / edited / removed since the time of the backup. Only use this method if you are happy to revert your iPhone to the time when your backup was made.
To restore an iPhone from an iTunes backup:
Launch iTunes on your computer and connect your iPhone.
Click your device icon.
In the "Summary" section, click "Restore backup"
Select the backup you wish to restore from.
You may need to disable "Find My Phone" on your iPhone before you can restore the device with iTunes. To do this, go to your iCloud settings on your iPhone, tap "Find my iPhone", then toggle the setting off.
Restoring your iPhone from a backup will replace its current content with that of the backup. If this is not what you want to do, I recommend using iBackup Extractor, or iCloud instead.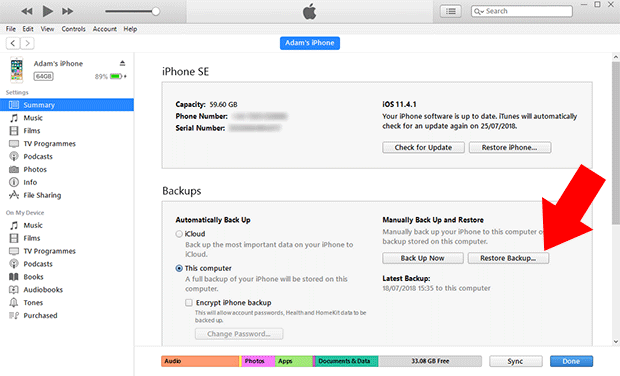 Method 3: Extract Contacts from iTunes backup
If you are unsure about restoring backups to your iPhone and potentially overwriting your files, this option is great for you. Using professional software like iBackup Extractor, you can simply extract the data you need from a backup of your iPhone, rather than restoring the whole thing.
If you don't remember creating a backup of your iPhone with iTunes, you may still have a backup! iTunes will create a backup of your iPhone any time you sync it with iTunes.
In the case of missing iPhone contacts, you can extract the contacts you need from a backup of your iPhone and save them to your computer. You can then simply transfer the contacts to your iPhone using iTunes. Here's how:
Download and install iBackup Extractor on your PC or Mac.
Select an iPhone backup from the list to view its contents.
Click the "Contacts" tab to see the contacts saved in the backup.
Select the contacts you need, and hit "Copy to Outlook / Contacts / Address Book".
Open iTunes and connect your iPhone.
Click the device icon > Info > tick "Sync Contacts with".
Select Outlook or Windows Contacts or Address Book.
Click "Apply" to transfer!
The free trial of iBackup Extractor allows you to extract 20 items FREE.

Download iBackup Extractor Free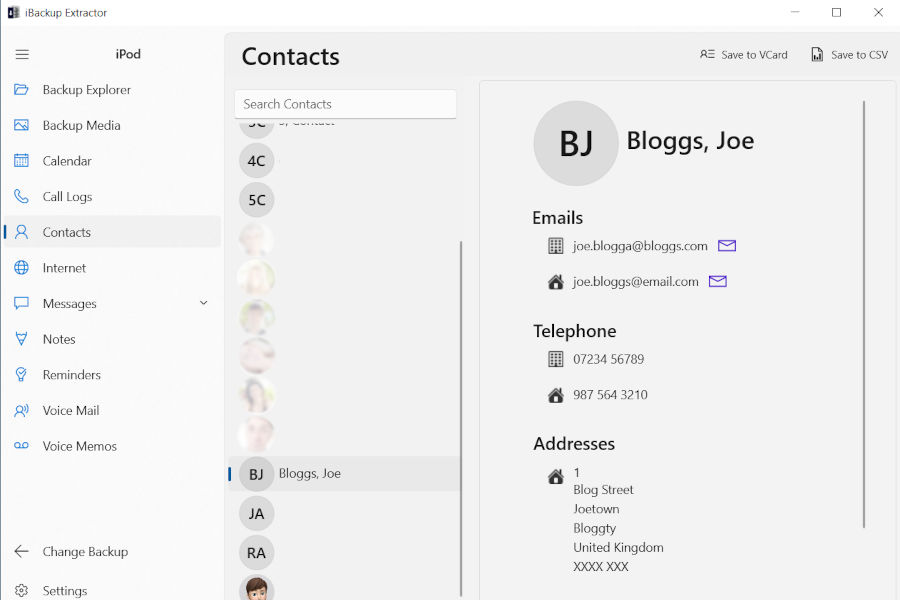 Method 4: Transfer from an old iPhone or Android using Contact Transfer
You may have an old phone laying around which has all of your important contacts still stored on it.
Whether you have an old Android or iPhone, you can transfer contacts from it to your new iPhone using Contact Transfer.
Contact Transfer allows you to connect your devices to your PC and easily move your contacts between them. This is great because these transfers are done locally on your PC, so you don't have to worry about using online services like iCloud.
This method is available for Windows 10 or 11 systems.
Here's how to transfer contacts from device to device using Contact Transfer:
Download and Install Contact Transfer on your PC.
Launch Contact Transfer and choose your Source and Destination devices. The Source device is the one which has your desired contacts stored on it. Then click Continue.
Connect your devices. Check out the guide on how to connect an Android or iPhone with Contact Transfer.
Once your devices are connected, click Continue.
Select the Contacts you wish to transfer from your Source device.
Click Transfer to initiate the copy process!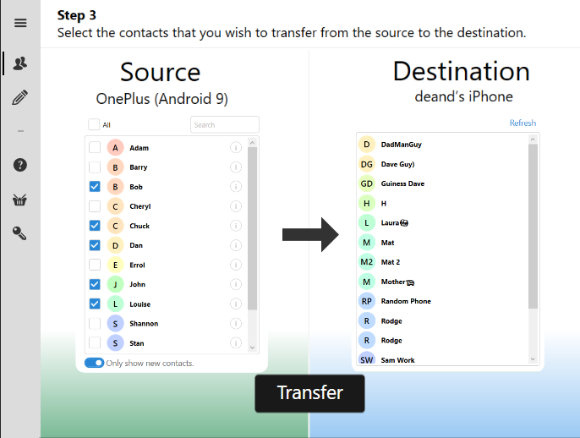 The free trial of Contact Transfer allows you to transfer 5 contacts FREE.

Download Contact Transfer Free
Method 5: Ask your friends
The last method is the simplest one, but also the least robust. If you are only missing one or 2 crucial contacts from your iPhone, it may be easiest for you to obtain the missing information from friends.
For example, if you are missing a friend's contact information, why not contact a mutual friend (who you do have contact information for) and ask them to send you the missing details.
On your iPhone, open the "Contacts" app. Select a contact you wish to share with a friend. Now scroll down and tap "Share Contact". Here, you'll have the option to share the contact via Message, Mail, WhatsApp and more!
Obviously, this will take ages if you need to get more than a handful of contacts from friends, so we recommend using one of the above methods if you need a more robust solution.

Publisher:
Wide Angle Software