Introduction
Keeping your Apple device software up to date is important not only because of all the cool new features we have been getting in the updates, but also because of all the security updates Apple has been making to keep you safe. Find out what's new in iOS 16 and iPadOS 16.
However, there is always a risk of data loss when upgrading system software. Therefore, it's important to backup before upgrading your iPhone or iPad. This article takes you through the steps on how to backup *everything* on your iOS device.
Quick Jump to:
How to create an iPhone Backup in iTunes/Finder
First, let's perform a backup of your iPhone configuration and other data. This will back up your iPhone settings and App data to your PC. This is a great safety net, because you can restore your device from your backup if anything should go wrong with updating iOS.
Connect your iPhone to your PC or Mac using your USB cable.
Open iTunes (or open the Finder app if using macOS 10.15 or newer).

For PC and Macs using macOS 10.14 or older: Click the device icon in iTunes.
For Macs running macOS 10.15 or newer: Select your device in Finder.

Check the option to create your backup to your PC/Mac, rather than to iCloud.
Additionally, check the option to encrypt your backup. This will ensure that your backup will be as complete and secure as possible. (you'll need to set a password for backup encryption. Keep your password safe, as you'll need that to access the backup in the future!)
Click the "Back Up Now" button...

This will start the backup process. Depending on how many apps you have on your iPhone - this can take a little while. Once it's finished you'll have a full backup of your iPhone configuration and App data.
How to intelligently backup your iPhone to your computer with TouchCopy
The iTunes backup is great, but it has one glaring omission. The iTunes backup does not back up your Music, Playlists or other audio / video content. To backup all of these items - we will use TouchCopy. TouchCopy is fully compatible with iOS 16.
Additionally, you cannot gain access to your iPhone content from a backup, using your computer. If you'd like to have full control over your iPhone content on your computer, you can back it up with TouchCopy.
Close iTunes and safely disconnect your iPhone, iPad or iPod Touch.
Now, let's download and install TouchCopy on your PC or Mac...
Download TouchCopy
Run TouchCopy by double clicking on the TouchCopy icon on your Desktop (PC Users) or double clicking the TouchCopy icon in your Applications folder (Mac Users).
When TouchCopy prompts you - connect your iPhone, iPad or iPod Touch.
Once connected with your device, you can pick a section in TouchCopy to view the content of that type from your iPhone.
For example, if you click the Music section, TouchCopy will show all the tracks, albums, playlists and more which are stored on your iPhone.

Backing up iPhone data to PC using TouchCopy




Backup iPhone data to Mac using TouchCopy

Back up the content to your computer using the buttons in TouchCopy's toolbar.
For music, you can copy music to a folder on your computer (using Copy to PC or Copy to Mac), or directly into your iTunes/Music library.
Repeat this process for any other content you wish to save to your computer, including Messages, Photos, Contacts, Call Logs and more!
The trial version of TouchCopy will copy 100 songs from your iPhone or iPad for free. If you have more than 100 items of music on your iPhone, purchase the full version of TouchCopy.
How to update to iOS 16 on your iPhone
Having backed up all your iPhone data, you're ready for the exciting part - upgrading your iPhone to the latest iOS version!
The finished version of iOS 16 has been available since September 12th 2022, you can update from your device Settings as below...
On your iPhone, iPad or iPod Touch open the Settings app.
Select General
Select Software Update
Your device will check with Apple for the correct update and give you the option to upgrade.
Tap "Download and Install" to start the process.
Recover iPhone data from a backup
Losing your precious data can be a disaster. Your iPhone may store important texts and photos, as well as invaluable contacts - so make sure you back them up regularly to keep your data safe!
If a problem should occur which means that you lose your content on your iPhone (e.g. loss of device, damaged/broken device, or a bad update). You'll want to restore or recover your iPhone content from a backup. There are 2 ways to do this...
Option 1. Restore your iPhone from an iTunes/Finder backup
You can restore a backup made using iTunes/Finder or iCloud to your device. Using this method means that the entire backup snapshot will replace any content currently on your iPhone.
Check out Apple's website for a full guide on how to restore your iPhone from a backup.
Option 2. Selectively recover data from iTunes/Finder backups
If you do not wish to restore your iPhone from a backup, this option allows you to browse and select which files you wish to recover. For this, we'll need to use the iBackup Extractor software on your PC or Mac.
iBackup Extractor can recover all data contained in your iTunes and Finder backups, including your Photos, Contacts, Calendars, Internet browsing history, Call history, Notes, Messages and Voice Mails.
Launch iBackup Extractor from your Desktop (PC) or Applications (Mac).
Select the backup you wish to access.
Choose the data category you wish to recover (e.g. photos, messages, etc).
Select the files you wish to save to your computer and click on "Copy" in iBackup Extractor.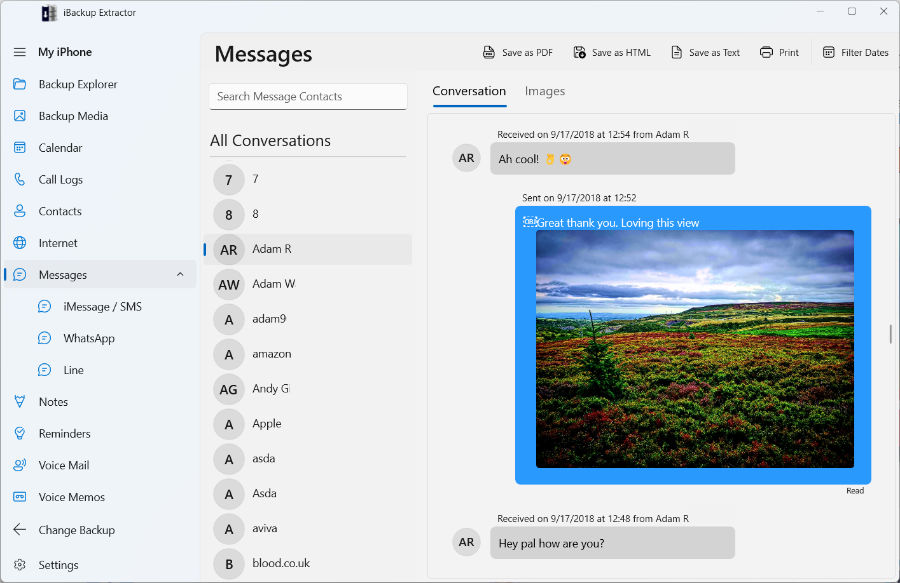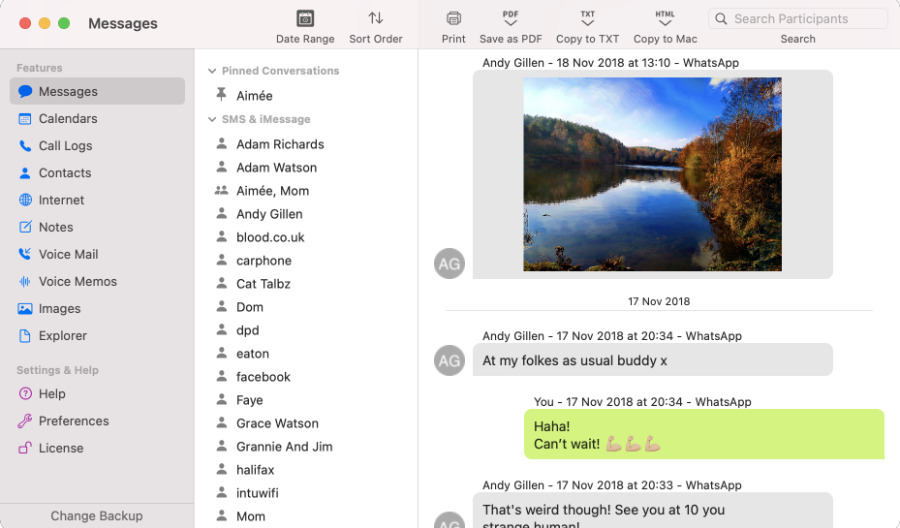 Option 3. Restore your library from a backup made by TouchCopy
If you used TouchCopy to backup your music, videos, playlists, podcasts and other iPhone content, you can restore your iTunes library from a backup made by TouchCopy, follow the steps in our support article here.
Summary
It's always a good idea to back up your devices your mobile devices, especially when upgrading the operating system. In this article we have shown you how to back up your iOS device before updating your iOS software version. You now know how to create a backup using iTunes/Finder, how to safely save your iPhone content to PC/Mac in useable formats, and even how to restore your device to its previous state if something should go wrong!


Publisher:
Wide Angle Software
Don't forget to like & share with your friends!