Introduction
Transferring your music collection from your phone to your computer can be surprisingly difficult - especially if you are using an iPhone (or iPod / iPad).
If you would like to transfer your music from your phone to your computer or laptop, look no further. Whether you want to transfer music from an Android phone or an iPhone, this article will guide you through.
Quick jump to any of the music transfer methods reviewed:
Transferring music from iPhone to computer
Transferring music and other data from iPhone to your computer is not so easy without help. iTunes enforces restrictions which prevent the transfer of non-purchased music, and other data from your iPhone to your computer. But worry not - we've tested 3 methods which will allow you to easily copy your music to where you need it: Waveform, TouchCopy and Airdrop.
1. Copy music to and from iPhone (Windows)
Waveform marks the next generation of music players and is completely free to use. Unlike iTunes, Waveform Music Player allows you to copy all your music to and from your iPhone with ease - no pesky syncing required.
Let's see how it's done...
On your Windows PC or laptop, get Waveform from the Microsoft Store.
Launch Waveform from your start menu.
Connect your iPhone with your computer via your USB cable.
Select your iPhone from the menu on the left of Waveform to access your iPhone's music.
Select the music you wish to copy from iPhone to PC (ctrl-click or shift-click to select multiple tracks/albums).
Click "Copy to PC" and finally choose where on your PC you'd like to save your music.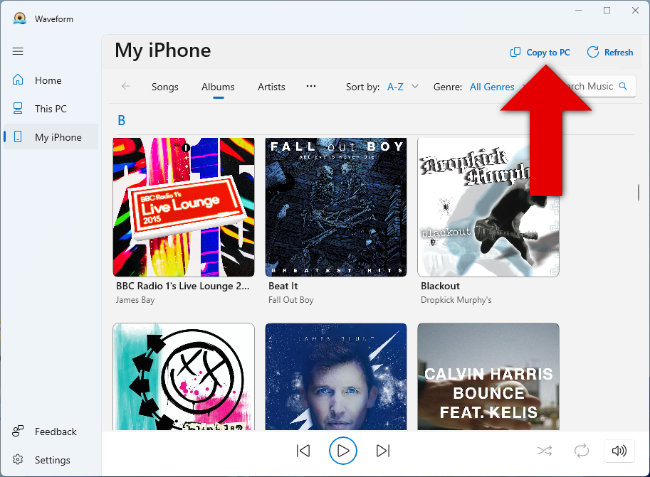 Download Waveform Music Player free:
Why use Waveform Music Player?
Play music from your PC, or connect your device to play music from iPhone, iPod or iPad.
Copy music between your PC and any iPhone or iOS device - no syncing, no fuss.
Create custom playlists.
Automatically download missing artwork for your music, making your library look gorgeous, always.
2. Transfer music from iPhone to PC/Mac
Next, we have TouchCopy, which is a fantastic file management tool for anyone with an iPhone.
TouchCopy is a program for Windows PC or Mac which allows you to connect your iPhone, explore its content through your computer, and even copy the content you want!
With TouchCopy you can access and copy Music, Messages, Contacts, Photos, Call History and more! Let's see how to use TouchCopy to transfer music from iPhone to computer...
Download and install TouchCopy on your PC or Mac
Run TouchCopy and connect your iPhone, iPad or iPod.
Select the songs and playlists you wish to copy. You can select multiple tracks and playlists by shift-clicking or CTRL-Clicking (or cmd+clicking on a Mac) them in TouchCopy.
Click "Copy to PC/Mac" in TouchCopy to copy to a folder on your computer, or click "Copy to iTunes/Music" to add the music directly to your iTunes library or Music app library on macOS Catalina or higher.
More info on TouchCopy

TouchCopy Free Download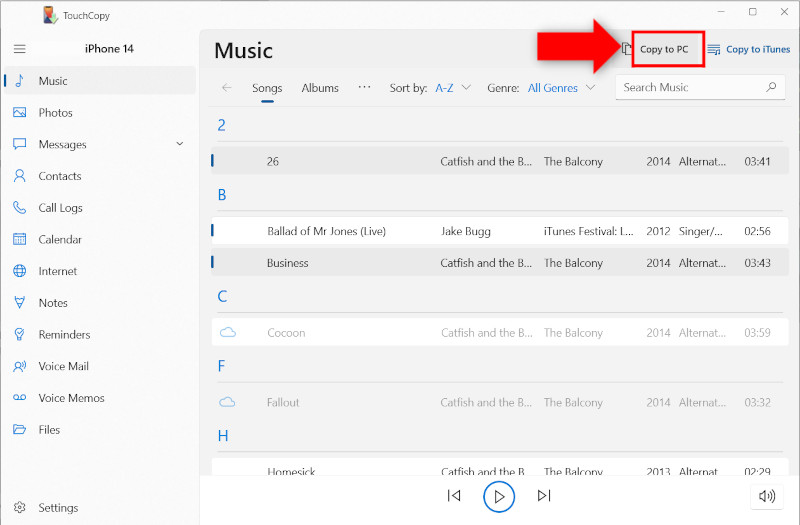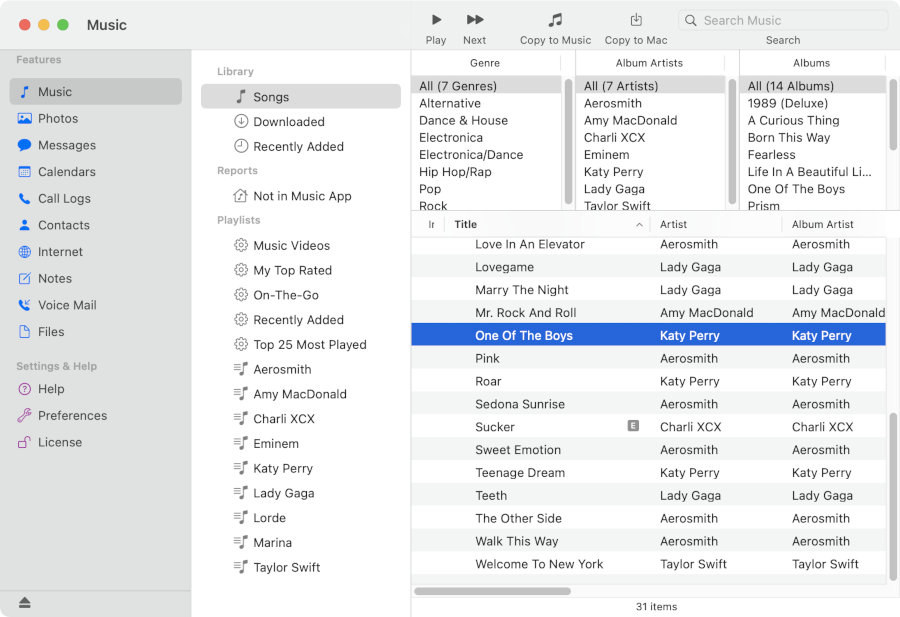 Why use TouchCopy?
3. Wirelessly transfer music from iPhone to Mac [debunked]
Many guides claim that you can transfer your iPhone music using methods like AirDrop.
It's easy to see why they would claim this, as you can long tap on a song on your iPhone > Share Song... and you are presented with options like sharing with AirDrop, Messages, Mail, Dropbox...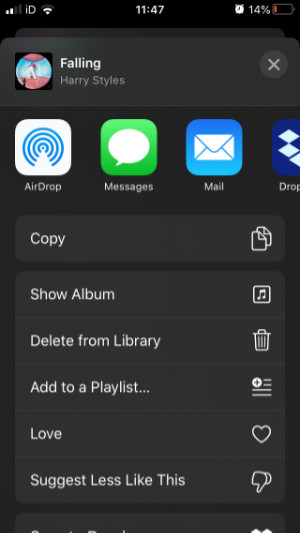 However, it is not possible to transfer music from iPhone to Mac using these share methods.
Using one of these share methods will simply share a link for the selected music on the Apple Music website. This is great for suggesting cool new tunes for your friends to listen to, but not for transferring the files between your devices.
The reason for this is due to the protection of copyright on the music. Enabling the sharing of music with people who do not have a license for it would violate copyright protection. As such, Apple only provides the ability to transfer music that you have purchased. This is policed by ensuring that the same Apple ID is used.
Transferring music from Android to computer
Transferring content from Android is often easier than from an iPhone, as there are fewer restrictions. But this process can still be daunting for some, without the aid of a helpful app like Droid Transfer.
We have tested and reviewed the top 3 ways to transfer music from Android to PC: the Droid Transfer app, Windows File Explorer and Android File Transfer for Mac.
1. Transferring music and more from Android phone to computer
If you need to transfer music and other Android phone data such as messages, photos and contacts to your computer, look no further than the Droid Transfer app for Windows.
Droid Transfer is an invaluable tool for any Android user, as it allows you to access and copy any content from your device to your PC. Let's take a look at how to transfer music from Android to PC with Droid Transfer:
Download Droid Transfer on your PC and run it.
Get the Transfer Companion App on your Android phone.
Scan the Droid Transfer QR code with the Transfer Companion App.
The computer and phone are now linked. Select the music that you'd like to transfer and hit "Copy to PC"!
As you can see, Droid Transfer does a lot more than just copying music from Android to PC, it can also:
Add music from your PC to your Android.
Sync music between PC (either from a folder of your choosing or from iTunes) and Android.
Delete tracks you don't want anymore.
More info on Droid Transfer

Droid Transfer Free Download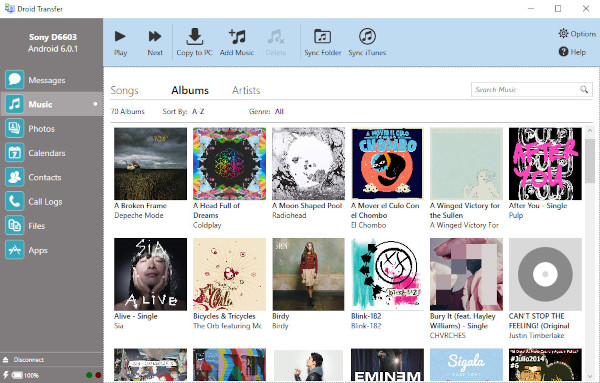 Why use Droid Transfer?
2. Using File Explorer to transfer Android music to your computer
Unlike with iOS devices like iPhones, you can use File Explorer to browse and transfer music from your Android phone simply by using your USB cable. Here's how:
Connect your Android phone to your computer using your USB cable.
Make sure the device is unlocked. You may also be asked what type of connection you would like to do with your device. Select "File Transfer" or similar.
Open File Explorer > Click 'This PC' > Select your Android device.
Navigate to your device's Internal Storage and find the Music folder.
You can right-click this folder (or open the folder and select only certain tracks) and select Copy.
Finally, Paste your copied music to a local location on your computer (such as a new folder on your Desktop).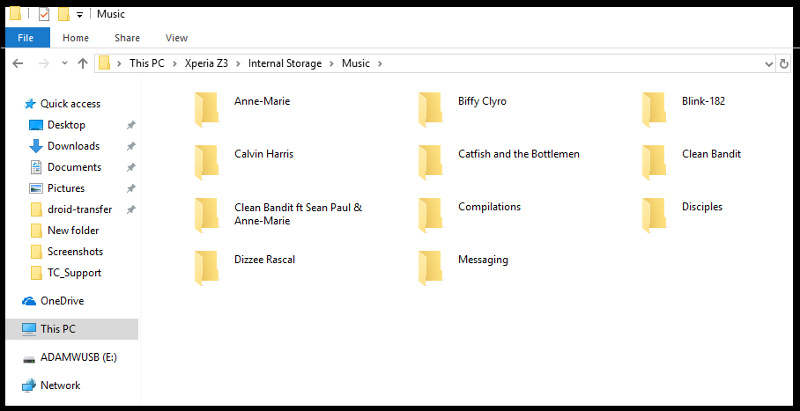 3. Transfer music from Android to Mac with Android File Transfer
By default, you can't connect an Android device to a Mac in order to view or copy its contents. To enable this, you'll need the 'Android File Transfer' app.
Android File Transfer is a file manager much like File Explorer on Windows. You can browse all the files and folders on your connected Android device and copy them to your Mac. Here's how to transfer music from Android to Mac using Android File Transfer:
Connect your Android device to your Mac with your USB cable.
When the Android asks what you would like to use the connection for, select "File Transfer" (this option may be worded slightly differently depending on your device).
Open Android File Transfer to browse your Android's files.
You can select the files you want to transfer, then simply drag and drop them into a folder on your Mac (the screenshot below shows a selection of music from an Android device using Android File Transfer).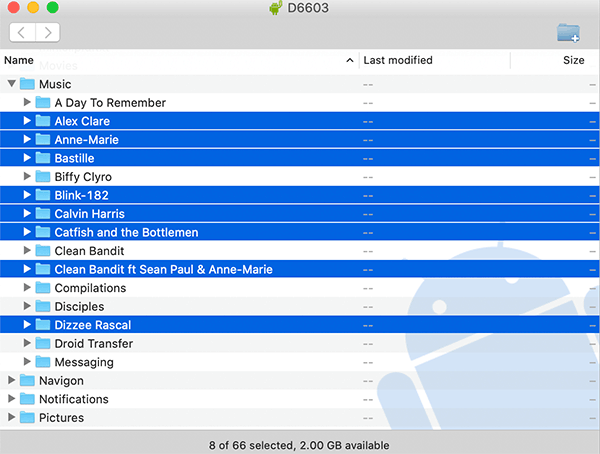 Takeaways
There you have it - the top ways to transfer music from Android or iPhone to your computer. You should now have all the information you need to choose the best method for you. However, if you still need help choosing, check out our recommended selections below:
If you have a Windows PC, we recommend using the free Waveform Music Player which will allow you to easily copy music to and from your iPhone.
For a complete and powerful file manager for your device, you'll want Droid Transfer (to manage Android devices - available on Windows PC), or TouchCopy (to manage iPhones - available for Windows PC or Mac).
If you only need to quickly transfer a few tracks, using the inbuilt File Explorer (Windows) may be enough to fulfil your needs.

Publisher:
Wide Angle Software