How to copy music to computer from your iPhone, iPod or iPad
Quick Guide:
Step 1: Download and install TouchCopy.
Step 2: Run TouchCopy and connect your iPhone, iPod, or iPad.
Step 3: Click on Music in TouchCopy and select the songs you wish to copy.
Step 4: Hit "Copy to PC/Mac" and choose the folder where you wish to save your music.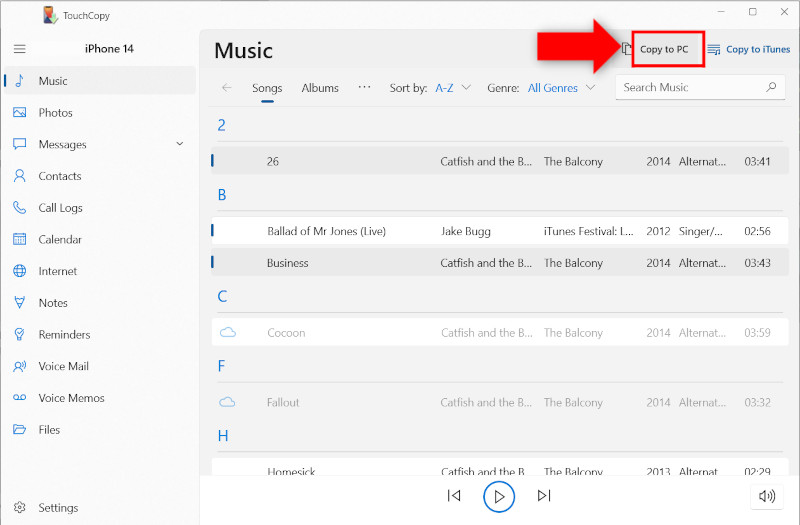 For more information and detailed steps, please see below.
Selecting and copying your music
TouchCopy can copy all your iPod, iPad and iPhone songs and videos stored in your device's Music library. All music formats that your device is capable of playing, including MP3, AAC, WAV, WMV and MP4 are supported. TouchCopy does not perform any file conversion on your songs or videos. Note that TouchCopy will copy songs that are stored locally on your device. If your music is stored on iCloud, please first download it to your device before copying.
TouchCopy also copies any attached metadata like Play Counts, Comments and Ratings. Please see our article for a full list of the track information TouchCopy can copy.
Copy all tracks: To quickly copy all your songs on your device, click the Copy to PC or Copy to Mac button in TouchCopy without selecting any music. TouchCopy for PC users can also copy all their songs, video and playlists, by using the Backup All button in TouchCopy.
Copy selected tracks: You can also copy selections of music. Select the audio or video you wish to copy by Shift-clicking multiple items, or browse and search your iPod or iOS device content using TouchCopy.
Once you have selected the items you wish to copy, press the "Copy to PC" or "Copy to Mac" button in the TouchCopy Control Bar to copy music from your device to your computer.
You can then select where on your computer you would like to copy your selected content. You can even copy your music to an external hard drive to save space on your computer!
By default, TouchCopy will save your music in artist / album subfolders and name the music files as:
<track number> - <track title>.
You can change the default save location, directory structure and file name format using TouchCopy options.
Copy Status
As each track is copied onto your hard drive an icon next to that track indicates whether the copy was successful or not. The icons used are

for success and

for failure.
As a track is successfully copied, TouchCopy will mark the track on your device as copied. Whenever you connect your device to TouchCopy - TouchCopy will detect the music you have previously successfully copied. See "Copy History" for more information.
Successfully copied tracks will also show in the "Items Copied" report. See Reports for further details.