How to Transfer Music from iPod to USB Stick / Flash Drive
Last Updated : | Wide Angle Software
Summary
The Apple iPod line has sadly been discontinued. However, many people still use iPods as their source of music on the train, at the gym or, well, anywhere!
Whether you are looking to back up your iPod music to make more space on your device, or to transfer your music library from your device before retiring it - this guide can help. We're going to see the best 2 ways to transfer music from iPod to a USB stick.
Safety first: Prevent your iPod from syncing with iTunes
Depending on how your iTunes program is set up on your computer, it is possible that your iPod will automatically sync when you connect it to your computer.
To avoid losing any data from your iPod, we recommend checking that the iPod will not sync automatically before you connect it. Here's how:
Launch iTunes on your PC.
Go to Edit > Preferences > Devices.
Tick the "Prevent iPods, iPhones and iPads from syncing automatically" option.
Click OK to save the change.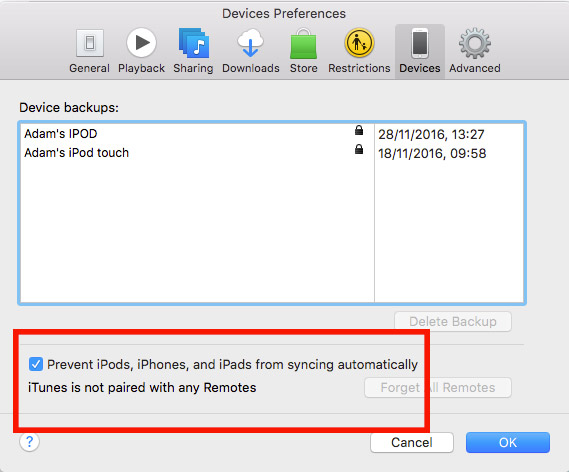 Transfer music from iPod to USB stick with TouchCopy
TouchCopy is a fantastic program you can use on either Windows or Mac computers.
With TouchCopy, you can access all your content on iPod, iPhone or iPad, and copy the content to your computer - all without syncing.
Let's take a look at how to copy music from iPod to computer with TouchCopy...
Ensure that you have prevented iTunes from automatically syncing with your device.
Download and install TouchCopy on your computer.
Connect your iPod to your computer via the USB cable.
Click the Music feature in TouchCopy to view the music stored on your iPod.


Select the music you wish to copy, then click "Copy to PC" or "Copy to Mac".
Select the location on your USB stick that you would like to copy the content to start the transfer!

If you have not done so already, you can download TouchCopy from here:

Free TouchCopy Download (PC)

Free TouchCopy Download (Mac)
Want your iPod music in iTunes / Music app?
Use Copy to iTunes (PC) or Copy to Music (Mac) to copy your iPod music directly into your music library on your computer.
If you've already copied your music to a folder on your USB stick instead, you can import the music into iTunes/Music by selecting the 'File' tab in iTunes/Music and then 'Add folder' to library.
Want your iPod music in iCloud? You can also copy your files to iCloud Drive. Saving to the iCloud Drive means all of these files will be accessible by your iPhone, iPad, iPod Touch, Mac or PC, as long as the iCloud Drive App is active on each device.
Transfer music from iPod to USB stick with File Explorer
If you have a particularly old iPod (iPod Classic, Nano or Shuffle), you can even use File Explorer on Windows PC to access and copy your iPod music.
This is an easy way to copy your music to Flash Drive / USB stick, however, there are some drawbacks you may want to consider before choosing this method...
You'll be saving folders from your iPod containing your songs - the folders and files stored on your device will be named in a way whereby you can't tell what songs you are copying until you play the file. e.g. If you had the "Billie Jean" song on your iPod, the iPod may have saved it as a code like "GHABR.mp4" in a "F27" folder.
As mentioned, this method will only work with older iPods which use a specific file system. If you have a newer iPod, iPhone or iPad, you can use TouchCopy instead!
For more control over your music transfers (and more) you may wish to use Method 1 : TouchCopy instead.
With that said, let's see how to transfer iPod music to USB stick using File Explorer...
Ensure that you have prevented iTunes from automatically syncing with your device.
Connect your iPod to the PC using your USB cable.
Open File Explorer and select your iPod from the list of devices.
Navigate to iPod_Control > Music to access the iPod's music files. If you can't see your music folders (named 'F0', 'F1'...) go to View > Hidden items.


Now you can select the files and folders from your iPod, copy them, then paste the music onto your USB stick!

< Back to TouchCopy Support

Publisher:
Wide Angle Software