How to transfer content from my iPod to an external hard drive





Average:

3.78

(

59

Votes).
Last Updated : | Wide Angle Software
Summary
To transfer content from your iPod, iPhone or iPad to an external hard drive, follow these steps...
Download and install TouchCopy.
Connect your iPod, iPad or iPhone to your computer via the USB cable.
Select the content you wish to copy and click "Copy to PC" or "Copy to Mac".
Select the directory on your external hard drive that you would like to copy the content to.
If you have not done so already, you can download TouchCopy from here:
Download TouchCopy For PC
Download TouchCopy For Mac
Further Information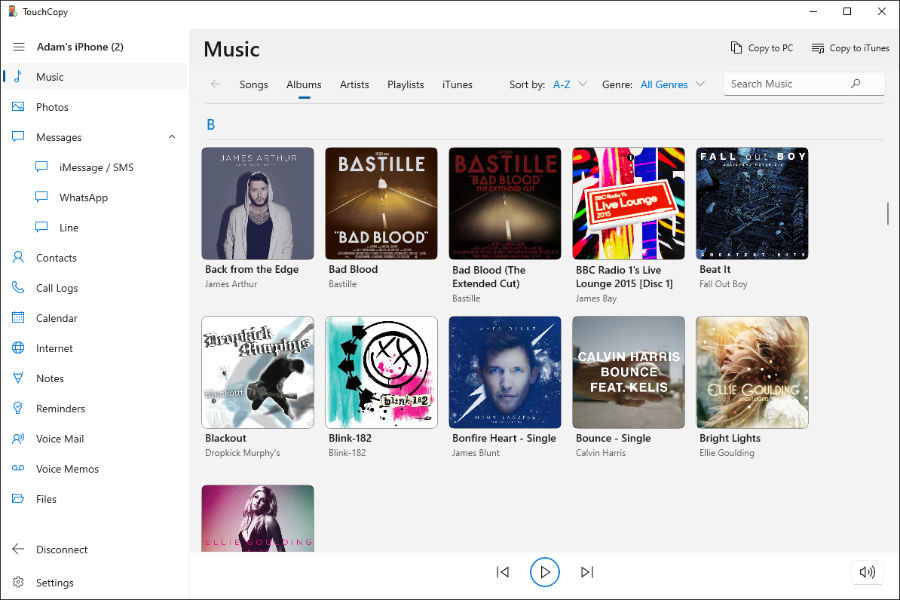 When choosing to save content using TouchCopy, you'll be prompted to select a destination to save the chosen files to. At this point, you can choose your external drive!
To avoid the prompts, you can optionally chosoe to set all your chosen files to be saved to a location on your external drive. To do this, connect your external drive and open TouchCopy options. In the save location field, select a location on your external hard drive. Close TouchCopy options and proceed copying music to your external drive as given in our online TouchCopy user guide.
You can then import your music from your external drive into iTunes by selecting the File tab in iTunes and then Add folder to library.
You can also copy your files to iCloud Drive. Saving to the iCloud Drive means all of these files will be accessible by your iPhone, iPad, iPod Touch, Mac or PC, as long as the iCloud Drive App is active on each device.
What content can I copy with TouchCopy?
You can copy all kinds of content types from iPhone, iPod and iPad...
Music and Playlists
Photos and Videos
Messages
Contacts
Call Logs
Calendar
Internet History and Bookmarks
Notes
Reminders
Voice Mails
Voice Memos
Files
Don't forget to like & share with your friends!
< Back to TouchCopy Support

Publisher:
Wide Angle Software