How do I get rid of the exclamation mark next to the songs I copied to iTunes?




Average:

4.5

(

12

Votes).
Locating Missing Tracks in iTunes
The exclamation point next to a title in iTunes means that iTunes cannot locate the song associated with that title (original file cannot be found).
If you think that the songs marked with exclamation points can still be located somewhere on your hard drive, you may be able to correct their media file path in iTunes as detailed below:
Select a song with an exclamation point in iTunes.
In iTunes, choose Edit > Get Info.
Click on Locate file in iTunes.
If you know the location of the track with an exclamation point, point iTunes to it and try to play your content.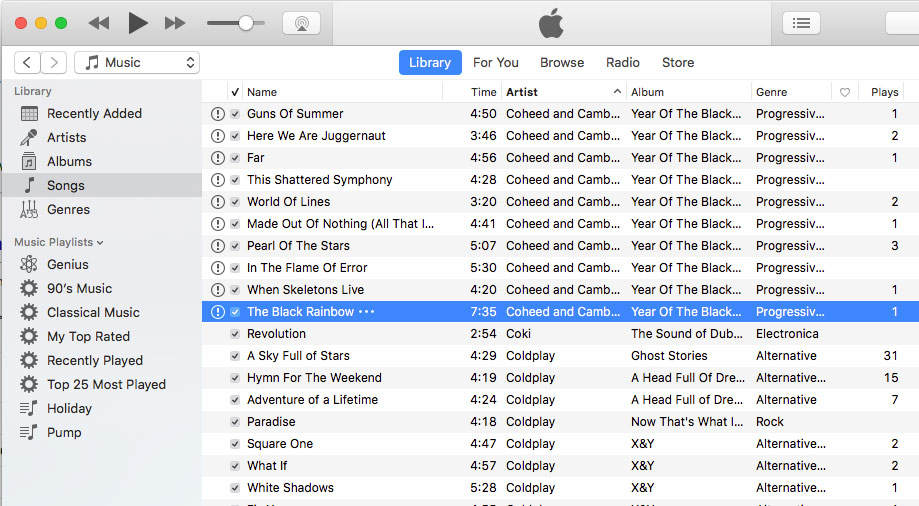 Removing Missing Tracks in iTunes
To remove tracks with exclamation marks in iTunes, follow these steps...
Download, install and launch Tune Sweeper.
To get a list of songs with exclamation marks, select the 'Missing Tracks' tab at the top of Tune Sweeper. Tune Sweeper will then scan your iTunes library.
Select tracks with exclamation marks you wish to remove and click on "Remove Selected Tracks" in Tune Sweeper.
Alternatively, you can remove all tracks with exclamation marks in one go by clicking on "Remove All Missing Tracks".
Download Tune Sweeper Now
Tune Sweeper can help you clean up your library by removing missing tracks, deleting iTunes duplicates and fixing nameless and incorrectly labeled songs in iTunes.

Publisher:
Wide Angle Software