TouchCopy does not show all my music or video.
Last Updated : | Wide Angle Software
If you are using TouchCopy and it's not showing some of your music in either a playlist or the main music library - please ensure that you are running the latest version of TouchCopy by going to Options -> Updates from within the software...
The latest version of TouchCopy can be downloaded below:
Update TouchCopy Now
You can sort your music on the Music tab by clicking the header of the column you would like to sort by.
You can also search for specific music by typing your query into the search box in the top right-hand corner of TouchCopy. TouchCopy looks for matches in the Song, Album and Artist names.

Please search for your tracks to see if TouchCopy can see them in the list of songs shown in the TouchCopy preview.
If some tracks are missing from the list, or if tracks are marked with a 'cloud' icon, this means that the track is stored in iCloud, rather than on the device itself. TouchCopy will only be able to play and copy songs that are stored locally on your device. You must first download these tracks to your device before TouchCopy can play or copy them.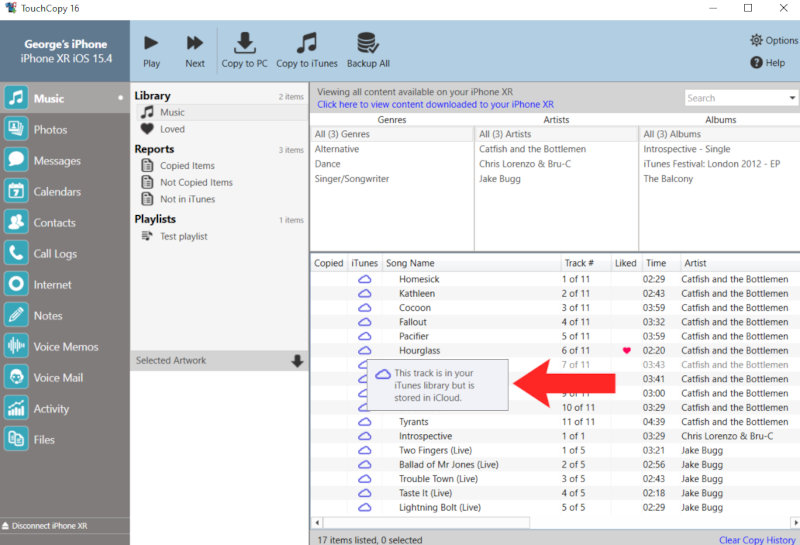 Check out our guide for steps on how to download iCloud music to your iPhone.
For more help with how to copy music from your iPod or iOS device to your computer, check out our user guide.
< Back to TouchCopy Support

Publisher:
Wide Angle Software