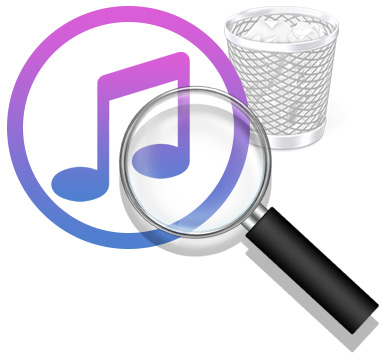 How to remove duplicates from your iTunes library
Over the years you've probably collected a sizable collection of music in your iTunes library. Its not uncommon to have several thousands of items in iTunes. But how many of these tracks are unique? Does your iTunes library contain duplicates?
To manually go through your iTunes library looking for duplicates would be time consuming. The duplicate finder built into iTunes doesn't really help either, as it will list duplicate tracks but won't help you select which tracks to remove.
Help is at hand! Tune Sweeper quickly searches through your iTunes library and displays duplicate tracks in groups.
You then select which track in each group you want to keep and which you want to remove. Tune Sweeper can make this selection automatically for you based on your preference of highest quality, longest duration, latest played etc.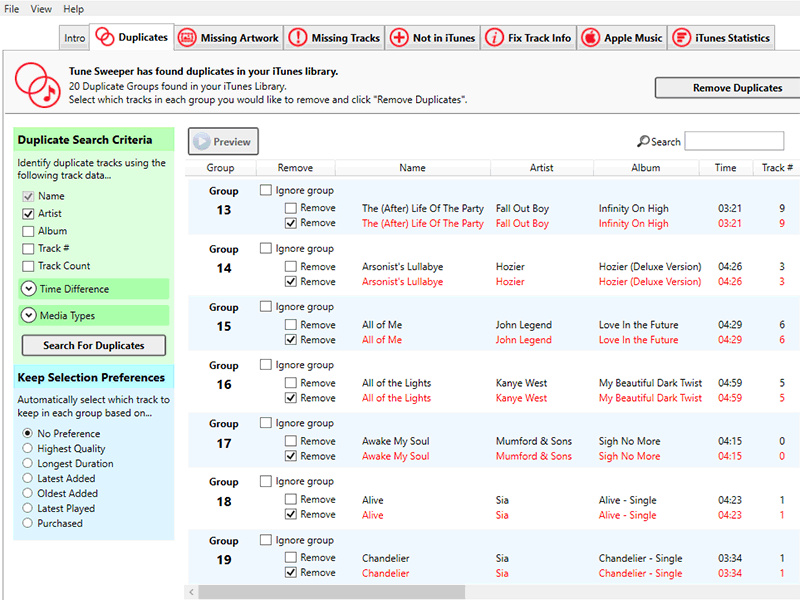 Click a button and - Zap! - Tune Sweeper deletes the duplicates from your iTunes library.
You can optionally back up the tracks that Tune Sweeper deletes from iTunes - just in case.
See it in action - Check out how to remove duplicates from iTunes with Tune Sweeper:
Tune Sweeper Help
The Tune Sweeper User Guide provides in depth information on each feature of the program, should you need more information or a guide on how to get started with Tune Sweeper.
If you should have any questions about Tune Sweeper or any of it's features, they may be answered already in our Tune Sweeper FAQ page. Otherwise, our friendly support team are always happy to help you out!
Try Tune Sweeper free ▼
Receive an email with a link so you can download the free trial on your computer:
Note: We respect your privacy. We won't share your Email address with anyone else, or send you spam.