Add Songs to your iTunes library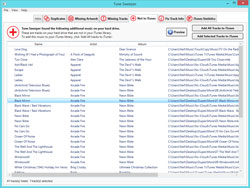 Click to enlarge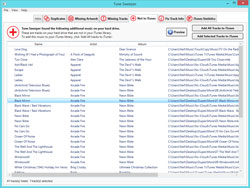 Automatically search and add music on your computer to your iTunes library
There may be a lot of music in your iTunes library but you might be surprised that your computer hard disk probably contains more tracks than iTunes knows about.
Tune Sweeper quickly scans your hard disk for music that is not currently listed in your iTunes library. Tune Sweeper shows you the details of all this additional music. It's all done at lightning speed!
At the click of a button, you can add all the new music found to iTunes or just select individual or groups of tracks to add.
Finally - your iTunes library can reflect what is actually on your computer!
To get you started with Tune Sweeper, follow our handy user guide with how to add music from your computer to your iTunes library.

More Tune Sweeper features...