How to transfer iPhone Music, Playlists and Video to your library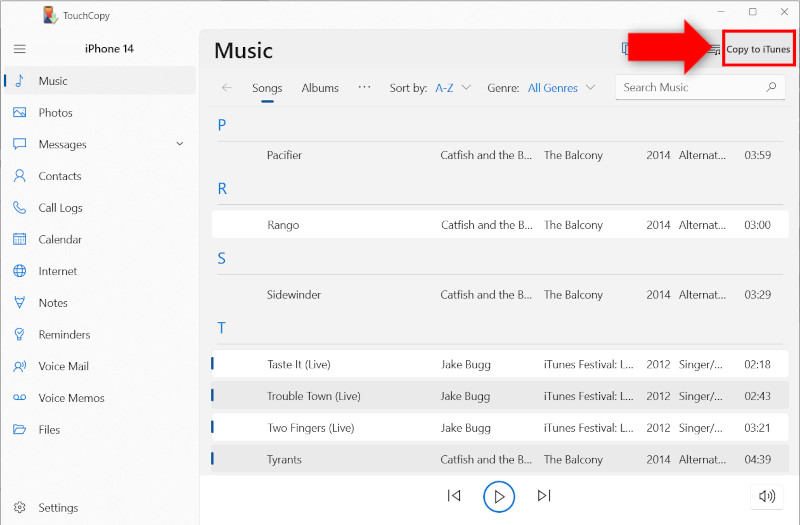 TouchCopy can copy iPod and iPhone songs and videos in any format that your device is capable of playing, including MP3, AAC, WAV, WMV, MP4 etc. TouchCopy does not perform any file conversion on your songs or videos.
How to Transfer Music from iPhone to iTunes/Music - You can use TouchCopy to Backup all your music, video, audio books, podcasts and playlists to your iTunes library with one click.
Alternatively, TouchCopy can perform a comparison between the content on your iPod or iPhone and the content in your iTunes/Music library and display a list of tracks that have not yet been copied to your library. Please see our support article for detailed information on how to compare your iPhone and iTunes content.
You can also copy just a selection of iPod and iPhone content. Once you have made a selection in TouchCopy (see Browsing your music), you can transfer it into your music library by pressing the "Copy to iTunes" or "Copy to Music" button in the TouchCopy Control Bar.
TouchCopy will not duplicate any tracks which are already present in your iTunes/Music library.
TouchCopy will display the progress of the copy operation in the Control Bar. The status bar at the bottom of TouchCopy will tell you when the transfer is complete.
If transferring songs displayed as a result of an TouchCopy search, you have the option to create a playlist with the same name of the search text. To do so, please make sure that the "Save music search result as a playlist" box is checked in the Options > Music menu.