How to copy photos on your iPhone, iPod, or iPad
Backing up your iPod and iOS device photos to your computer can be done simply by following the steps below.
Step 1: Download and install TouchCopy.
Step 2: Run TouchCopy and connect your iOS device using a WiFi or USB connection.
Step 3: On the "Photos" tab, select the photos and videos you'd like to save. If you wish to copy all your photos, choose your copy option without any photos selected, or select all photos by using Ctrl+A or Cmd+A keyboard shortcut.
Step 4: Press "Copy to PC" or "Copy to Mac", and select a location on your PC or Mac for your media to be stored in.
TouchCopy will copy the selected photos to your save location specified in TouchCopy options, by default this is your desktop. The photos will be transferred into a sub-folder named after the Album you're copying, for example "Camera Roll" or "WhatsApp".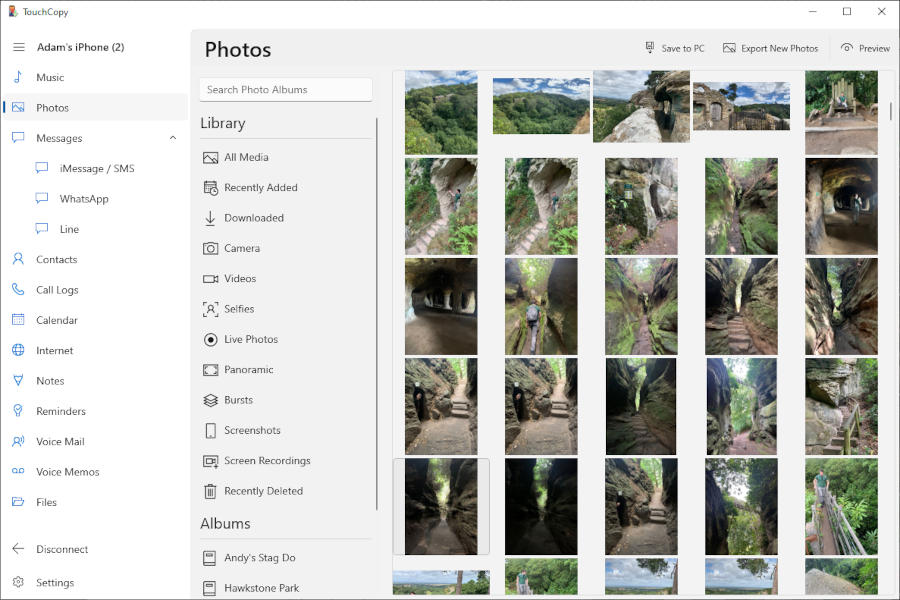 TouchCopy will copy your photos in the same quality as they are stored on your device. The software will backup all image formats, from JPEG, .HEIC and even iPhone 12 Pro's ProRaw photos! Note that on a PC, .HEIC photos will be converted to .JPEG by default. You can also choose how you wish for TouchCopy to handle your .HEIC images in TouchCopy options
If you need to make regular backups of your photos to your computer, we recommend using the "Export Photos" feature instead.