How to copy photos and videos on your iPhone, iPod Touch, or iPad
Backing up your iOS device photos and videos to your computer can be done simply by following the steps below.
Step 1: Download and install TouchCopy.
Step 2: Run TouchCopy and connect your iOS device using your USB cable.
Step 3: On the "Photos" tab, select the photos and videos you'd like to save. If you wish to copy all your photos, choose your copy option without any photos selected, or select all photos by using Ctrl+A or Cmd+A keyboard shortcut.
Step 4: Press "Save to PC" or "Copy to Mac" (

), and select a location on your PC or Mac for your media to be stored in.
By default, the photos will be transferred into a sub-folder named after the Album you're copying, for example "Camera Roll", "WhatsApp" or "Summer Holiday". If you don't wish TouchCopy to create a folder for each album, you can change your preferences in TouchCopy's Settings.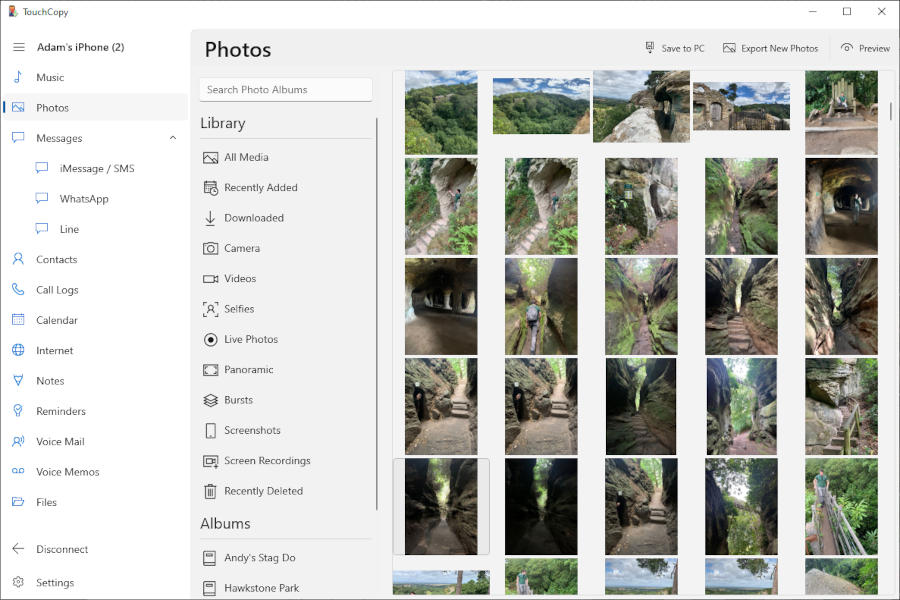 If you wish to copy your iPhone pictures directly into the Photos app on your Mac, select an Album, Event or selection of photos and click "Copy to Photos" (

) button in the TouchCopy photos toolbar. If you leave the selection blank, all of the pictures will be copied into the Photos app.
TouchCopy will copy your photos in the same quality as they are stored on your device. The software will back up all image formats, from JPEG, .HEIC, animated GIFs and even Apple ProRaw photos! TouchCopy will copy RAW photos in a .DNG format, without modifying or converting the file.
See it in action
Please see our TouchCopy support article for information on How to view HEIC formatted photos on your computer.