Transfer information copied to your Android clipboard to PC
When you choose to "Copy" something on your Android device, the information will be stored in temporary memory on your device called the Clipboard. You can copy text from places like messages, documents, webpages and URLs to our device's Clipboard.
Using Droid Transfer, you can access the Clipboard via your PC.
How to access and copy your Android clipboard data to your PC
Download Droid Transfer on your PC and Transfer Companion on your Android device as below.
Connect your phone and your PC over a Wifi or a USB connection.
Open the "Clipboard" tab from the feature list.
Select the clipboard item or items you need from the clipboard history list.
Click "Copy to PC" and choose where to save the file on your computer.
As you can see from the screenshot below, Droid Transfer can access a history of items which you have copied to clipboard, if the most recent items were plain text, on your Android device. If the most recent item in your clipboard is in HTML format, that single item will be shown in Droid Transfer. To access this section, click the "Clipboard" tab on the left of the Droid Transfer window.
To copy your clipboard data, simply click to select the item/s you wish to copy, then click "Copy to PC". Droid Transfer will copy your items in the corresponding format. For example, Plain Text copied from a text message will be saved to the PC as a text file; whereas text copied from a HTML webpage will be saved as a HTML file.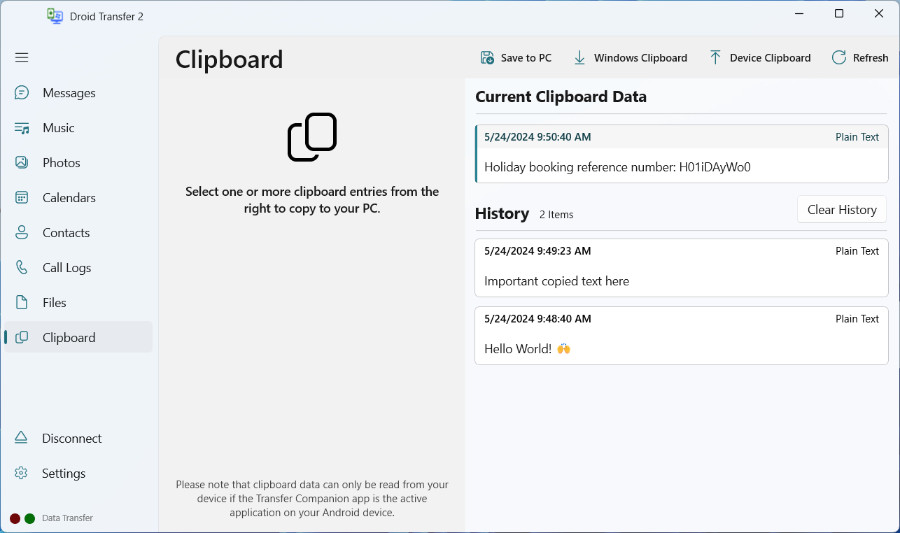 If you don't want to save the information as a file on your PC, you can even copy the information from the Android clipboard to the clipboard on your PC! To do this, select the item you wish to copy to your PC clipboard, then click "Windows Clipboard". Now, you can right-click > Paste the copied text from the clipboard into a document on your PC.
To ensure that Droid Transfer can access the Android clipboard, make sure that the Transfer Companion app is active on your Android device. If you have copied a new item to your Android clipboard during the use of Droid Transfer, click "Refresh" so that the program can access this item for you!
How to access and copy your Windows clipboard data to your Android
So how about vice versa? You can also copy the contents of your Windows PC clipboard to the clipboard on your connected Android device!
To do this, copy some Plain Text or HTML on your PC. Then click the "Device Clipboard" button in Droid Transfer Clipboard section. This will add your most recent Windows clipboard item to your Android clipboard! The new clipboard item will show as your "Current Clipboard Data" in Droid Transfer.
(To use "Device Clipboard", ensure you do not have any clipboard elements selected in the view. If you have one selected, CTRL+click it to deselect it first.)
Now, if you Paste from your clipboard on your Android device, the content obtained from your Windows PC will be pasted.