How to transfer photos from Android to computer
Connect your Android device and your PC using a WiFi or USB connection.
Open the "Photos" tab from the feature list.
Click "Copy Photos".
Tell Droid Transfer where to save the photos to on your PC.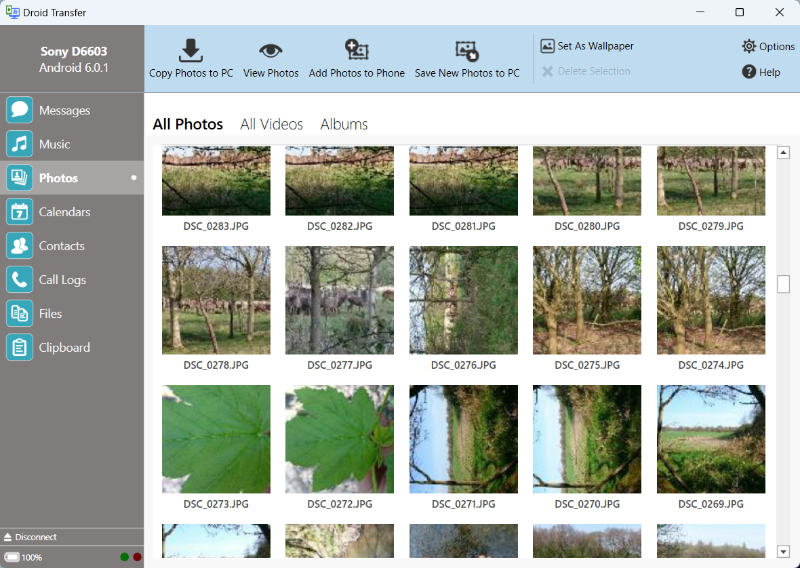 Detailed Information
You can use Droid Transfer to quickly and easily copy photos from your phone to your computer.
First of all, connect your Android device to Droid Transfer on your PC.
Next, open the "Photos" feature header in Droid Transfer to display the photos stored on your Android device.
If you wish to copy all your Android device photos to your PC, click "Copy Photos" without any photos selected, or select all photos by using Ctrl+A keyboard shortcut. Alternatively, use your mouse to select of a photo you wish to copy. You can also hold down the Ctrl or Shift key on your keyboard while clicking on photos in Droid Transfer to select groups of photos, then click "Copy Photos" to transfer selected photos to your PC. You will then be prompted to tell Droid Transfer where to save the images to on your computer. Once you have made your selection, hit "OK" to start the transfer!

Droid Transfer will copy your photos in the same quality as they are stored on your device. You can copy all kinds of image formats, from JPEG, PNG and .HEIC (How to view HEIC formatted photos on your computer). Droid Transfer will copy RAW photos in a .DNG format, without modifying or converting the file.
You can even set one of your Android photos as your Desktop wallpaper by using the "Set Wallpaper" function - try it out!