How Music Copy Reports in TouchCopy can speed up your music transfer
TouchCopy is able to generate Reports based on your iPod and iOS device content and copy history to make it easier for you to select which items need to be copied and which do not. You can select songs in the report and copy them to your computer or your Library.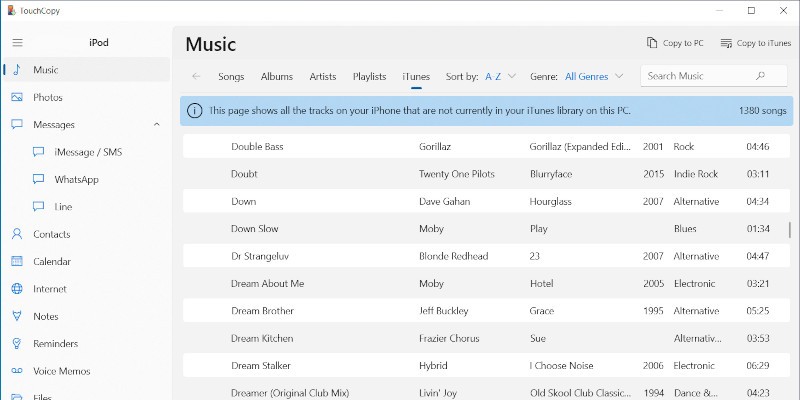 Music Copy Reports created by TouchCopy:
Items Copied
TouchCopy generates a list of songs that have either been copied to your computer or transferred into your music library (iTunes or Music App on macOS Catalina).
If you have previously succesfully copied songs with TouchCopy, tracks will be marked with a

icon under "Copied". If the song is present in your music library on your computer, it will have a

icon under "iTunes" or "Music App" on Catalina or later. Tracks marked with a

icon under "Items Copied" are the songs which are stored in your iCloud library rather than your iTunes library.
Items Not Copied
This report generates a list of songs and video that have not been copied to your computer or your music library. If songs are selected from this list and then copied, those songs are automatically removed from this report.
Not in iTunes / Not in Music App (on macOS Catalina or later)
TouchCopy will scan your iPod, iPad, or iPhone and show you the difference between the content of your device and your iTunes library. You can easily select the items on this list and copy them to your iTunes library or to your Music library on macOS Catalina, as shown in the screenshot below.
Clearing Reports
To remove all reports from your iPod, right-click any track in the music section of TouchCopy, then click the "Clear History" option.

Publisher:
Wide Angle Software