How to Transfer Music from iPod to Computer Windows 10




Average:

3.69

(

177

Votes).
Last Updated : | Wide Angle Software

Summary
Do you find yourself with an iPhone or iPod full of music, but your extensive library is missing from your PC? Help is at hand! With TouchCopy, you can transfer your iPod/iPhone music to your Windows 10 PC or laptop.
To copy music from your iPod or iPhone directly to your Windows 10 hard drive, follow these instructions...
Download and install TouchCopy on your PC or laptop.
Run TouchCopy and connect your iPhone, iPad or iPod. Wait for TouchCopy find your device and display your Music.
From the list of your device's music, select the songs you wish to copy. You can select multiple tracks and playlists by shift-clicking or ctrl-clicking them in TouchCopy.
Click "Copy to PC" in TouchCopy.
Choose where to save your music to your your computer.
The free trial version of TouchCopy enabling you to copy up to 100 songs is available here:
Free TouchCopy Download For PC
Visit our other article if you are interested in copying your music to your computer's iTunes library.
Details
TouchCopy is a handy tool which lets you transfer music from your iPod Touch, iPod Classic, iPhone and iPads to your computer.
How to Transfer Music from iPod to Computer Windows 10- Simply open TouchCopy and connect your device to your computer when prompted to. TouchCopy will then access your device, and display a list of your device's music (as well as other data that you can copy from your device!).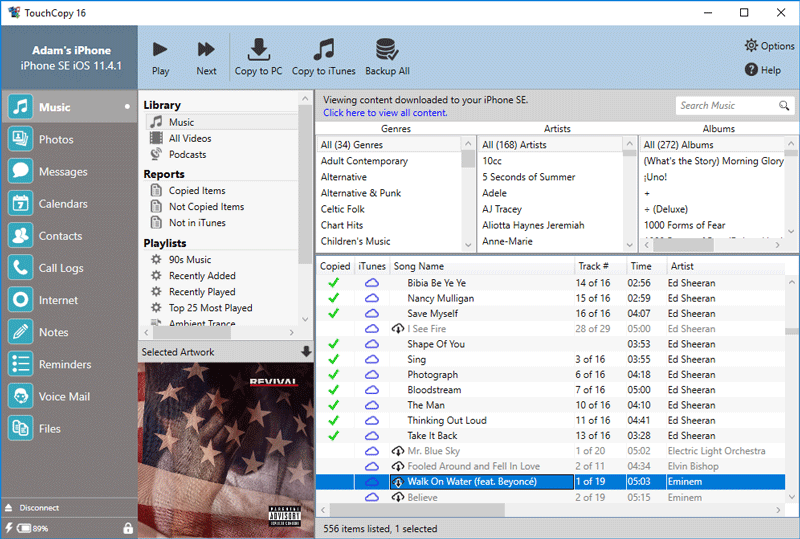 Select all of the music which you would like to copy to your computer. You can select multiple tracks by holding SHIFT or CTRL when clicking song entries.
Once all of your chosen songs are highlighted in the list, hit the "Copy to PC" button at the top of the TouchCopy window.
A box will appear, prompting you to choose a location to which to save your music to on your computer. Select a location, and complete the copy.
How to transfer music from iPod/iPhone to new iPhone:
Don't forget to like & share with your friends!
< Back to TouchCopy Support

Publisher:
Wide Angle Software