How to Transfer Music from iPhone to Android
Last Updated : | Wide Angle Software

Introduction
Have you just bought a new Android phone to replace your old iPhone? You may now want to transfer all of your data from your old phone to your new one, instead of starting all over again. You can't transfer music from iPhone to Android using iTunes alone, but it's easy with the steps in this article. TouchCopy allows you to transfer all of your precious photos, messages, contacts and more. Let see how to transfer your iPhone's music to your new Android phone! For this, we will need two tools: TouchCopy and Droid Transfer.
Summary
To transfer music from your iPhone to your Android phone follow these steps...
Download and install TouchCopy (link below)
Connect to your iPhone to your computer using your USB cable.
Click the "Music" tab in TouchCopy.
To copy all of your songs, hit "Copy to iTunes".
Once all tracks are successfully copied, safely eject your iPhone, and run Droid Transfer on your computer.
Connect your Android device.
Sync your iTunes music library with your Android device.
Download the free trial version of TouchCopy to get 100 song transfers, free!:
Free Download For PC
Free Download For Mac
Detailed Steps
Firstly, we need to copy your music to your computer, then from your computer, we can copy the music onto your new Android device.
Launch TouchCopy on your computer and connect your iPhone using your USB cable.
Once your device is connected, TouchCopy will load all of your iPhone's data. This may take some time if this is the first time using the device with TouchCopy.
By default, you will already be looking at the Music tab on TouchCopy. If you would like to copy all songs from your iPhone, hit "Copy to iTunes". If you only want to copy certain tracks, select the tracks you would like to copy first, then click "Copy to iTunes".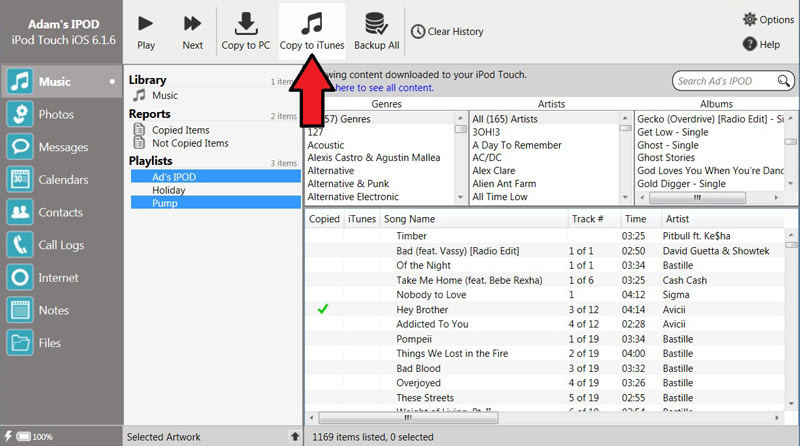 Once TouchCopy has completed the copy, please eject your iPhone safely from your computer.
Final step!- to transfer the music from iTunes to your Android phone...
For this step, we will need the second tool - Droid Transfer. You can download Droid Transfer here.
Once Droid Transfer is installed, connect your Android phone, using the steps in our Start Guide.
Now that your computer and phone are connected, click "Music" from the features in Droid Transfer, and "Sync with iTunes".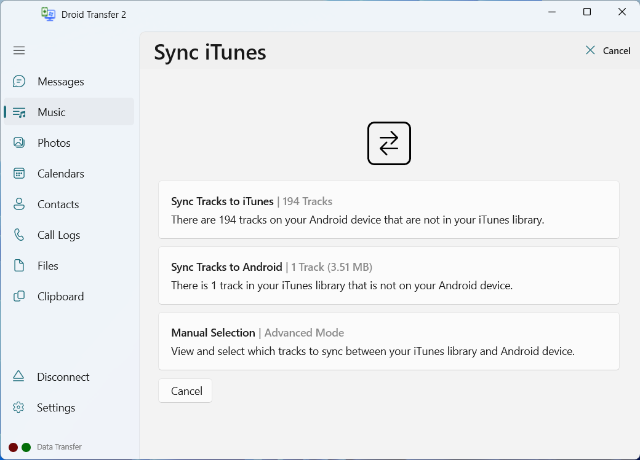 Droid Transfer will compare the music in your iTunes library with the music already on your device. To copy tracks from iTunes, click "Copy tracks to Android".
And there we have it, we have transferred music from your iPhone to your Android device!
For more information about how to sync iTunes with your Android device, including how to select only specific tracks to transfer, check out our "Sync iTunes to Android" support article.
< Back to TouchCopy Support

Publisher:
Wide Angle Software