How to transfer ringtones from iPhone to Computer with TouchCopy?
Last Updated : | Wide Angle Software

Summary
To transfer ringtones from your iPhone to your computer, follow these steps...
Download and install TouchCopy on your computer.
Connect your iPhone to your computer via the USB cable.
In TouchCopy, open the "Files" section and then click through "iTunes_Control" > "Ringtones".
Select the ringtones you want to copy and click "Save to PC" or "Copy to Mac".
If you have not done so already, you can download TouchCopy from here:
Free TouchCopy Download For PC
Free TouchCopy Download For Mac
Detailed Steps
For the latest information, check out our article on transferring ringtones from iPhone to iPhone, Android and computer. You'll even find out how to create your own ringtones!
With TouchCopy you can copy Ringtones from your iPhone and save them to your computer.
The steps below show how to access and copy iPhone ringtones to computer using the latest version of TouchCopy (if you are using an older version of TouchCopy on PC, you can find your Ringtones in the Music section).
Select the "Files" category from the list in TouchCopy. TouchCopy will show all the files and folders stored on the device.
If your iPhone contains any Ringtones, they will be saved in the Ringtones folder within the iTunes_Control folder. Ringtone files will be shown as .m4r files.
Select the tones you want to copy, and save them to your PC or Mac!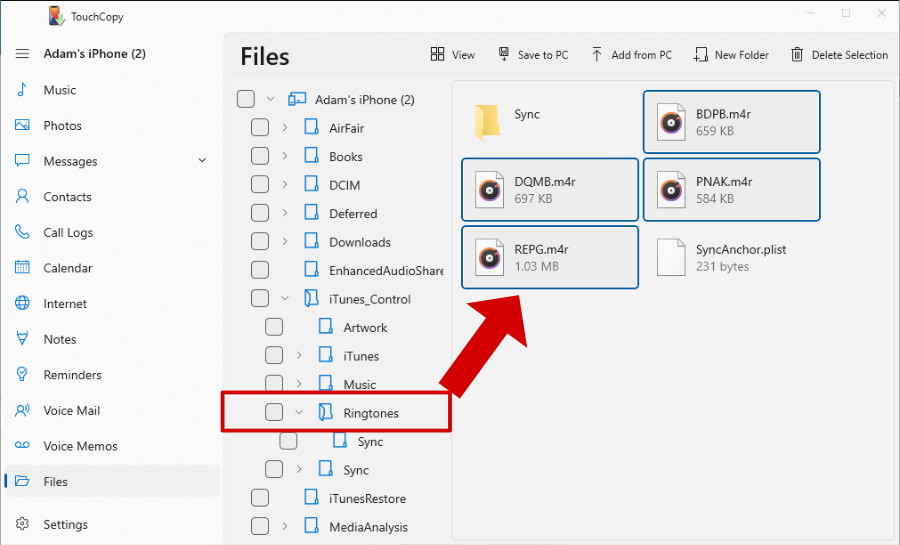 < Back to TouchCopy Support

Publisher:
Wide Angle Software