Backup iPhone SMS
Backup iPhone Messages
TouchCopy can help you recover all content from your iPod, iPhone or iPad back to your computer. This includes your Music, Photos, as well as other media such as your iPhone SMS, iMessages, WhatsApp conversations and Voice Mails.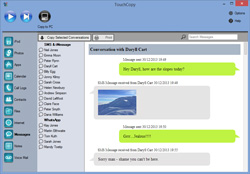 Click to enlarge
Save iPhone SMS, MMS, iMessage and WhatsApp conversations.
If you wanted to keep your Text Message, iMessage or WhatsApp conversations safe, TouchCopy can help you with this. All your conversations will be saved as .html files named after the contact with whom you've exchanged messages. In addition to this, any images or videos sent or received as part of your messages will be saved to your computer using TouchCopy.
Print Out Your iPhone Messages
Additionally, you can also use TouchCopy to print out your SMS, iMessage and WhatsApp conversations. Simply select the contact with whom you've had conversations and click on "Print" in TouchCopy. Your conversations and images included in the conversations will be printed out in the same format as they are displayed on your iPhone.

Export iPhone Voice Mail Messages.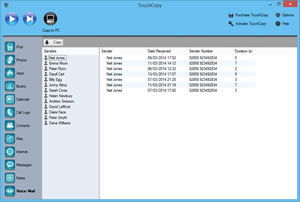 Click to enlarge
TouchCopy allows you to play and export Voice Mail messages that are stored on your iPhone. The software will save your voice mails on your PC or Mac in their original .amr format, for playback on your computer. Backing up your iPhone voice mails is as simple as selecting the contact whose message you wish to save and clicking on the "Copy" button within TouchCopy, making sure that those memorable messages will never be lost.
TouchCopy user guide provides more details on how to backup iPhone SMS, as well as how to save iPhone voice mail messages.
TouchCopy is a free demo download for PC and Mac and it is compatible with all iPod, iPhone and iPad models.
Download Free Trial
Download TouchCopy for PC
Download TouchCopy for Mac