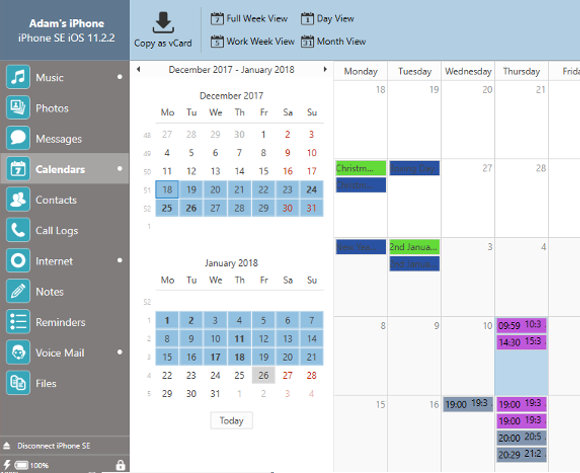 Backup iPhone Calendars
Use TouchCopy to view and copy all the calendars on your iOS device (iPhone, iPad or iPod Touch) to your computer. Simply select the calendars you wish to copy and click on the "Copy Calendar" button in TouchCopy.
With TouchCopy you can backup calendars to your PC as iCal formatted files. You can then import your iPhone Calendars to Microsoft Outlook.
On the Mac, you can copy your iPhone Calendars directly into iCal from TouchCopy.
Copying Calendars to your New iPhone
Once you saved your old iPhone calendars to your usual calendar manager with TouchCopy, use iTunes to sync these iCal files to your new iPhone or another iOS device. Connect your new iPhone to your computer, open iTunes and choose your device under DEVICES in iTunes. Click on the Info tab in iTunes and check "Sync Calendars", and click on the "Sync" button in iTunes.
Please visit the TouchCopy user guide for more information on iPhone calendar backup.
The TouchCopy free demo download works with all models of iPod, iPhone and iPad and is available for both Mac and PC.